Fiscal impulse reversing
Governments provided people and businesses with critical income support as a bridge through the pandemic shutdowns. Think of the stimulus checks and unemployment benefit top-ups in the U.S. This has had a positive impact on economic activity. The size of this effect – the so-called fiscal impulse - has been greatest in the U.S. and cushioned the hit to the economy from the pandemic in 2020-2021.
Government scaling back support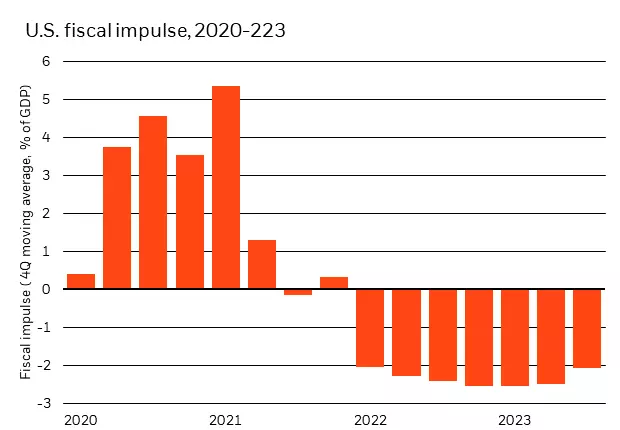 Sources: BlackRock Investment Institute, Brookings Hutchins Center, with data from Haver Analytics, January 2022. Note: The chart shows estimates of how much U.S. fiscal spending (from federal, state and local sources) contributes to GDP growth. A positive contribution implies a boost to growth. Estimates are published by the Brookings Hutchins Center, and the bars show the four-quarter moving average of quarterly growth impulses (at an annual rate).
All that is changing now. Economies have restarted, so governments have scaled back fiscal support. This will act as a material drag on growth in 2022 and beyond, as the chart shows.  Will the U.S. economy be able to weather this? We think so. First, the economic restart is driven by the lifting of restrictions and does not rely on stimulus measures. Second, households have built up excess savings. Even if they spend only a fraction of it, they will provide a material boost to consumption. Third, the potential passing of the Build Back Better Bill heralds more government spending that would reduce the drag.
Sign up to receive our institutional insights
Please try again