Investment insights from BlackRock
A client magazine that brings together insights from our BlackRock thought leaders on topics that matter.
"It is our job to help clients make informed choices, to bring our best thinking as a global firm to bear on clients' specific problems, and then to execute their decisions."
Mark Wiedman
Head of Global Client Business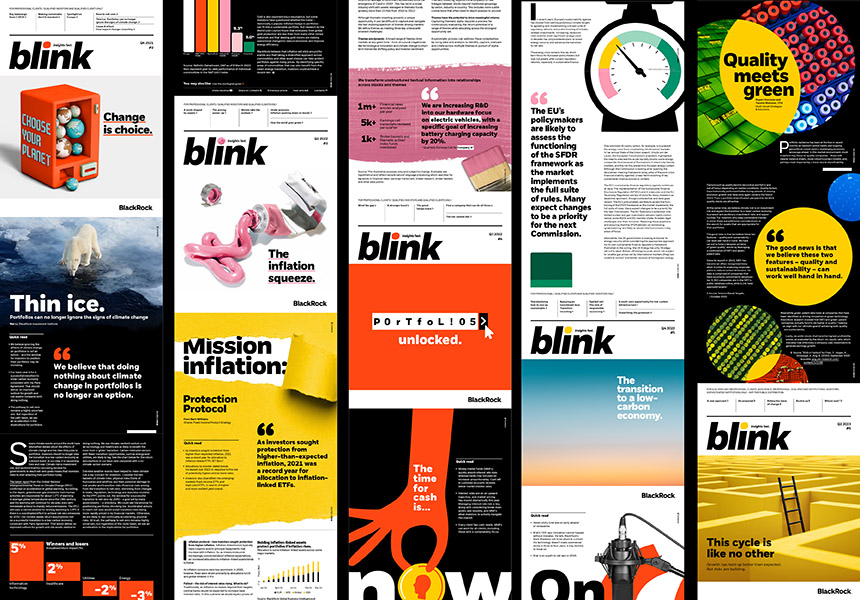 ISSUE #6 Q2 2023
This cycle is like no other
The bull market in bonds has been ended by central banks' commitment to address stubborn inflation. This likely results in a recession, despite economic resilience. It's a new investment environment, requiring new perspectives to navigate the regime change. This edition of blink showcases insights from across BlackRock to do just that.
Funds that match up with investing goals and preferences
Each investor has a different story, and we are steadfast partners to our clients in the UK because we listen to every one of them. Our full range of funds is one way we're helping more investors build solid financial futures.
Sustainability at BlackRock
Helping our clients navigate sustainability
Sustainable Investing | BlackRock
Let's flashback to driving a car 15 years ago. Drivers would use rear and wing mirrors to merge, reverse, and park. Today, thanks for advancements in technology, we have cars with cameras, collision warnings, and parking sensors. These involved safety features give drivers a more complete view of their surroundings helping them make better decisions. The same thing is happening with investing, raw traditional financial analysis still anchors investment decisions, the greater availability of sustainable data today gives investors and more holistic view of the companies they invest in. Sustainable investing uncovers environmental, social, and governance or ESG related risk and opportunities that traditional security analysis may overlook. By giving investors a more complete view, sustainable investing can help identify companies that may be better positioned to manage sustainability related risks. Let's zoom in.
Environmental risks increasingly threaten company profitability through extreme weather, rising sea levels or pollution and waste. Companies exposed to frequent extreme weather events near the water or in a wildfire zone may face disruptions to their operations and threaten their long-term performance. Product liability health and safety and data privacy are all examples of social risks to a company. Companies that overlook data security may be susceptible to hackers or data breaches that can quickly drive down and stock price. Broad quality and diversity, fair CEO pay, and accounting practices are all governance risks. Companies with a diverse and independent board of directors can help reduce the risk of oversight, fraud, and bribery. Sustainable investing doesn't replace traditional financial analysis, it supplements and enhances it. BlackRock empowers investors to assess ESG risks in their portfolio construction process and makes it easy to get started with solutions across both iShares ETFs and BlackRock active mutual funds. Regardless of your views on the future long-term success is one goal that unifies all investors. BlackRock believes that investments that consider ESG metrics can help you pursue long term success of your portfolio and contribute to a more sustainable world.
BlackRock
Investors need a partner to help them distil a large volume of complex information. BlackRock is here to listen to investors' sustainability objectives, share insights, and offer them investment choices across a wide range of solutions.
The power of choice and access
iShares offers a broad range of ETFs, giving people the flexibility to pursue their investment goals.
Helping you make sound financial decisions
The debt ceiling showdown Is over: What's next
In this special episode of The Bid, BlackRock Product Strategist Oscar Pulido and Alex Brazier, Deputy Head of The BlackRock Investment Institute, take a look at what happened with the debt ceiling showdown, how markets are reacting, and what investors can expect going forward now that the crisis is behind us.
The debt ceiling showdown Is over: What's next
About us
Actually, it's never been about us
Market insights and trends
Our global team of investment experts work around the clock to generate proprietary research and insights on the global economy, markets, geopolitics, and long-term asset allocation – all to help you navigate the financial markets, whether you're a professional investor or just beginning.