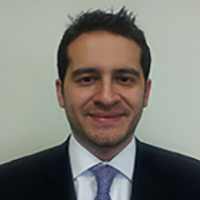 Luis Garcia
Relationship Manager, Wealth Colombia
Luis Garcia, Vice President. Luis joined BlackRock in December 2014. He covers Wealth segment in Colombia.

Prior to joining BlackRock, He worked in Fiduciaria Bogota since 2012, where he started as Senior Fixed Income and Equity Trader, later he structured the new investment process and became the Investment Strategist Manager. He previously worked at Corredores Asociados Asset Management as Senior Fixed Income a Derivatives trader. Luis started his career at AFP Porvenir in 2005, where he worked for four years.

Mr. Garcia holds a Master's degree in Capital Markets, Regulation and Compliance from ICMA Centre, University of Reading (2011), and his BA in Business Administration from the Colegio de Estudios Superiores de Administracion.