Russ discusses the implications of a rise in stock-bond correlations.
Back in December, astronomy buffs were treated to a highly unusual alignment of Jupiter and Saturn, the so-called "Christmas Star," a configuration not seen in approximately 800 years. Recent behavior in financial markets has also been anomalous. Yields are rising, stocks are surging and the correlation between stocks and bonds is shifting in a profound way.
Since August, Treasury yields have roughly doubled, albeit from an all-time low. During the same period stocks have risen more than 20%. And while a similar dynamic took place in late 2016, recent behavior is evidence of a shift in the relationship between stocks and bonds: their correlation, while still negative, is rising (see Chart 1). This dynamic has important implications for portfolio construction.
Correlation of bond and equity returns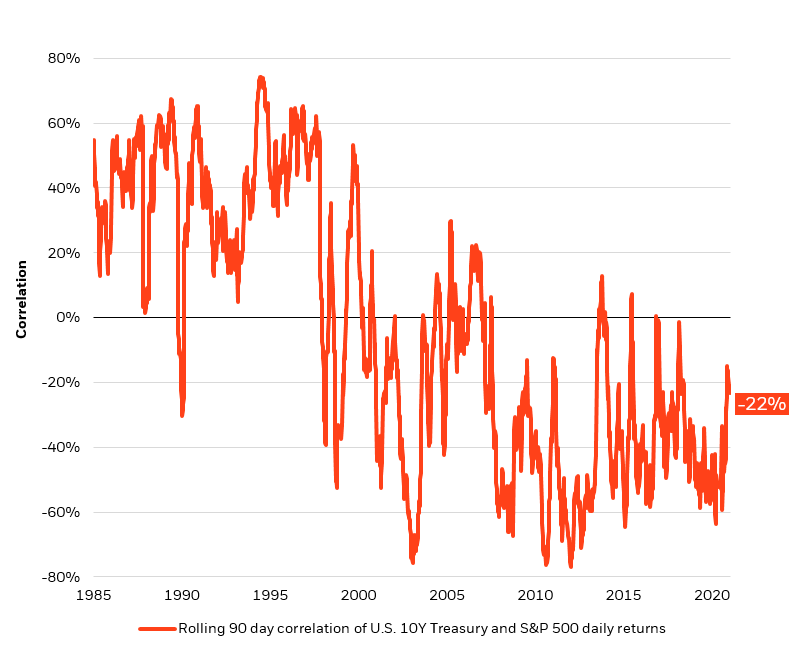 Source: Refinitiv DataStream, chart by BlackRock Investment Institute, Jan 21, 2021
Notes: the line shows the correlation of daily U.S. 10y Treasury returns and S&P 500 over a rolling 90-day period.
Not about the Fed
What led to this shift in market behavior? Recent changes are not about an evolution in Federal Reserve policy, but instead are a function of market expectations for inflation. Since the early fall U.S. 10-year inflation expectations, derived from the price of Inflation Protected Securities (TIPS), have increased approximately 0.50%. Put differently, investors expect inflation to average about ½ percentage point higher over the next decade than they did back in August. As expectations for inflation rose bond yields followed.
And while rising inflation can disrupt equity markets, in this instance higher inflation is being viewed positively, signs of economic improvement and supportive of corporate earnings. So far, so good.
Bonds will be hard to replace
Less positive is the shift in stock-bond correlations. A less negative correlation with stocks makes bonds a less reliable hedge. And beyond rising correlations, there is another dynamic at play as well: lower bond volatility relative to stock volatility is further compromising the role of bonds.
To understand why it's helpful to think of the "beta" of bonds to stocks. Beta measures the extent an asset moves relative to a broad stock index and is a function of two components: the correlation and the ratio of volatilities. Not only is the correlation between stocks and bonds less negative, but recently bond volatility has been falling much faster than stock volatility. This suggests that even if stock-bond correlations remain nominally negative, bonds simply don't move enough these days to provide an effective hedge when stocks tumble.
Unfortunately, there is no obvious replacement for bonds. Back in August I suggested investors hold more cash as a mechanism for dampening portfolio volatility. Other ways to hedge include currencies, i.e. having an overweight position to certain currencies such as the dollar and yen. Investors should also consider the role of high quality/low volatility equities. Dedicating a portion of your stock holdings to lower vol equities is another potential tool to dampen overall portfolio risk. That said, absent much higher yields and/or more bond vol investors are going miss the efficacy of simply holding government bonds as a reliable hedge.
Russ Koesterich, CFA, is a Portfolio Manager for BlackRock's Global Allocation Fund and is a regular contributor to Market Insights.