Munis retreat amid rising interest rates in February
Municipal bonds posted strong total returns as bank turmoil prompted a flight to quality.
Normalizing supply and waning demand acted as a slight drag on relative performance.
We remain cautious of volatility and expect interest rates to drive near-term performance.
Yields are again attractive & offer greater income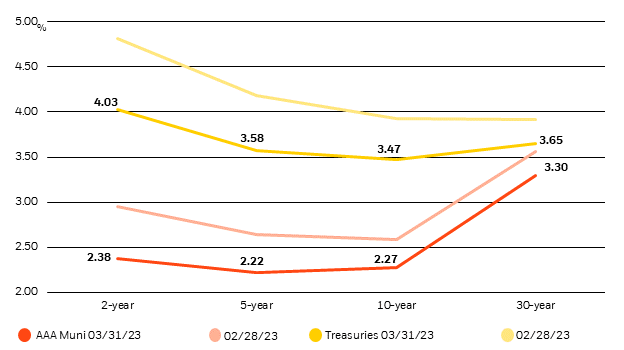 Source: Refinitiv, BlackRock, as of 03/31/23. *TEY represents taxable equivalent yield.
Performance data quoted represents past performance and is no guarantee of future results. Investment returns and principal values may fluctuate so that an investor's shares, when redeemed, may be worth more or less than their original cost. All returns assume reinvestment of dividends and capital gains. Current performance may be lower or higher than that shown. Refer to blackrock.com for most recent month-end performance.
To obtain more information on the funds, including the Morningstar time period ratings and standardized average annual total returns as of the most recent calendar quarter and current month-end, please visit National Municipal Fund, Strategic Municipal Opportunities Fund and High Yield Municipal Fund.