Energy sector leaders quickly shifted from the "green" economy in 2020 to the "brown" economy in 2021. The economic restart has brought supply imbalances and reflationary forces causing prices to surge across traditional energy assets. What might these fluctuations mean for energy opportunities and the transition toward a lower carbon economy? BlackRock's systematic experts discuss their approach to evaluating sustainability within the energy sector and uncovering innovators leading the way.
Capital at risk. For funds with an investment objective that include the integration of ESG criteria, there may be corporate actions or other situations that may cause the fund or index to passively hold securities that may not comply with ESG criteria. Please refer to the fund's prospectus for more information. Stock values fluctuate in price so the value of your investment can go down depending on market conditions.
---
The non-linear energy transition
A shift toward a lower carbon economy has captured investors' attention, as sustainable investing evolves from an ethics-based discussion to an unmistakable investment opportunity. An effort to capitalize on the economic transition has led many investors to allocate away from energy companies reliant on fossil fuels in favor of their clean energy counterparts. Yet markets trended in the opposite direction last year, with energy outperforming every sector in the S&P 500 on the back of rising oil and gas prices.1 This persistent divergence has shown there may be more to capturing energy leaders than exclusion and avoidance. The question of "what's next?" for the energy sector revolves around a central theme: the path towards a lower carbon economy isn't linear and may call for a more nuanced approach.
A tale of two economies: "green" vs. "brown"
2020 was marked by flows into ESG assets, rising company commitments to lower emissions, an administration focused on climate initiatives – all clear signposts of a "greener" economy taking shape. This narrative played out throughout the year, convincing many investors that the "brown" economy was dead and gone (until suddenly it wasn't). 
In 2021, the economic restart brought price pressures from supply constraints and reflationary forces, adding complexity to the economic transition underway. Traditional energy mounted a comeback as increased demand drove oil prices to multi-year highs and renewables lacked the bandwidth to fulfill surges in demand.
Carbon neutral, not carbon zero
These developments have made it challenging for investors to prioritize ESG-centric energy investing, while capturing the price movement across the broader sector. In our view, investors leaning exclusively into clean energy are making a concentrated bet and potentially missing the gray area of a transition from "brown" to "green" economies.
Our approach to navigating the energy sector starts with understanding that carbon neutral doesn't mean carbon zero. In 2050, it is almost certain that energy companies will exist, but they'll function differently than they do today. The key is finding ways to identify innovative companies who will continue to evolve and lead in the transition to a lower carbon future.
Drilling down to the data
Taking a holistic, data-driven approach to ESG analysis, we look through "green" and "brown" categorizations in search of tangible indicators of business success. Based on our research, one of the most effective signals for energy transition is looking at green patent filings. Trends in patent applications help us grasp patterns of innovation, technologies impacting other business functions, and job growth. The chart below shows how we can pinpoint areas of potential innovation and progress through evolving trends in green patent applications across energy sub-industries.
Green patent filings across the energy sector
Rolling 12-month median of aggregate monthly green patent filings by sub-industry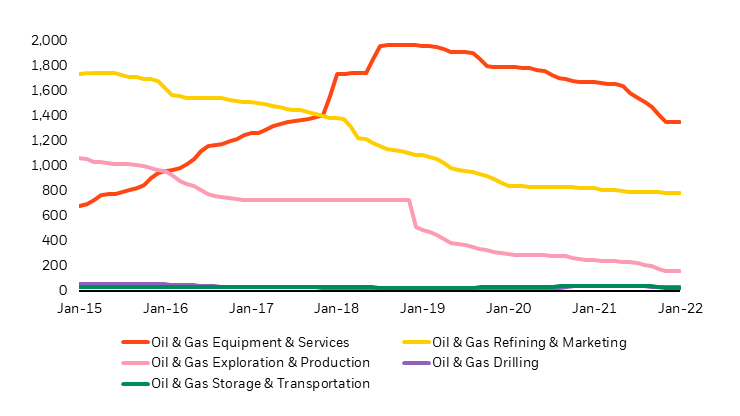 Source: Reuters, IFI Claims Patent Services. Data shows rolling 12-month median of aggregate monthly green patent filings at the GICS sub-industry level.
Applying natural language processing techniques to an extensive database of granular company patent filings helps reveal energy companies who may be part of the solution. For example, our analysis has captured a traditional energy company making innovative strides in lithium extraction with more efficient and sustainable techniques.2 The company's improved process could result in cleaner and higher-grade lithium, new US jobs, and business alignment with the fast-growing electric vehicle supply chain – making them a potentially influential player in the transition as their business evolves.
We can also analyze company investments across the sector for clues on transition readiness. Capital expenditure growth in energy has fallen in recent years and viewed by many as a negative indicator, tied to the belief that companies investing in developing more reserves and increasing output will lose capital. The consistency of this trend is shown in the chart below, with energy companies trailing every sector in capital expenditure growth on average from 2015 to 2020.
Capital expenditure growth across sectors
Annualized average capital expenditure growth between 2015 and 2020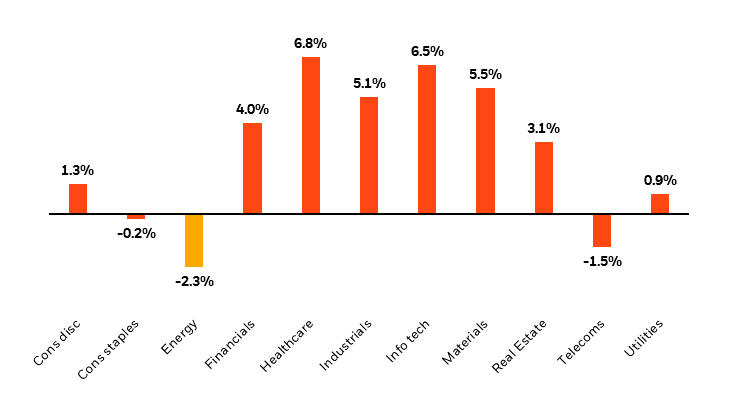 Source: Refinitiv Worldscope. Data shows average annualized capital expenditure growth across sectors in the ACWII Universe between 2015 and 2020.
Taking a deeper look at the few companies who are increasing investment reveals areas of potential opportunity. We've found companies with higher capital expenditures may be evolving faster than their peers, potentially boosting growth and return projections. Our research also shows a link between higher levels of investment and resilience to commodity price cycles. Combining this view with indicators of emissions efficiency and signs of innovation across the energy sector help guide our pursuit of differentiated alpha opportunities as they evolve.
Paving the path towards tomorrow's economy
As systematic investors, we use sustainability data to paint a clearer picture of the potential winners of tomorrow's economy. It's through the application of these insights that we aim to solve for what we call the double bottom line: improved outcomes for shareholders and stakeholders.
Within the BlackRock Sustainable Advantage Large Cap Core Fund (BIRIX), we integrate ESG insights in our investment mosaic alongside other indicators of company success guided by research, scientific testing, and expert human insight. Taking a sector-neutral approach means investors can access a range of businesses aligning with the transitioning economy – even those considered traditional energy companies.
The recent bifurcation within the energy sector underscores the importance of finding innovators through an approach rooted in data and analysis, not exclusionary screening. As we look to 2022 and beyond, the question of "green" or "brown" remains at the forefront of investors' minds. A systematic, quantitative approach to ESG investing eliminates the need to bet on either outcome, revealing the winners paving the (non-linear) path to a lower carbon economy.
Systematic investing
Explore a new way to invest that combines big data, scientific research, and deep human expertise to make sense of market complexity.