Paragraph-1,Pull Quote-1
Multi Column Teaser-2,Bio-1,Bio-2
Paragraph-2
The low carbon transition
We recognise natural resources companies need to be part of the low carbon transition, from reducing their own emissions to supplying materials required to build wind turbines and solar panels.
The chart below looks at copper as an example, highlighting the expected growth in demand from electric vehicles, wind and solar between now and 2030.
Expected growth in copper demand from electric vehicles (EVs), wind and solar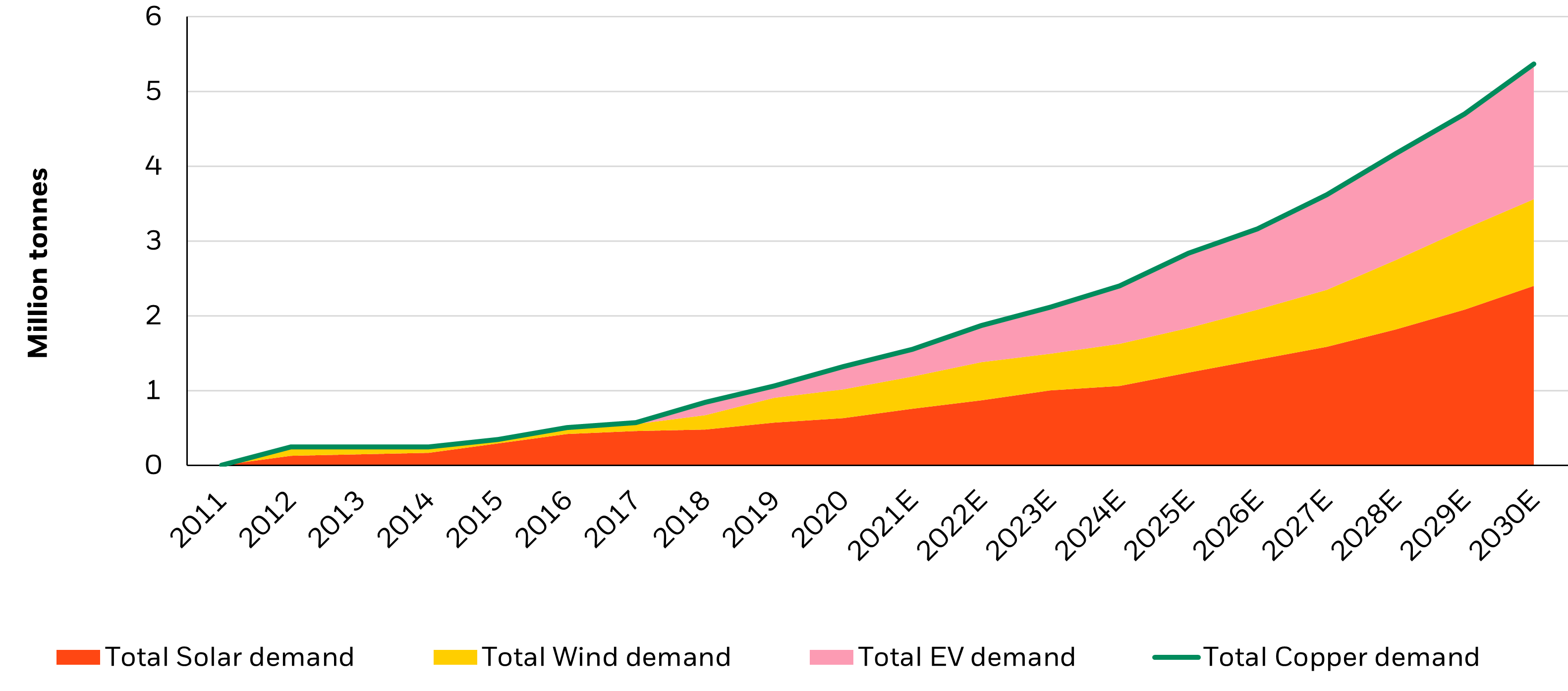 Source: Woodmac, CRU, Goldman Sachs Global Investment Research, 31 Oct 2021
ESG in the investment process
01. Risk-adjusted returns
Our belief is that companies with stronger and / or improving ESG credentials offer better risk-adjusted returns over the long-run.
---
02. Critical input
We consider ESG alongside valuation and fundamentals when constructing portfolios to maximise risk-adjusted returns.
---
03.
Backing improvers
We are not precluded from holding companies that have had ESG issues in the past as, if we believe it's moving in the right direction, that may form part of our investment rationale.
---
04.
Looking ahead
We take forward-looking views on each company's ESG profile and document these in our research templates.
---
05.
Rigorous process
Views are formed through activities such as: engaging with management teams, site visits and collaboration with the BlackRock Investment Stewardship team.
---
Risk: This information should not be relied upon as research, investment advice, or a recommendation regarding any products, strategies, or any security in particular. This is for illustrative and informational purposes and is subject to change. It has not been approved by any regulatory authority or securities regulator. The environmental, social, and governance ("ESG") considerations discussed herein may affect an investment team's decision to invest in certain companies or industries from time to time. Results may differ from portfolios that do not apply similar ESG considerations to their investment process.