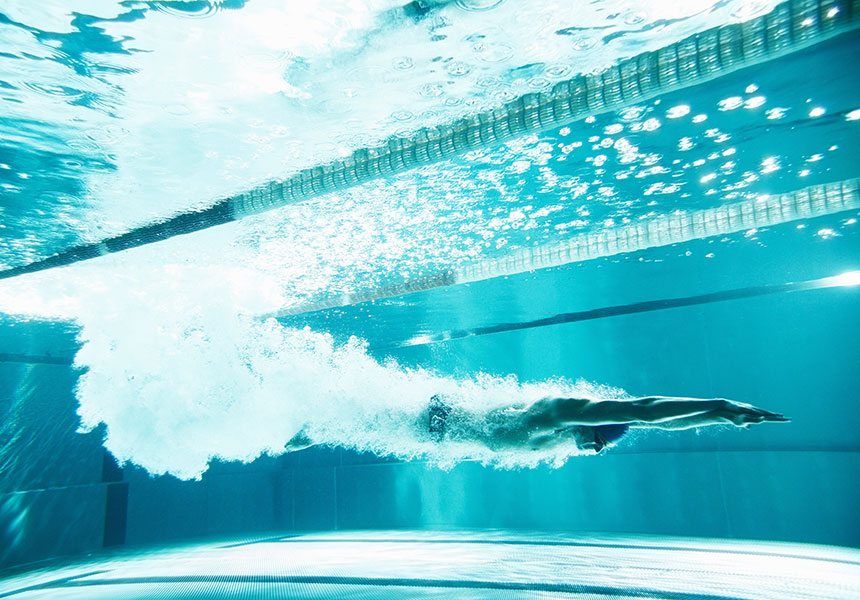 2021 GLOBAL MIDYEAR CREDIT OUTLOOK
A dynamic restart
Credit performance was mixed in the first half against a backdrop of accelerating growth and strong monetary and fiscal support for the economy. We remain constructive, with a watchful eye on inflation trends and a focus on selectivity, embracing complexity and global opportunities.
Economic acceleration
Pent-up demand is translating into strong corporate earnings and accelerating a powerful global economic restart. Median estimated GDP is expected to grow 6% for the year1—a level we haven't seen since the 1970s—as severe lockdowns recede and virus transmission rates decline in some countries, though not as rapidly in others. Credit spreads have tightened but investor demand for credit remains high in this low-yield environment. The uneven nature of global recovery will continue, in our view, to create structural changes across many countries and specific industries and continued dispersion in credit markets. Against this backdrop, we revisit our 2021 themes of rebuilding portfolios for income, bringing sustainability to the fore, and seeking opportunities in Asian credit.
Pent-up consumer demand will translate to strong corporate earnings and a strong economic recovery. Global GDP growth of 6% is expected this year– a level we haven't seen since the 1970s.
Credit spreads have tightened on this positive outlook,but investor demand for credit continues in this low-yield environment. What does this mean for credit investors?
The themes we identified at the start of the year continue…
(Re)building portfolios for income
Integrating sustainability into portfolio strategy
Seizing opportunities in Asian credit
We expect fiscal and monetary policy will remain accommodative to support the employment recovery despite higher near-term inflation data. 
At a high level, our advice for credit investors:
Stay selective: Uneven recoveries will result in winners and losers
Think globally: Regional reopening paces vary
Seek out complexity: We believe unique challenges can drive higher returns
For more insights on what lies ahead for credit markets in 2021, read our full midyear outlook at blackrock.com.
ALTH0621U/M-1678929
The current state of play in credit
Watch James Keenan, CIO and Co-Head of global credit, on three key credit themes and how investors can effectively capitalize on them.
Mark to market: tracking our 2021 themes
At the start of the year, we identified three themes that remain critical. We revisit them here.
(Re) building portfolios for recovery
Sustainability to the fore
Opportunities in Asian credit
01
Unprecedented policy
By bridging the liquidity needs of investors and individuals alike and introducing new tools with a direct impact on credit markets, policymakers continue to play an outsize role.
02
Inflation uncertainty
Expansionary conditions and supply bottlenecks have brought inflation back into focus—along with a debate on how transitory it might be.
03
Increased dispersion
With the pandemic's uneven effects across industries already driving dispersion, the need for companies to adapt to higher cost pressures may accelerate the trend.
Finding value, mitigating risk
At current valuations, we believe credit can best serve as a source of income and carry, with strong demand seen from investors in both public and private markets. Investors should consider adding exposure globally to enhance diversification and focus on selectivity to manage credit risk and take advantage of dispersion (see chart below).
We also expect the tax rate will be lower than initially proposed, possibly accelerating rotation within and across markets, but in our view this will not derail the positive trajectory of travel in the economic recovery.
Return dispersion exists beneath the surface
YTD total return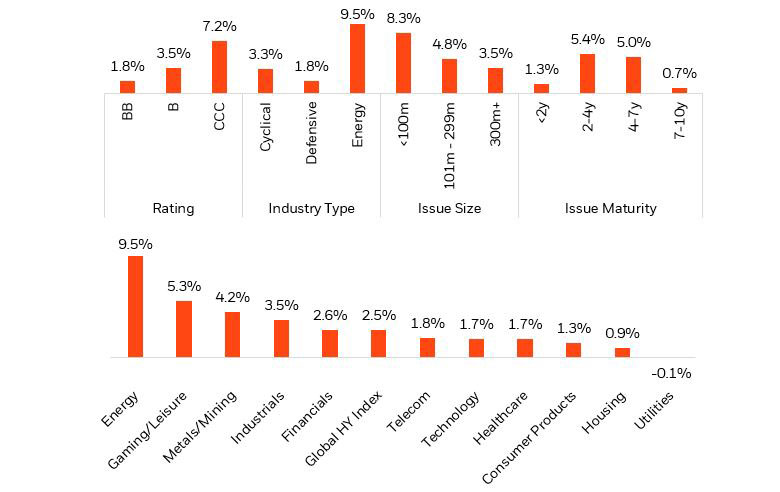 Sources: Bloomberg, JP Morgan, as of June 11, 2021. JP Morgan Global High Yield Index. Index return decompositions from JP Morgan, sector breakdown uses GICS industries. The figures shown relate to past performance. Past performance is not a reliable indicator of current or future results. You cannot invest directly in an unmanaged index.
Inflation and defaults
Pent-up consumer demand, accommodative monetary policy and significant fiscal spending are combining to drive inflation expectations to levels not seen since 2006. As markets digest the push and pull of economic activity, policy and consumer needs, the impact on prices appears both substantial and widespread.
We believe default risk is likely to remain low in the near term as (1) liquidity is ample and issuers have refinanced and extended maturities, (2) high growth expectations support earnings even if bottom line results are challenged by higher input costs, and (3) private market growth creates new sources of financing to help a wider range of issuers avoid traditional bankruptcy.
What's next
We expect global supply chains, deglobalization and consumer demand to shape decisions that will likely create more dispersion in the quarters ahead. By embracing complexity, thinking globally and enhancing selectivity, we believe investors will be better positioned to avoid negative credit events and capitalize on more significant investment opportunities across both public and private credit markets.
In a total portfolio context, we view a higher strategic credit allocation as an effective means to outperform traditional fixed income and diversify from equity risk factor exposures. This has already begun to play out across global markets, and should continue catalyzing the growth of global credit market opportunities and outcomes for investors.
Explore insights from our 2021 midyear global credit outlook
See how our 2021 themes of finding income, seeking sustainability and considering Asian opportunities are playing out and how we're re-underwriting their relevance going forward.