Capital at risk. All financial investments involve an element of risk. Therefore, the value of the investment and the income from it will vary and the initial investment amount cannot be guaranteed.
---
Why BlackRock for infrastructure?
BlackRock Infrastructure seeks to provide investors with long-term, stable cash flows with potential for inflation mitigation through our proprietary origination strategy, industry expertise and fiduciary business model.
Strategies spanning the risk and return spectrum
At BlackRock Infrastructure, we believe that investment strategies should be structured with a clearly defined risk profile aligned with investors' goals. Following the global financial crisis, infrastructure investing shifted from a generic private equity risk allocation to a more defined allocation to take into account the varying risk profiles of infrastructure assets. BlackRock Infrastructure offers strategies across the risk/return spectrum, assisting investors to invest for outcomes.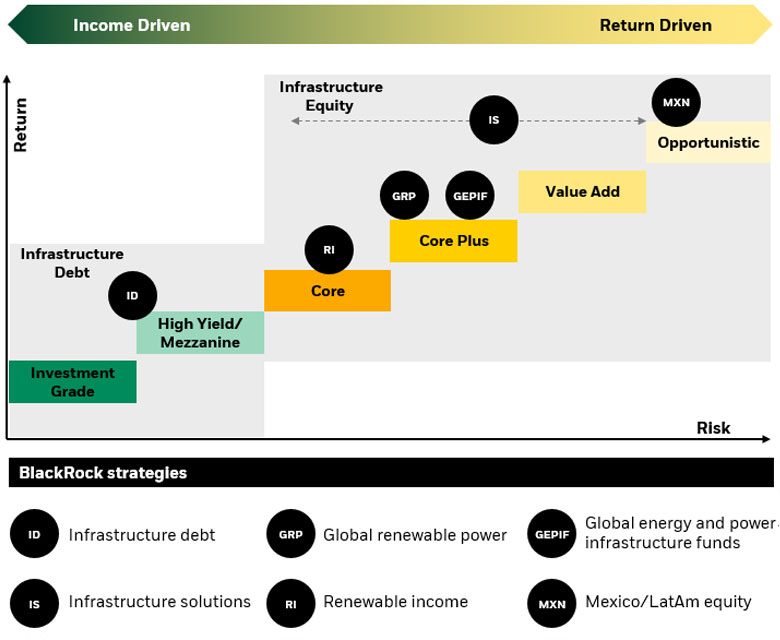 Source: BlackRock, for illustrative purposes only.
Global Renewable Power
The shift in global power generation from fossil fuels to renewables provides an opportunity to help our investors achieve financial returns with a purpose.
BlackRock's latest infrastructure insights
Meet our real assets team
With 340+ people across 25 offices globally1, we benefit from independent access to local industry networks and investment opportunities.