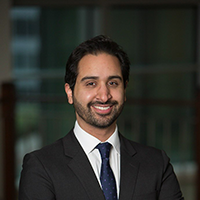 Samir Menon
Portfolio Manager, BlackRock Private Equity Partners
Samir is a member of the BlackRock Private Equity Partners (PEP) group. He is responsible for evaluating and executing on private equity direct and primary fund investments.
Mr. Menon was previously a Vice President at Firelight Capital Partners, where he was responsible for sourcing, evaluating and executing buyout and growth equity investments in consumer & retail companies. Prior to business school, Mr. Menon was an investment professional at BlackRock Private Equity Partners in London and Princeton. He began his career with PEP in 2006.
Mr. Menon earned a B.A. degree in Economics from Emory University and an M.B.A. from Columbia Business School.