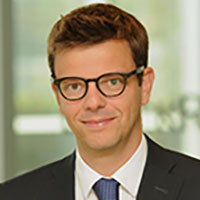 Alessandro Beber, PhD
Managing Director, Member of the Global Equity Research Team
Alessandro Beber, PhD, Managing Director, is a member of the Global Equity Research team within the Systematic Active Equity business of BlackRock's Active Equity Group.
Prior to joining BlackRock in September 2014, Dr. Beber was a professor of finance at Cass Business School in London and a consultant to a U.S. quantitative hedge fund. Prior to that, Alessandro held teaching and research positions at several universities, including Amsterdam Business School, HEC Lausanne, the Wharton School of the University of Pennsylvania, Columbia University GSB, and the London Business School.
Dr. Beber's research on empirical asset pricing, microstructure, and  macro finance has been published in leading academic and practitioner journals, including the Journal of Finance, the Journal of Financial Economics, the Review of Financial Studies, the Journal of Monetary Economics, the Review of Finance, and the Journal of Corporate Finance.