Consumers stay strong, but their focus keeps shifting, Russ explains.
In the second-quarter, real household spending fell at an annualized rate of 33%. Going back more than 70 years, this was the single worst quarter on record. However, the rebound has been equally dramatic and unprecedented. As unlikely as it seemed back in the spring, in aggregate U.S. households are in surprisingly good shape and continue to spend, and in some cases even splurge.
When I last discussed the consumer back in late September, I suggested consumption would continue to rise given a strengthening labor market, solid household balance sheets and a rebound in housing. Today I would double-down on each of those themes, with an emphasis on spending (and stocks) tied to housing. A few updates:
Job growth and income continue to rise. While job growth has slowed, the U.S. still added an average of 500k net new jobs during the past three months. And despite the expiration of several stimulus programs, adjusted for inflation U.S. personal income is growing at 5%.
Unlike in 2009, household balance sheets are solid. Debt-to-disposable income is at its lowest point since the late 1990s and consumers continue to save. At 13.6% the savings rate is 6 percentage points above pre-pandemic levels and more than twice the 20-year average.
Housing boom likely to continue. One way this recession (and recovery) has differed from previous ones has been the resilience of durable goods. In part, this reflects the unique nature of the recession and the extent to which other types of spending -- i.e. travel or dining -- have been constrained. This trend is evident in remarkably resilient auto sales and even more so in the housing market (see Chart 1). Nor is the strength limited to just home builders. As is typically the case, strength in housing supports related categories, such as home improvement and home entertainment.
U.S. homebuilder confidence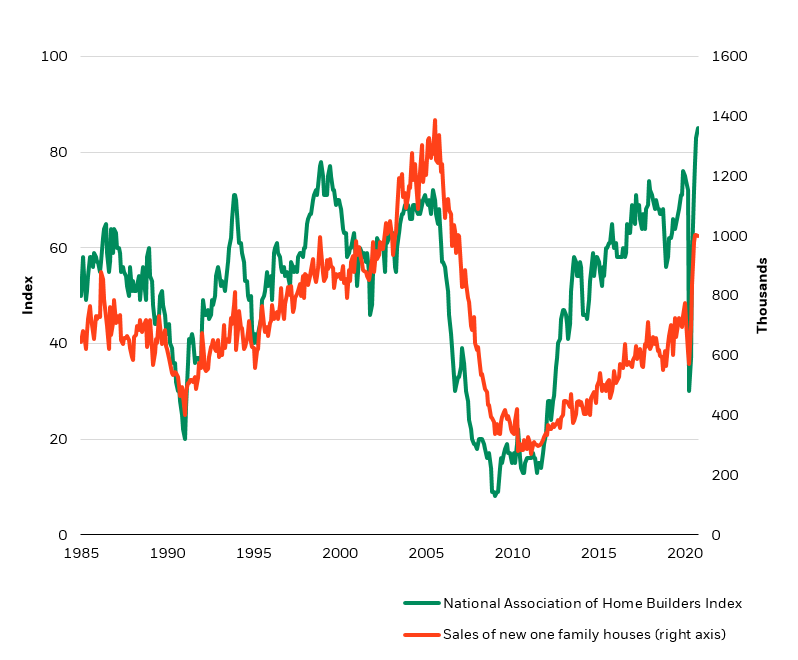 Source: Refinitiv DataStream, chart by BlackRock Investment Institute, using data from National Association of Home Builders, Census Bureau. December 10, 2020.
Given this dynamic I would continue to favor high quality cyclicals, i.e. companies that are geared to the economy but are more profitable than their peers. From an industry standpoint, I would lean into rails, specialty chemicals, home builders, semi equipment and payment companies. While these names may, in the short-term, underperform the more speculative parts of the space, they all have staying power; quality and cyclicals are not necessarily mutually exclusive.
Pandemic shifts but does not eliminate spending
Relative strength in consumer stocks slipped this fall, although the sector is still the second-best performer year-to-date. While consumer stocks have underperformed non-consumer cyclicals since September, I would continue to favor the sector.
Certain categories, notably restaurants and travel, are again struggling as the 3rd wave accelerates. That said, overall spending remains resilient and flexible. To the extent consumers have the wherewithal to spend, they spend. Real-time credit card data demonstrates the point. When consumer mobility drops spending picks up in complimentary categories, such as groceries and online commerce. Put differently, when people can no longer dine out they spend more on eating at home or ordering online.
Fungible spending creates an opportunity to invest in market segments that both benefit from solid consumption and secular shifts in wallet-share. Consider payment companies, which are tied to overall spending and an increasing reliance on electronic payments, as well as names geared to housing, such as homebuilders and home improvement retailers. In the end, U.S. consumers continue to demonstrate their fabled resilience.
Russ Koesterich, CFA, is a Portfolio Manager for BlackRock's Global Allocation Fund and is a regular contributor to Market Insights.