Why BlackRock for LDI?
As defined benefit pension funds embark on their end journey, designing an effective de-risking plan becomes ever more crucial. Our liability-driven investment platform offers defined benefit pension funds the power and flexibility of one of the most comprehensive fixed income businesses in the world, combined with proprietary asset-liability focused technology.
Learn more about liability-driven investing at BlackRock
Dynamic Article List-1
Paragraph-4
Paragraph-5,Image Cta-1
Paragraph-6,Bio-1,Paragraph-7
Investment philosophy
We aim to be your partner of choice through your pension journey, by seeking to deliver:
Superior investment performance and outcomes
Outstanding client experience
Industry thought leadership and being your 'go to' adviser
High quality, technology-orientated operating environment
Local expertise and global reach
History
BlackRock brings decades of experience in liability-driven investing. Designing and executing investment strategies to reflect specific liability hedging objectives is a core part of our success in managing assets for pension, insurance and other institutional clients.
BlackRock's first pension fund liability hedging mandate was implemented in 1995, giving BlackRock over 20 years' experience as an LDI manager and adviser. As the market grew, BlackRock expanded its resource commensurately, culminating in the establishment of a dedicated European team in 2005 with its range of pooled funds being launched in the same year.
Capabilities
By navigating your unique situations, sensitivities and objectives, our LDI team can guide you to your optimal strategy. Our expansive platform has been designed to help you create customised solutions for your unique pension journey and is underpinned by a range of fixed income investment strategies that seek to meet a wide range of pension fund objectives.
Over $350bn in assets under management globally1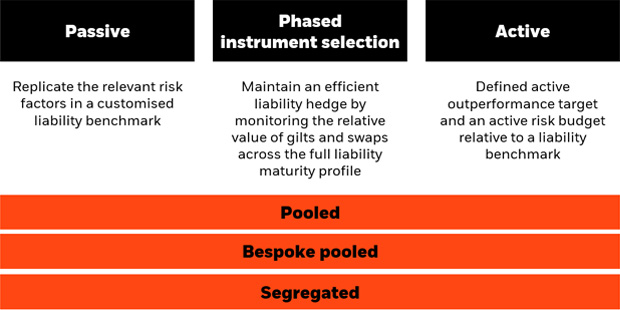 Source: BlackRock, for illustrative purposes only.
Aladdin technology
Aladdin connects the information, people and tools needed to manage money in real time. This offers the benefits of interactive risk reporting and analytics, portfolio management tools, trading, regulatory reporting & compliance, operations and performance attribution.
Meet our team
We believe our size allows us to invest in people and technology, creating comprehensive global coverage and thought leadership across regions.
BlackRock has a dedicated LDI team that develops client solutions in partnership with our portfolio management teams across our fundamental, systematic and index platforms.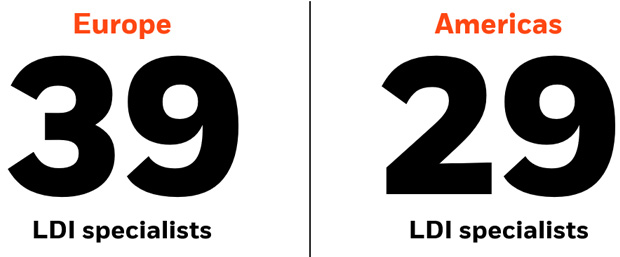 Source: BlackRock, as of December 31, 2018.