Why BlackRock for systematic active equity?
As pioneers in managing systematic active equities, our expertise dates back to 19851. At BlackRock, our investors and researchers use proprietary techniques to seek insights with the aim of delivering consistent, differentiated outperformance. In an age in which we are overloaded with information, the ability to process large amounts of data by using systematic, quantitative techniques can create a significant advantage.
Learn more about systematic active equity at BlackRock
Paragraph-3
Paragraph-4
Paragraph-5
Paragraph-6,Bio-1,Navigation List-2
A differentiated approach for seeking consistent alpha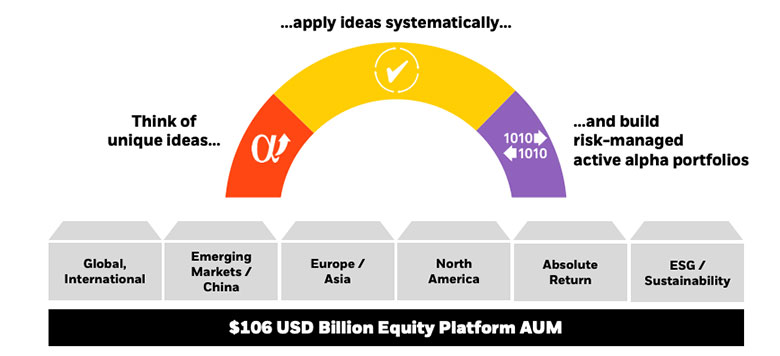 Source: BlackRock as of June 30, 2019. Outperformance defined as net return either in excess of reference benchmark or peer median. Reflects net-of-fees performance of all Active Equities accounts and funds. The "net-of-fees" performance figures reflect the deduction of actual investment advisory fees, and may include other fees that clients incur in the management of their investment advisory account that are paid directly from the account, such as custody and legal fees. High net worth separate accounts net returns are calculated by subtracting the highest applicable wrap fee (3% on an annual basis, or 0.75% quarterly) from composite returns. Performance comparisons shown are relative to applicable benchmarks for institutional accounts, private funds and high net worth separate accounts, and relative to respective peer median for mutual funds, closed -end funds and UCITs. Peer medians are based in part on data either from Lipper, Inc. or Morningstar, Inc. for each included product. The performance metric does not include accounts terminated prior to June 30, 2019. Past performance is not indicative of future results and should not be the sole factor of consideration when selecting a product strategy.
Investment process
We seek superior investment outcomes through a disciplined, objective process to return, managing risk and cost. Our investment process targets systematic exploitation of market inefficiencies, while minimizing uncompensated risks.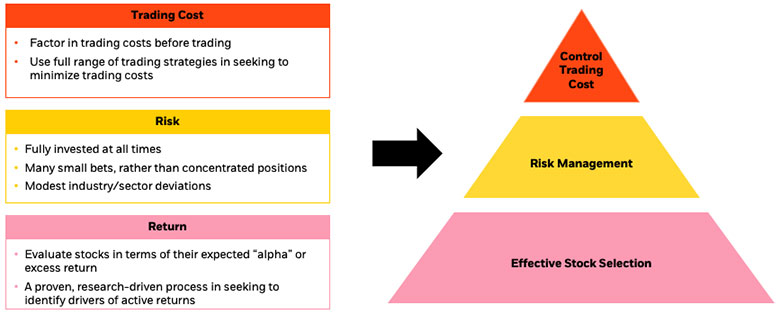 Source. BlackRock. For illustrative purposes only.
SAE evaluates and ranks +15,000 stocks across 44 countries, on a daily basis2
Portfolio managers combine alpha forecasts with cost and risk estimates to target an optimal portfolio
An optimal portfolio is diversified, risk-managed, and targets a high Information ratio (alpha per unit of active risk)
Portfolio managers monitor markets, signals and stocks for risks outside the scope of our models
SAE has a 30+ year track record of innovation2
Discovering new market inefficiencies is key to success as they can disappear as quickly as they are found. We believe that an investment process underpinned by continual innovation is vital to our goal of delivering sustainable alpha to our clients.
SAE adds new sources of information to its process as past techniques lose effectiveness
Source: BlackRock as of June 30, 2019
Meet our team
Our systematic active equity team brings together a group of experienced investment professionals with diverse backgrounds spanning academia, data science finance and economics. Whether it's conducting research into new alpha ideas, ensuring that models are fine tuned to the current market environment, or challenging the findings of our models, SAE investors and researchers play an integral role in the investment process. For our clients, that results in a robust process backed by approximately 80 dedicated investment professionals2 supported by highly qualified researchers and strategists.
Leadership