Russ discusses the themes supporting gold, despite its mixed record recently as a hedge.
One of the many challenges of defending gold: Even its advocates can't agree on why to own it. Many consider gold a hedge against inflation. Others suggest it is a long-term hedge against a depreciating dollar and/or stock market risk.
My own view tends towards the latter. By this measure gold has had a mediocre crisis but a very good year. I last recommended gold in early March. Depending on your time horizon, this was either a timely call or one that widely missed the mark. Between the February high and the March low gold sank around 9%, proving itself a fickle hedge. However, since the March bottom gold has surged more than 20% and is now challenging levels last seen in 2012.
Given this erratic performance, how should investors think about gold going forward? While I still believe gold can serve as an efficient hedge against equity risk, March illustrated the asset's Achilles heel: liquidity. During March's volatility gold was sold, along with virtually every other asset, as investors scrambled to raise cash. But while holding gold was not particularly effective day-to-day, as the last three months have demonstrated we're still in a regime favorable for gold. To that end, I would reiterate many of the same arguments I made in March, namely:
The dollar is contained. The Dollar Index (DXY) is down 5% from its March peak and is trading right in the middle of its five-year range. With global central banks all pegging short-term rates near zero, the dollar is likely to remain range bound, removing a potential headwind for gold.
Real rates are negative and likely to stay that way. One of the factors I cited in March was negative real, or inflation-adjusted interest rates. Focusing on the 10-year part of the yield curve, real rates are -0.65% and likely to remain negative as the world's central banks aggressively add to their balance sheets (see Chart 1). Negative real yields are arguably the most important factor supporting gold. With nominal rates close to zero and negative after inflation, there is no longer an opportunity cost to holding gold, since it produces no income.
Central bank balance sheets in U.S. Dollars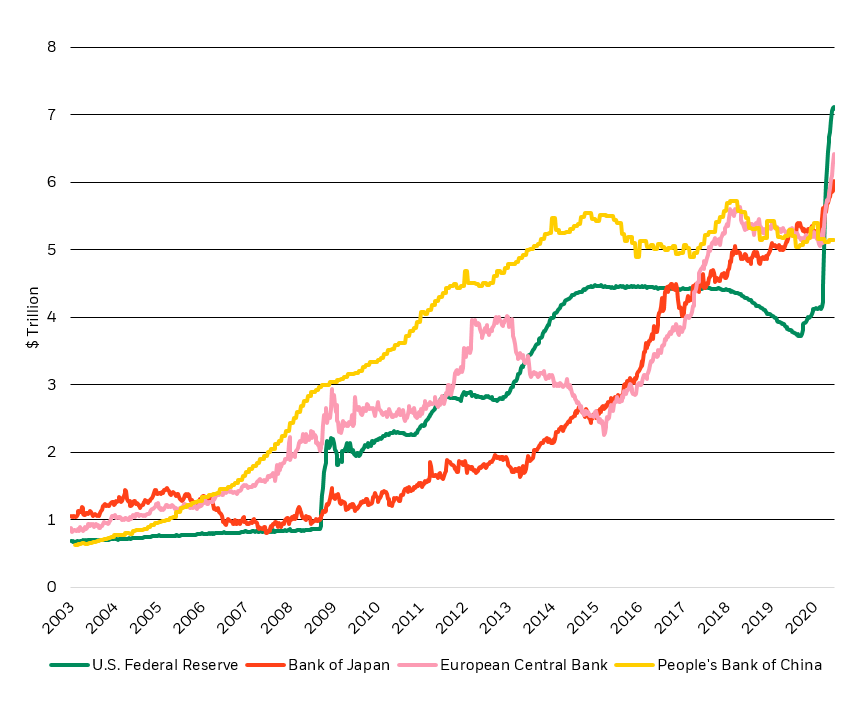 Source: Bloomberg, as of 6/24/20
Volatility has not been banished. While the Federal Reserve has calmed markets, there is a limit to what they can accomplish. Investors are still contending with an unprecedented health risk, an uneven recovery and the potential for a variety of policy shifts depending upon the November election results. Volatility will continue to experience episodic bursts, as it did last week. Given the types of uncertainties we're facing, i.e. slow and uneven growth we're likely to see a persistent bid for gold.
My verdict on gold going forward: It's an imperfect hedge but still a buy. As I discussed back in March, beyond the human toll the corona virus represents a lingering threat to the economy. Even under a good outcome, investors are looking at a prolonged period of uncertainty. This scenario, combined with negative real rates, should keep gold moving higher.