In this update we unpick what the announcements at the recent budget might mean for Gilts, LDI and UK Pension Funds.
The big picture
Things changed quickly after the Office for Budgetary Responsibility's (OBR) last forecast in November 2020: following the relaxation of restrictions at the beginning of December, it wasn't long before the country was asked to stay at home once again. Against this backdrop, and the tiered restrictions beforehand, Q4 '20 did see better (indeed positive) growth, suggesting that the economy is adapting as we move through this pandemic. However, with the country still in national lockdown and thus tighter restrictions than initially accounted for, it is no surprise to see downgrades to growth in the first three months of 2021.
On the positive side, with the vaccine rollout well underway and a roadmap to all restrictions being lifted in the summer (both ahead of prior expectations), a stronger recovery in the latter half of this year and into 2022 is now the central scenario. So much so that GDP is estimated to be back at pre-pandemic levels by mid-2022, six months earlier than thought in November.
OBR forecast of real GDP shows a faster recovery than previously expected but a long term impact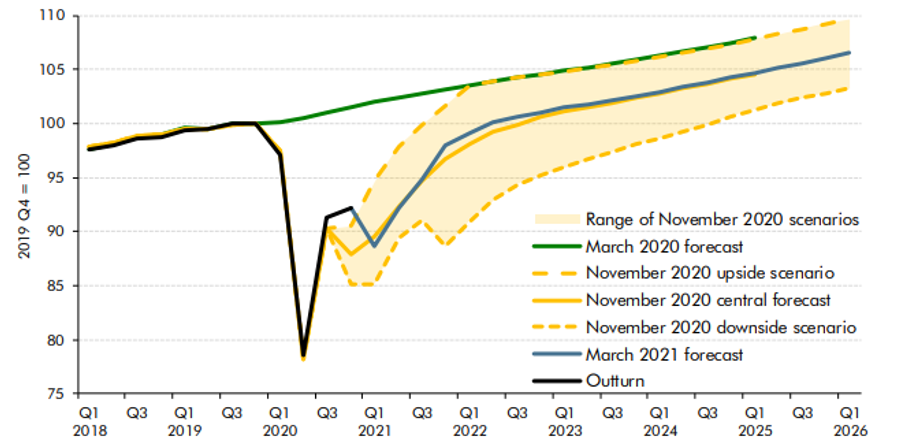 This left the Chancellor with a juggling act to manage as he set about delivering policies to deal with the current situation, while laying the foundations for recovery – both alongside the £298bn question (the estimated increase in borrowing vs 2019/20): how (and when) to pay it all back.
The support and stimulus packages as well as the plans for fiscal consolidation delivered at the Budget have been well covered elsewhere; suffice to say that, in aggregate, they were both bigger than most of the market was expecting. Given the immediate borrowing needs, there are material implications for the gilt market and its investors as the current reflation theme continues to play out.
The impact on Gilts
The first quarter of 2021 was a more challenging environment than had been assumed in the November 2020 EFO, and therefore more borrowing than previously estimated is necessary for the Fiscal Year 2021-2022. On the upside the fast vaccine rollout has meant restrictions are currently expected to be fully lifted by June 2021, whereas the November 2020 EFO assumed Tier 1 restrictions until September 2021. Government spending is then expected to slowly reduce as a result of policies announced, including freezing income tax thresholds and raising corporation tax. The Debt Management Office (DMO) illustrative gross financing requirement, however, remains above £200bn for the foreseeable future, as reduced government spending is offset by more short-dated debt maturing.
2021-2022 Gilt Remit came in higher than market expectations from many brokers of c.£250bn

Source: DMO 2021-2022 Financing Remit
The 2021-2022 Gilt Remit was therefore slightly higher than expected at £295.9 billion, reflecting the additional costs of continued Coronavirus fiscal support. This is split across different maturity buckets per Figure 2. The unallocated portion includes the £15bn which will be used for Green Gilts.
Issuance across Buckets sees an increase in allocation to longs, gilts with maturity over 15 years

Source: DMO 2021-2022 Financing Remit
It is important to put the remit into context of the Bank of England (BOE) Quantitative Easing Program. During the 2020-2021 remit, we had £485.5bn of Gilt issuance, but this will have been offset by £339bn of BOE purchases. By the end of March, the BOE will only have around £101bn left to buy of the additional £150bn that was announced last November to last until the end of 2021, unless any additional buying is announced, meaning that the market will need to digest a much larger amount of Gilts than in the 2020-2021 fiscal year. The £4.44bn weekly buying pace is also likely to be lowered in the coming months, as at the current pace the BOE will have reached its target by September 2021.
QE Program will need to slow down to reach the end of year unless more buying announced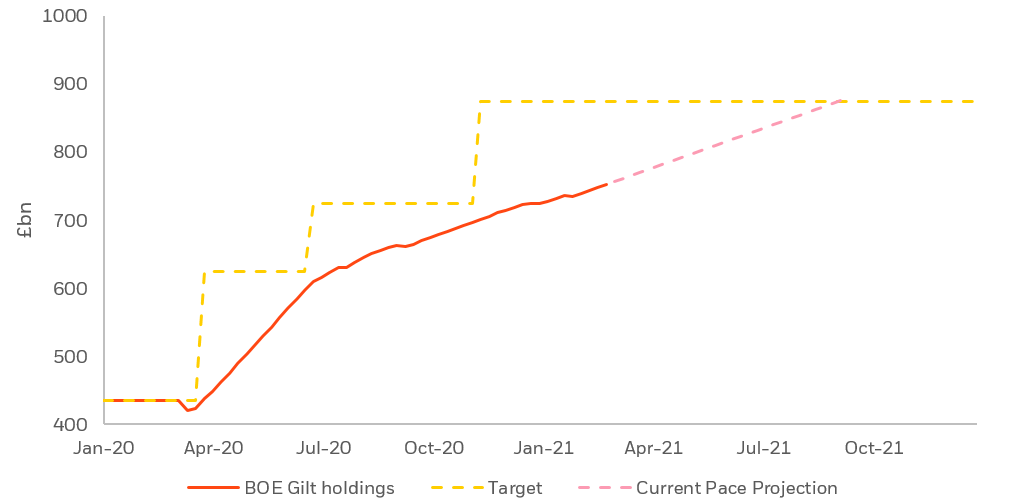 Source: Bloomberg, BOE as at 4th March 2021
The move higher in yields has not been isolated to only gilts, with significant yield increases also seen in the US and Europe. This all points to continued pressure on Gilt yields remaining elevated from the lows seen over the course of 2020 as the recovery continues, absent any major setbacks or changes in monetary policy. A large source of uncertainty, that is particularly present in the UK, is the potential for strong LDI demand to emerge given the increases in pension scheme funding levels current market conditions are driving. Will the inevitably lagged LDI demand, as strategic decisions are taken to de-risk or increase hedges, be enough to cause a pause in the rise in yields or are we truly entering a new post pandemic regime?
30 year gilt yields have increased by over 0.5% year to date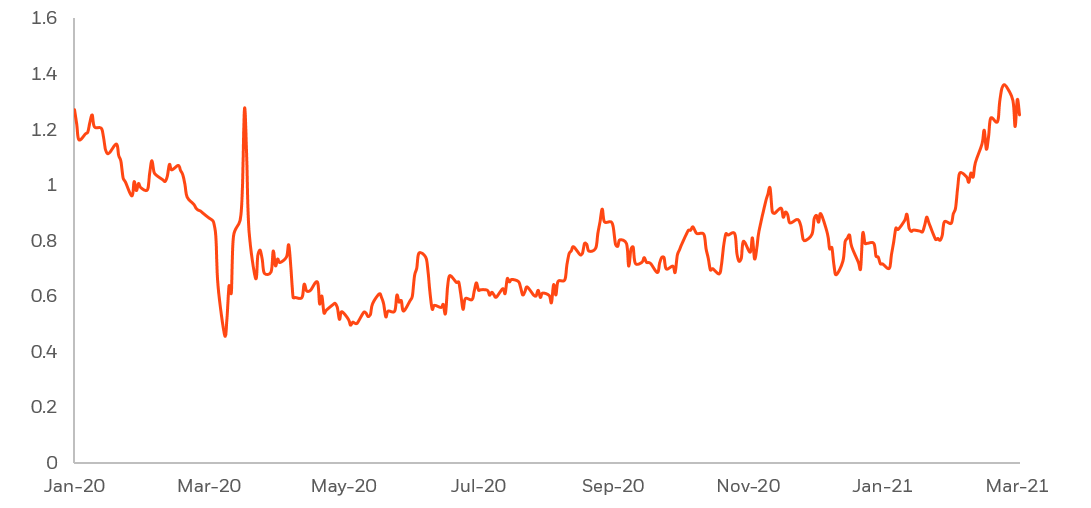 Source: Bloomberg as at 4th March 2021. Shows the yield on 2052 conventional gilt. The figures shown relate to past performance. Past performance is not a reliable indicator of current or future results.
Not Green Gilt but Green Gilts
Limited additional information was provided on the Government's plan to issue its first Green Gilts. Gilts in the plural is key, as it was announced that the market should expect two new issues to come in 2021. The minimum size of issuance was flagged as £15bn in 2021, however with an unallocated allowance of £28bn, there is plenty of scope for this issuance to be scaled up if demand is very strong, which would potentially be to the further detriment of index-linked gilt issuance.
In our previous notes on the topic and our recent interactions with the Treasury, DMO and their advisors we had suggested a 20yr maturity could be the sweet spot for the first Green Gilt. Long enough for LDI but not ruling out other sources of demand such as overseas buyers or bank treasuries. While we continue to hold this view, and it is possible that one of the issues is a 20yr Gilt, the desire to create two distinct issues in 2021 likely steers us towards a 10yr and 30yr issue, allowing the DMO to build out their desired "green curve" rapidly.
The first issuance will come as soon as the summer, which by our reckoning means June, however on a recent DMO update it was suggested that more information will be provided in their May meeting with market participants and brokers, perhaps indicating this a first syndication may not come until later in the summer. The LDI team at BlackRock is preparing for how the first Green Gilt issue will fit into client mandates and will be in contact with clients in the coming months.
The inflation outlook
The combination of the measures announced in the budget and associated impact in gilt issuance led to twin impacts on inflation markets, with short term RPI expectations altered through policy announcements, and long-term market levels driven by the supply outlook.
The response to the pandemic continues to lead to significant volatility in realized inflation. The most obvious direct impacts to inflation from the Budget are through taxation changes likely to have a quicker, albeit imperfect passthrough, to headline prices, such as the extension of the VAT cut to the tourism and hospitality sectors and the fuel and alcohol duty freezes. The Office of Budgetary Responsibility (OBR) estimates that "in total, these lower inflation by 0.2 percentage points in 2021-22." Beyond this point, a raft of slower-acting and more indirect measures are likely to prove inflationary, as housing support and boosts to demand work alongside the reversion of hospitality VAT to its prior rate of 20% from Apr-22 onwards. It is also worth noting that we'll see a further boost of 0.1% from the Feb release of the RPI index, after the ONS flagged an error was made in RPI calculations.
However, even with these inflationary factors, the OBR expectation is for CPIto remain below target for the coming years RPI is also projected to remain low, with a peak of 3.1% before a drift lower with a range of 2-3% until 2025. This is notably below market expectations, with 3Y RPI swaps closing on the day of the budget at 3.45%. Whilst we have previously written of the buildup of global reflationary pressures, these may take some time to build up and manifest into higher headline inflation rates.
CPI Inflation outlook from OBR shows inflation expected to remain below target for some time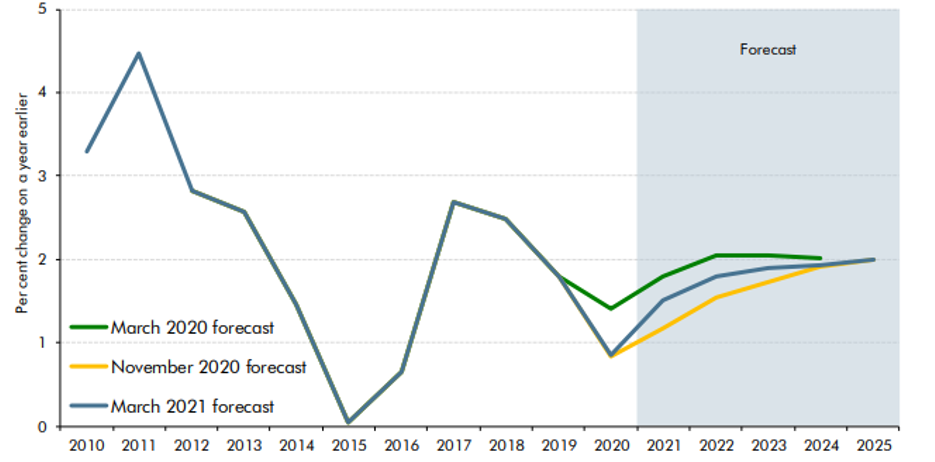 Source: ONS, OBR, 03-Mar-21
Impact on longer maturities
Index-linked gilt issuance was confirmed at a level slightly below market expectations. A survey across all 15 Gilt primary dealers carried out by Reuters, saw a forecast average of £34.6bn, or 14% of the expected Gilt total.
The actual amount for linkers confirmed in the remit was £32.7bn of the £295.9bn total, split between £19.2bn in auctions and £13.5bn in syndications. Whilst this is only marginally smaller in cash terms, the difference in percentage allocation (11% vs an expectation of 14%) is more striking. This has also been projected forward for future years issuance by the OBR in the Economic and Fiscal Outlook Report (shown below). However, it is worth noting that this is a projection by the OBR and not a commitment from the Debt Management Office.
OBR gross gilt financing forecasts show a continued drop of in index-linked gilt issuance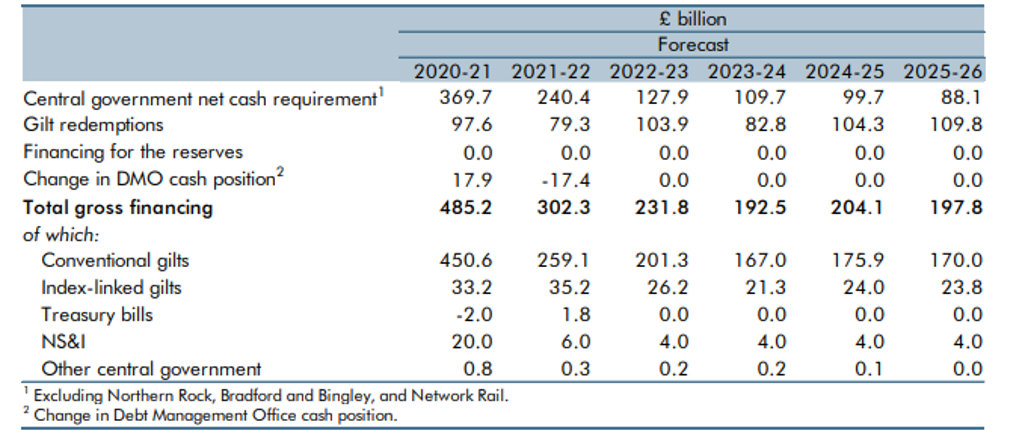 Source: OBR, 03-Mar-21
Looking at the issuance forecasts as part of a longer history shows a similar picture, with the expected future drop in issuance in cash terms less striking than the comparative projected drop in percentage terms. However, whilst the projected fall in cash terms after this year looks comparable to 2018-2020, it is worth noting that this was during the period of RPI reform discussions, which were widely viewed as suppressing both the overall issuance volumes and demand from typical LDI buyers.
Realised and forecast Index-linked Gilt issuance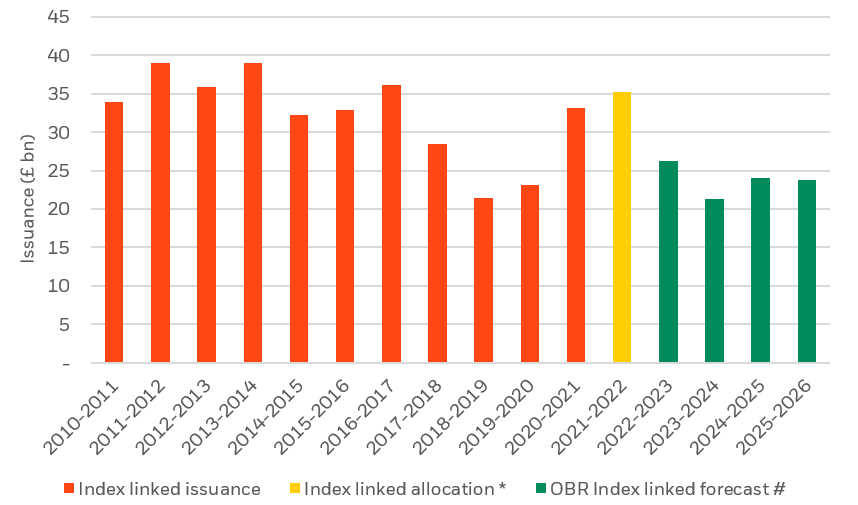 Source: BlackRock, Bank of England, DMO, OBR, J.P.Morgan, 04-Mar-21
Inflation linked issuance as % of total (gross and net of APF)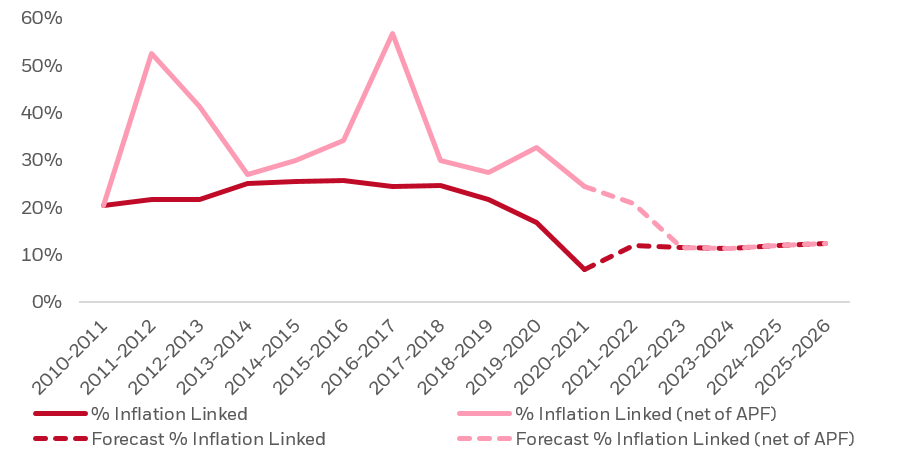 Source: BlackRock, Bank of England, DMO, OBR, J.P.Morgan, 04-Mar-21
Taking this longer-term outlook may explain why we saw a small increase in inflation swap rates in the couple of days following the budget despite a relatively healthy headline issuance level for the coming financial year.
We do not see the same split between Shorts, Mediums and Longs for inflation linked bonds that we do for nominals. However, some inference has been drawn from the announcement of 3 syndications, with some market participants previously expecting just 2. Syndications are typically associated with longer dated issues with larger volumes of inflation risk being delivered to the market per unit of notional. This may help to explain why the move in the longest tenors was slightly less pronounced.
One other factor that is worth tracking is the unallocated portion of issuance. Whilst this is set at a seemingly high level of £28bn, as previously noted £15bn+ of this will be allocated to Green Gilts. This means that, barring a remit restatement, such as those that we saw last year in the face of increased pandemic-related spending, the likely 'top-up' to the currently announced allocation is likely to be more limited.
However, given the proportion of defined benefit liabilities with inflation increases capped at 5%, appetite typically begins to diminish as inflation market levels rise. Therefore, unless we see a meaningful change in global inflation outlook that suggests a shift in inflation targeting, suggesting a further increase in risk premium from current levels, this is something that is more likely to 'keep RPI expensive' rather than drive significant further increases from this point.
Wider impacts on the journey to the end game?
An indirect impact on demand for gilts is possible as a result of corporation tax changes announced in the budget, with rates due to move from 19% currently to 25% in 2023/2024. This has the potential scope to causes sponsors to change their approach to agreeing recovery plans or even engage Trustees on amending existing plans, for example offering assets in escrow in the intervening period to benefit from a potential  6% tax saving when contributions are made from 2023 onwards. Sponsors close to a position where they may have taken a strategic decision to make a one-off contribution in order to boost the plan funding to buy-out levels, to remove the administrative burden and balance sheet uncertainty caused by running a scheme, may also be given cause for thought.
While the reverse effect was anecdotally observed in 2014, when corporation tax rates fell and some contributions were brought forward to benefit from higher tax relief, it is unclear that this will have a material impact in the same way. On this occasion the changes in 2023 remain uncertain for now, while Trustees may be reticent to accept delays in contributions in the current economic environment. If a noticeable effect did occur, this has the potential to reduce the pace of de-risking at the margin and may also reduce swap demand relative to gilts, as there would be a likely reduction in buyout activity, meaning that there would be a reduced volume of insurers seeking to switch gilts typically held in LDI accounts into swaps to meet solvency II requirements.
In conclusion
With lockdown restrictions expected to end in the coming months, the Chancellor has prioritised allowing the green shoots of recovery to flourish, choosing to pay for this later. This will lead to continuing historically high levels of gilt issuance, including the first green gilts, with uncertainty about how long QE will continue to support the gilt market.
LDI demand at these higher yields and stronger funding levels may be able to take up some of the strain and with index-linked gilt issuance likely to remain limited in the years to come, pressure may manifest itself in continued elevated inflation risk premia vs. the BoE target. This has the potential to keep a lid on how far real yields can rise, particularly if the global reflationary story gains traction and the unwinding of policies such as VAT cuts in the UK starts to drive high inflation outturns.
The opinions expressed are as of March 2021 and are subject to change at any time due to changes in market or economic conditions. The above descriptions are meant to be illustrative. There is no guarantee that any forecasts made will come to pass.
Risks
Capital at risk. The value of investments and the income from them can fall as well as rise and are not guaranteed. Investors may not get back the amount originally invested.
Past performance is not a reliable indicator of current or future results.
Changes in the rates of exchange between currencies may cause the value of investments to diminish or increase. Fluctuation may be particularly marked in the case of a higher volatility fund and the value of an investment may fall suddenly and substantially. Levels and basis of taxation may change from time to time.
Fixed income risk
Two main risks related to fixed income investing are interest rate risk and credit risk. Typically, when interest rates rise, there is a corresponding decline in the market value of bonds. Credit risk refers to the possibility that the issuer of the bond will not be able to repay the principal and make interest payments.
Inflation Linked Bonds
Inflation linked bonds are fixed interest securities where the coupon payments increase and decrease with changes in official inflation rates. Such bonds offer investors some protection against rising levels of inflation, since rising official inflation data automatically feeds through into coupon payments. However, investors should be aware that inflation linked bonds may, under certain circumstances, offer a slightly lower coupon payment compared to other types of fixed interest securities. Also, given that these securities are not exposed to inflation rate risk, should inflation rates decrease, the value of an inflation linked bond may not increase in price as might be expected for some other sorts of bond.
Important information
This material is for distribution to Professional Clients (as defined by the FCA or MiFID rules) and Qualified investors only and should not be relied upon by any other persons.
Issued by BlackRock Investment Management (UK) Limited, authorised and regulated by the Financial Conduct Authority. Registered office: 12 Throgmorton Avenue, London, EC2N 2DL. Tel: + 44 (0)20 7743 3000. Registered in England and Wales No. 2020394. For your protection telephone calls are usually recorded. BlackRock is a trading name of BlackRock Investment Management (UK) Limited. Please refer to the Financial Conduct Authority website for a list of authorised activities conducted by BlackRock.
Any research in this document has been procured and may have been acted on by BlackRock for its own purpose. The results of such research are being made available only incidentally. The views expressed do not constitute investment or any other advice and are subject to change. They do not necessarily reflect the views of any company in the BlackRock Group or any part thereof and no assurances are made as to their accuracy.
This document is for information purposes only and does not constitute an offer or invitation to anyone to invest in any BlackRock funds and has not been prepared in connection with any such offer.
© 2021 BlackRock, Inc. All Rights reserved. BLACKROCK, BLACKROCK SOLUTIONS, iSHARES, BUILD ON BLACKROCK, SO WHAT DO I DO WITH MY MONEY are trademarks of BlackRock, Inc. or its subsidiaries in the United States and elsewhere. All other trademarks are those of their respective owners.