Filter list by keyword
Show More
Show Less
to
of
Total
Sorry, no data available.
Overview
WHY IEMI?
Exposure to emerging market infrastructure companies from transportation, energy and utility sectors
Direct investment into listed infrastructure companies in emerging markets
Emerging markets and Infrastructure sector exposure
INVESTMENT OBJECTIVE
The Fund seeks to track the performance of an index composed of 30 of the largest emerging market companies active in the infrastructure sector.
Next:
Previous:
Important Information: Capital at Risk. The value of investments and the income from them can fall as well as rise and are not guaranteed. Investors may not get back the amount originally invested.
Important Information:
 The value of your investment and the income from it will vary and your initial investment amount cannot be guaranteed. Compared to more established economies, the value of investments in Emerging Markets may be subject to greater volatility due to differences in generally accepted accounting principles or from economic or political instability. The Fund invests in a limited number of market sectors. Compared to investments which spread investment risk through investing in a variety of sectors, share price movements may have a greater affect on the overall value of this fund. Overseas investments will be affected by movements in currency exchange rates.
All currency hedged share classes of this fund use derivatives to hedge currency risk. The use of derivatives for a share class could pose a potential risk of contagion (also known as spill-over) to other share classes in the fund. The fund's management company will ensure appropriate procedures are in place to minimise contagion risk to other share class. Using the drop down box directly below the name of the fund, you can view a list of all share classes in the fund – currency hedged share classes are indicated by the word "Hedged" in the name of the share class. In addition, a full list of all currency hedged share classes is available on request from the fund's management company

Performance
Performance
This chart shows the fund's performance as the percentage loss or gain per year over the last 10 years.
During this period performance was achieved under circumstances that no longer apply
*On , the Fund changed its name and/or investment objective and policy..
Missing calendar year returns data
The figures shown relate to past performance. Past performance is not a reliable indicator of future performance. Markets could develop very differently in the future. It can help you to assess how the fund has been managed in the past
Share Class and Benchmark performance displayed in USD hedged Share Class Benchmark performance is displayed in USD.
Performance is shown on a Net Asset Value (NAV) basis, with gross income reinvested where applicable. Performance data is based on the net asset value (NAV) of the ETF which may not be the same as the market price of the ETF. Individual shareholders may realize returns that are different to the NAV performance.
The return of your investment may increase or decrease as a result of currency fluctuations if your investment is made in a currency other than that used in the past performance calculation. Source: Blackrock
Key Facts
Key Facts
S&P Emerging Markets Infrastructure Index
BlackRock Asset Management Ireland Limited
State Street Fund Services (Ireland) Limited
State Street Custodial Services (Ireland) Limited
Portfolio Characteristics
Portfolio Characteristics
Sustainability Characteristics
Sustainability Characteristics
Sustainability Characteristics provide investors with specific non-traditional metrics. Alongside other metrics and information, these enable investors to evaluate funds on certain environmental, social and governance characteristics. Sustainability Characteristics do not provide an indication of current or future performance nor do they represent the potential risk and reward profile of a fund. They are provided for transparency and for information purposes only. Sustainability Characteristics should not be considered solely or in isolation, but instead are one type of information that investors may wish to consider when assessing a fund.
The metrics are not indicative of how or whether ESG factors will be integrated into a fund. Unless otherwise stated in fund documentation and included within a fund's investment objective, the metrics do not change a fund's investment objective or constrain the fund's investable universe, and there is no indication that an ESG or Impact focused investment strategy or exclusionary screens will be adopted by a fund. For more information regarding a fund's investment strategy, please see the fund's prospectus.
Review the MSCI methodologies behind Sustainability Characteristics using the links below.
Equity Theme - Infrastructure
What is the Implied Temperature Rise (ITR) metric? Learn what the metric means, how it is calculated, and about the assumptions and limitations for this forward-looking climate-related metric.
Climate change is one of the greatest challenges in human history and will have profound implications for investors. To address climate change, many of the world's major countries have signed the Paris Agreement. The temperature goal of the Paris Agreement is to limit global warming to well below 2°C above pre-industrial levels, and ideally 1.5 °C, which will help us avoid the most severe impacts of climate change.
What is the ITR metric?
The ITR metric is used to provide an indication of alignment to the temperature goal of the Paris Agreement for a company or a portfolio. Scientific consensus suggests that reducing emissions until they reach net zero around mid-century (2050-2070) is how this goal could be met. A net zero emissions economy is one that balances emissions and removals.
How is the ITR metric calculated?
The ITR metric is calculated by looking at the current emissions intensity of companies within the fund's portfolio as well as the potential for those companies to reduce its emissions over time. If emissions in the global economy followed the same trend as the emissions of companies within the fund's portfolio, global temperatures would ultimately rise within this band.
Note, only corporate issuers are covered within the calculation. A summary explanation of MSCI's methodology and assumptions for its ITR metric can be found here.
Because the ITR metric is calculated in part by considering the potential for a company within the fund's portfolio to reduce its emissions over time, it is forward-looking and prone to limitations. As a result, BlackRock publishes MSCI's ITR metric for its funds in temperature range bands. The bands help to underscore the underlying uncertainty in the calculations and the variability of the metric.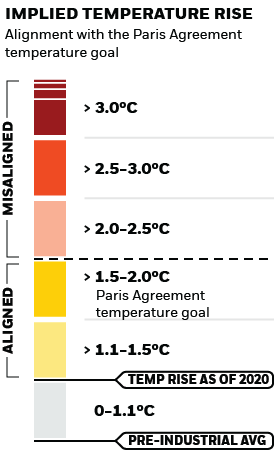 What are the key assumptions and limitations of the ITR metric?
This forward-looking metric is calculated based on a model, which is dependent upon multiple assumptions. Also, there are limitations with the data inputs to the model. Importantly, an ITR metric may vary meaningfully across data providers for a variety of reasons due to methodological choices (e.g., differences in time horizons, the scope(s) of emissions included and portfolio aggregation calculations).
There is not a universally accepted way to calculate an ITR. There is not a universally agreed upon set of inputs for the calculation. At present, availability of input data varies across asset classes and markets. To the extent that data becomes more readily available and more accurate over time, we expect that ITR metric methodologies will evolve and may result in different outputs. Where data is not available, and / or if data changes, the estimation methods vary, particularly those related to a company's future emissions.
The ITR metric estimates a fund's alignment with the Paris Agreement temperature goal. However, there is no guarantee that these estimates will be reached. The ITR metric is not a real time estimate and may change over time, therefore it is prone to variance and may not always reflect a current estimate.
The ITR metric is not an indication or estimate of a fund's performance or risk. Investors should not rely on this metric when making an investment decision and instead should refer to a fund's prospectus and governing documents. This estimate and the associated information is not intended as a recommendation to invest in any fund, nor is it intended to indicate any correlation between a fund's ITR metric and its future investment performance.
All data is from MSCI ESG Fund Ratings as of 21/Sep/2023, based on holdings as of 31/Aug/2023. As such, the fund's sustainable characteristics may differ from MSCI ESG Fund Ratings from time to time.
To be included in MSCI ESG Fund Ratings, 65% (or 50% for bond funds and money market funds) of the fund's gross weight must come from securities with ESG coverage by MSCI ESG Research (certain cash positions and other asset types deemed not relevant for ESG analysis by MSCI are removed prior to calculating a fund's gross weight; the absolute values of short positions are included but treated as uncovered), the fund's holdings date must be less than one year old, and the fund must have at least ten securities.
Registered Locations
Registered Locations
Austria

Czech Republic

Denmark

Finland

France

Germany

Ireland

Italy

Liechtenstein

Luxembourg

Netherlands

Norway

Poland

Portugal

Singapore

Slovak Republic

Spain

Sweden

Switzerland

United Kingdom
Holdings
Holdings
Detailed Holdings and Analytics contains detailed portfolio holdings information and select analytics.
Exposure Breakdowns
Exposure Breakdowns
Geographic exposure relates principally to the domicile of the issuers of the securities held in the product, added together and then expressed as a percentage of the product's total holdings. However, in some instances it can reflect the location where the issuer of the securities carries out much of their business.
Allocations are subject to change.
Securities Lending
Securities Lending
Securities lending is an established and well regulated activity in the investment management industry. It involves the transfer of securities (such as shares or bonds) from a Lender (in this case, the iShares fund) to a third-party (the Borrower). The Borrower will give the Lender collateral (the Borrower's pledge) in the form of shares, bonds or cash, and will also pay the Lender a fee. This fee provides additional income for the fund and thus can help to reduce the total cost of ownership of an ETF.
At BlackRock, securities lending is a core investment management function with dedicated trading, research and technology capabilities. The lending programme is designed to deliver superior absolute returns to clients, whilst maintaining a low risk profile. Funds participating in securities lending retain 62.5% of the income, while BlackRock receives 37.5% of the income and covers all the operational costs resulting from securities lending transactions.
From
30-Jun-2013
To
30-Jun-2014
From
30-Jun-2014
To
30-Jun-2015
From
30-Jun-2015
To
30-Jun-2016
From
30-Jun-2016
To
30-Jun-2017
From
30-Jun-2017
To
30-Jun-2018
From
30-Jun-2018
To
30-Jun-2019
From
30-Jun-2019
To
30-Jun-2020
From
30-Jun-2020
To
30-Jun-2021
From
30-Jun-2021
To
30-Jun-2022
From
30-Jun-2022
To
30-Jun-2023
Securities Lending Return (%)
0.03
0.04
0.04
0.02
0.05
0.08
0.03
0.02
0.03
0.09
Average on-loan (% of AUM)
4.78
7.99
10.71
12.36
14.79
23.09
15.86
10.67
8.63
11.71
Maximum on-loan (% of AUM)
9.30
12.39
19.60
17.44
26.96
26.00
20.63
21.19
19.94
20.34
Collateralisation (% of Loan)
113.96
112.90
111.01
110.80
110.98
111.81
110.81
111.35
110.16
106.54
The above table summarises the lending data available for the fund.
The information in the Lending Summary table will not be displayed for the funds that have participated in securities lending for less than 12 months. The figures shown relate to past performance. Past performance is not a reliable indication of current or future results.
BlackRock's policy is to disclose performance information quarterly subject to a one-month delay. This means that returns from 01/01/2019 to 31/12/2019 can be publicly disclosed from 01/02/2020.
Maximum on-loan figure may increase or decrease over time.
With securities lending there is a risk of loss should the borrower default before the securities are returned, and due to market movements, the value of collateral held has fallen and/or the value of the securities on loan has risen.
| Ticker | Name | Asset Class | Weight % | ISIN | SEDOL | Exchange | Location |
| --- | --- | --- | --- | --- | --- | --- | --- |
Collateral Holdings shown on this page are provided on days where the fund participating in securities lending had an open loan.

The information in the Collateral Holdings table relates to securities obtained in the collateral basket under the securities lending programme for the fund in question. The information contained in this material is derived from proprietary and non-proprietary sources deemed by BlackRock to be reliable, is not necessarily all inclusive and is not guaranteed as to accuracy. Reliance upon information in this material is at the sole discretion of the reader. The primary risk in securities lending is that a borrower will default on their commitment to return lent securities while the value of the liquidated collateral does not exceed the cost of repurchasing the securities and the fund suffers a loss in respect of the short-fall.

The below table shows the Loan/Collateral Combinations and Collateral Levels for our European Lending funds.
Collateral Types
Loan Type
Equities
Government, Supranational and Agency Bonds
Cash (Not for Reinvestment)
Equities
105%-112%
105%-106%
105%-108%
Government Bonds
110%-112%
102.5%-106%
102.5%-105%
Corporate Bonds
110%-112%
104%-106%
103.5%-105%
We also accept selected physically replicating Equity, Government Bond, Credit and Commodity ETFs as collateral.

Collateral parameters depend on the collateral and the loan combination, and the over collateralisation level may range from 102.5% to 112%. In this context, "Over Collateralisation" means that the aggregate market value of collateral taken will exceed the overall on-loan value. Collateral parameters are reviewed on an ongoing bases and are subject to change.
With securities lending there is a risk of loss should the borrower default before the securities are returned, and due to market movements, the value of collateral held has fallen and/or the value of the securities on loan has risen.
Listings
Listings
| | | | | | | |
| --- | --- | --- | --- | --- | --- | --- |
| London Stock Exchange | IEMI | GBP | 18/Feb/2008 | B2NPL13 | IEMI LN | IEMI.L |
| Berne Stock Exchange | IEMI | USD | 02/Feb/2021 | BMT9SK7 | IEMI BW | IEMI.BN |
| Deutsche Boerse Xetra | IUS8 | EUR | 17/Mar/2009 | BVG2QH5 | IUS8 GY | IUS8.DE |