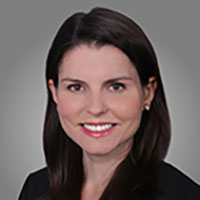 Kaitlin Bergan
Senior Platform Strategist, Sustainable Investing
Kaitlin Bergan, Director, is a Senior Platform Strategist for the BlackRock Sustainable Investing team, responsible for driving client dialogue, platform growth and commercial outcomes on Sustainable Investing across the US and Canada. The Sustainable Investing team is focused on identifying drivers of long-term return associated with environmental, social and governance issues, integrating them throughout Blackrock's investment processes, and creating solutions for our clients to achieve sustainable investment return. Previously, Kaitlin was a member of BlackRock's Global Product Group, responsible for setting and driving product strategy across asset classes for the firm's institutional clients in the US and Canada.
Prior to joining BlackRock, Ms. Bergan headed Investor Relations at G2 Investment Partners, a New York based hedge fund, where she was responsible for asset raising, relationship management and client strategy. Previously, she held roles in asset management investor relations and communications in London and New York.
Ms. Bergan earned a BA in History, with Honours, from the University of Oxford and she holds an M.Sc. from the London School of Economics. Based in New York, Kaitlin is a mentor with BlackRock's Read Ahead program and serves on the leadership committee of the New York Cares Rising Leaders Council.