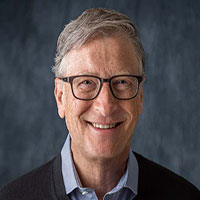 Bill Gates
Founder of Breakthrough Energy
In 1975, Bill Gates founded Microsoft with Paul Allen and led the company to become the worldwide leader in business and personal software and services.
In 2008, Bill transitioned to focus full-time on his foundation's work to expand opportunity to the world's most disadvantaged people. Along with co-chair Melinda Gates, he leads the foundation's development of strategies and sets the overall direction of the organization.
At Breakthrough Energy, he's putting his experience as an innovator and problem-solver to work to address climate change by supporting the next generation of entrepreneurs, big thinkers, and clean technologies. Bill uses his experience partnering with global leaders across sectors to help drive the policy, market, and technological changes required for a clean energy transition.
In 2010, Bill, Melinda, and Warren Buffett founded the Giving Pledge, an effort to encourage the wealthiest families and individuals to publicly commit more than half of their wealth to philanthropic causes and charitable organizations during their lifetime or in their will.