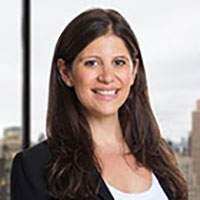 Alexandra Hirsch
Director, Platform Strategy and Product Innovation for Americas, Sustainable Investing team
Alexandra Hirsch, Director, drives platform strategy and product innovation in the Americas for the BlackRock Sustainable Investing team. The Sustainable Investing team is focused on identifying drivers of long-term return associated with environmental, social and governance issues, integrating them throughout Blackrock's investment processes, and creating solutions for our clients to achieve sustainable investment return.
Before joining BlackRock, Alex was a Principal in the Client Coverage group at Oak Hill Advisors. In this role, she shared responsibility for investor relations and new business development, serving as product lead for a variety of the firm's strategies including private credit and multi-strategy credit. Prior to her time at Oak Hill Advisors, she was an Associate at Shenkman Capital working in Investor Relations and Marketing. She began her career as an equity swap trader at Dresdner Kleinwort Wasserstein and Merrill Lynch.
Alex received a Bachelor's Degree in Political Science from Colgate University and an MBA from The University of Chicago Booth School of Business.