Tech has underperformed recently, but Russ discusses opportunities within the sector.
The early November vaccine news did what the pandemic itself could not do: lead to tech underperformance. From early November through year-end, the tech sector trailed the S&P 500, while more cyclical sectors, such as materials and industrials, gained more than 10%. That said, look below the surface and some pockets of tech have thrived.
Consistent with the broader market narrative of renewed cyclical leadership, the more economically sensitive parts of technology have staged an impressive rally. Semiconductor stocks, generally considered one of the more cyclical parts of the tech sector, have had an extraordinary run. The Philadelphia Semiconductor Index gained roughly 15% from the initial vaccine announcement through year's end.
With stimulus, both monetary and fiscal, likely to continue and potentially accelerate, cyclical leadership should remain intact. But those same factors, along with powerful secular trends, also support many parts of the tech space. Consider the following
Easy money has historically correlated with tech outperformance
If part of the thesis for further stock gains is massive central bank liquidity (see Chart 1), tech should benefit from this trend, particularly if volatility continues to fall. Since 2008 tech has generally outperformed when financial conditions are improving. The average outperformance is approximately 30-35 basis points (bps) a month. In months when volatility, measured by the VIX Index, is falling, average outperformance doubles. Why? Because long-duration assets, i.e. companies where cash flows are in the more distant future, benefit when financial conditions are easy and rates exceptionally low.
Central bank balance sheets in U.S. dollars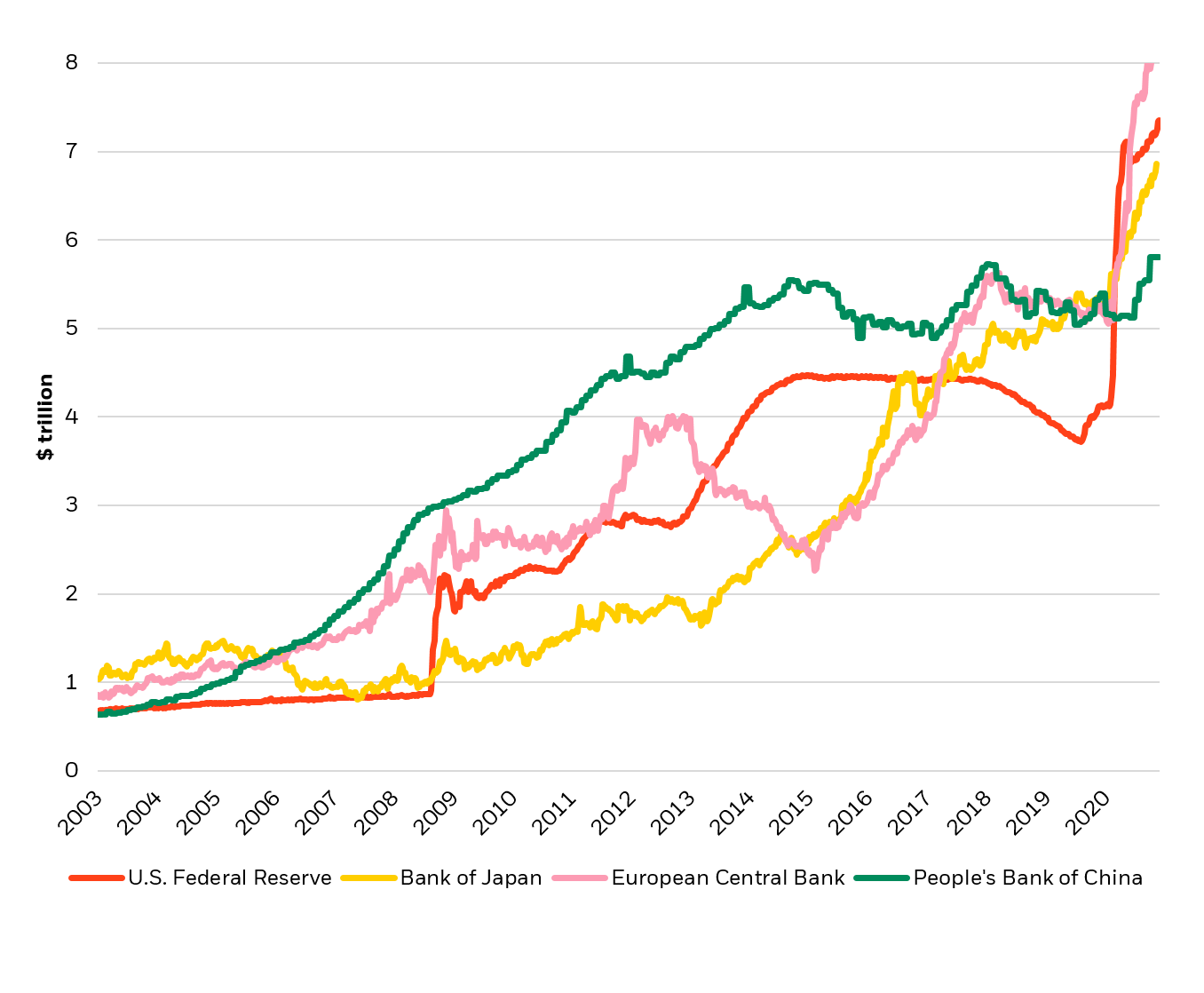 Source: Refinitiv DataStream, chart by BlackRock Investment Institute, as of December 31, 2020.
Vaccine equals more mobility, not a return to the status quo
The pandemic accelerated several existing trends. As a result, many habits acquired during the pandemic are unlikely to fade. A good example of this is online shopping. Looking at domestic credit card data reveals an interesting pattern. As you would have expected, the share of spending going to online retailers spiked early in the pandemic. Less obvious was the staying power of this trend. Even as lockdowns eased, online retailer's wallet share remained elevated relative to the pre-pandemic norm. In other words, even as consumer mobility returned, many households came to appreciate the convenience of services such as online grocery delivery.
The rise in tech wallet share reflects a longer-term trend 
Clearly this behavioral shift is not limited to shopping. Multi-year trends towards streaming, online gaming and electronic payments were merely accelerated by the pandemic. Given this dynamic, U.S. consumer spending on technology should continue to rise. Household tech spending increased by more than $100 billion, or 25%, in the six months between May and November. While some of the end-of-year bump was a function of early holiday spending, the trend is clear and has been in place for some time.
For investors, all of this suggests pivoting within tech rather than abandoning the sector. I'd continue to recommend more cyclical parts of tech, include semis and payments. I would also look for tech expressions outside of the sector, including retailers who have successfully embraced a hybrid in-store and online presence.
Russ Koesterich, CFA, is a Portfolio Manager for BlackRock's Global Allocation Fund and is a regular contributor to Market Insights.
Get the latest updates from our RSS feed