Fixed Income
Explore our strategy focused on the front end of the yield curve.
Why BlackRock for fixed income?
BlackRock offers a comprehensive fixed income platform, managing more than US$1.9 trillion in active and index mandates across a variety of vehicles and strategies around the globe1. Our platform features proprietary tools, expert and efficient trading, and the infrastructure necessary to meet the operational requirements our clients expect.
Learn more about fixed income investing at BlackRock
Accordion-1,Paragraph-3,Accordion-2
Paragraph-4
Paragraph-5,Image Cta-2
Paragraph-6,Bio-1
Thirty years of innovation, anticipating changing client needs
BlackRock founded as a mortgage manager
Introduced first fixed income index funds
Awarded first Insurance company mandate, the first step in building the Financial Institutions Group (FIG)
Began managing a fundamental relative value fixed income hedge fund
Created the first EMEA fixed income index fund
Won first external Aladdin

 

client

Created the industry's first fixed income ETFs
MLIM/BlackRock merger expanded Fundamental non-dollar and municipal capabilities
Introduced first global credit-screened fund
Launched Financial Markets Advisory

 

business in response to global financial crisis; partnered with government agencies in work out situations and capital raises
BGI/BlackRock merger added index and systematic fixed income capabilities

Introduced synthetic long duration funds for liability-driven investing clients
Pioneered strategic income opportunities, one of the industry's first unconstrained fixed income strategies
Initiated the first smart beta fixed income strategy
Partnered with JP Morgan to launch emerging markets ESG indices
People, process & platform focused on solving client challenges
The BlackRock platform enables a comprehensive and collaborative medium for solving client challenges.
500+ fixed income professionals across 8 global investment centers4
Portfolios reflect local knowledge, experience, and global insights from across the firm
Daily global meeting with

 

equity,

 

cash, and alternative

 

teams led by the BlackRock Investment Institute

Risk & Quantitative Analytics (RQA) professionals embedded with investors to provide independent oversight
Leverage Aladdin

 

capabilities to continuously develop and refine risk analytics
Autonomous investment teams have full accountability for delivering results – leveraging resources from the broader firm

24-hour global trading platform ($10.5T USD of annual FI trading volume5) leverages local knowledge and sector expertise
$64 trillion USD in transactions across global capital markets in all asset classes last year5, giving us unique market data and insights
Shared research platform, leveraging investment insights across the broader firm
The industry leader for innovative fixed income solutions6
BlackRock Global Fixed Income combines diverse investment styles, comprehensive investment capabilities and a robust talent and technology platform.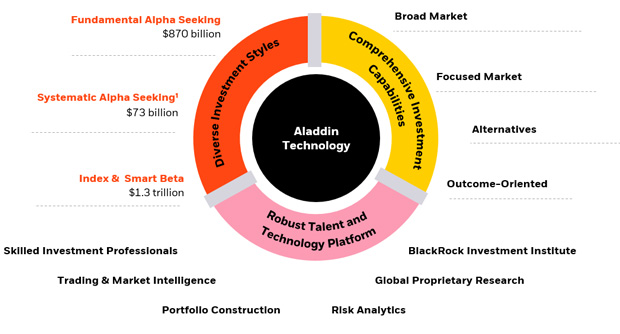 Source: BlackRock; as of December 31, 2018. $ represented in USD. 1. Systematic alpha seeking includes alternatives and portfolios managed as part of multi-asset strategies.
What does ESG integration mean for fixed income?
BlackRock is committed to sustainable outcomes and long-term value for our firm and our clients. We evaluate companies based on their environmental, social and governance (ESG) business practices and incorporate that into our investment decisions to help determine the risk and opportunities.
ESG integration is the practice of incorporating ESG information into fixed income investment decisions to help enhance risk-adjusted returns, regardless of whether a strategy has a sustainable mandate. There is no one-size-fits-all approach but at BlackRock, we see it as being about bringing research, data and insights available to our fixed income portfolio managers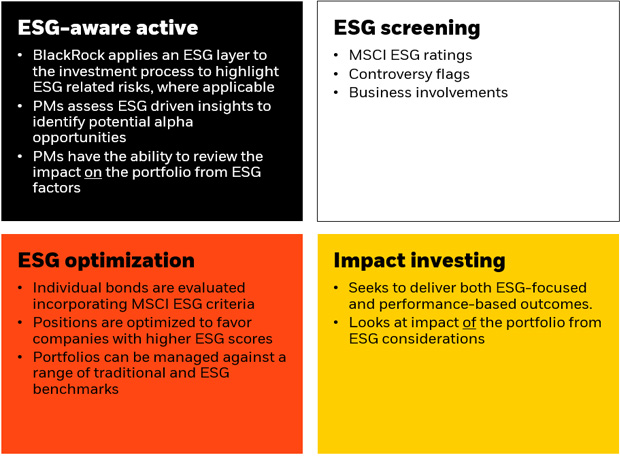 Sustainable investing at BlackRock
We believe sustainability-related issues – ranging from board composition to human capital management to climate change – have real impacts.