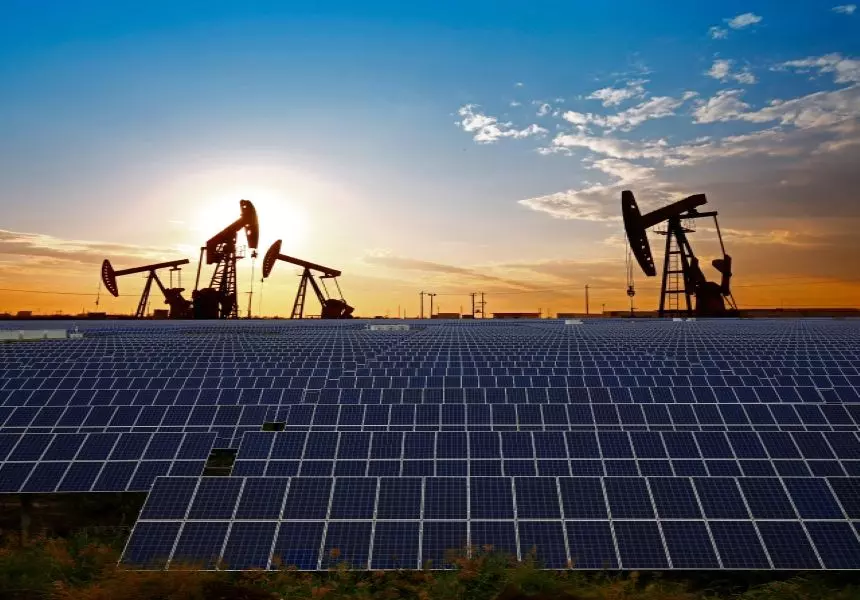 Sustainable and transition investing
Sustainability is the new standard for investing. It is integral to the way we manage risk, generate alpha and build portfolios, in order to help investors achieve better risk-adjusted returns, and navigate the transition to a low-carbon economy.
What is sustainable investing?
Sustainable Investing is the practice of using ESG — environmental, social and governance — objectives, themes, and related considerations as a key driver for selecting investments. Combined with traditional financial analysis, this lens is an inclusive category that contains numerous approaches for pursuing better risk-adjusted returns.
What is ESG?
ESG refers to specific considerations that can be used as part of investment decision-making:
The ability of companies to handle ESG issues well is often a sign of operational excellence.
What is transition investing?
Transition investing is the practice of repositioning of investment portfolios to account for potential risks and opportunities associated with the transition to a low-carbon economy, and/or the physical impacts of climate change.
The transition to a low-carbon economy refers to efforts to systematically reduce carbon dioxide emissions and concentrations. Of all greenhouse gases, and has a long lifetime in the atmosphere — it takes hundreds or even thousands of years to be naturally absorbed.1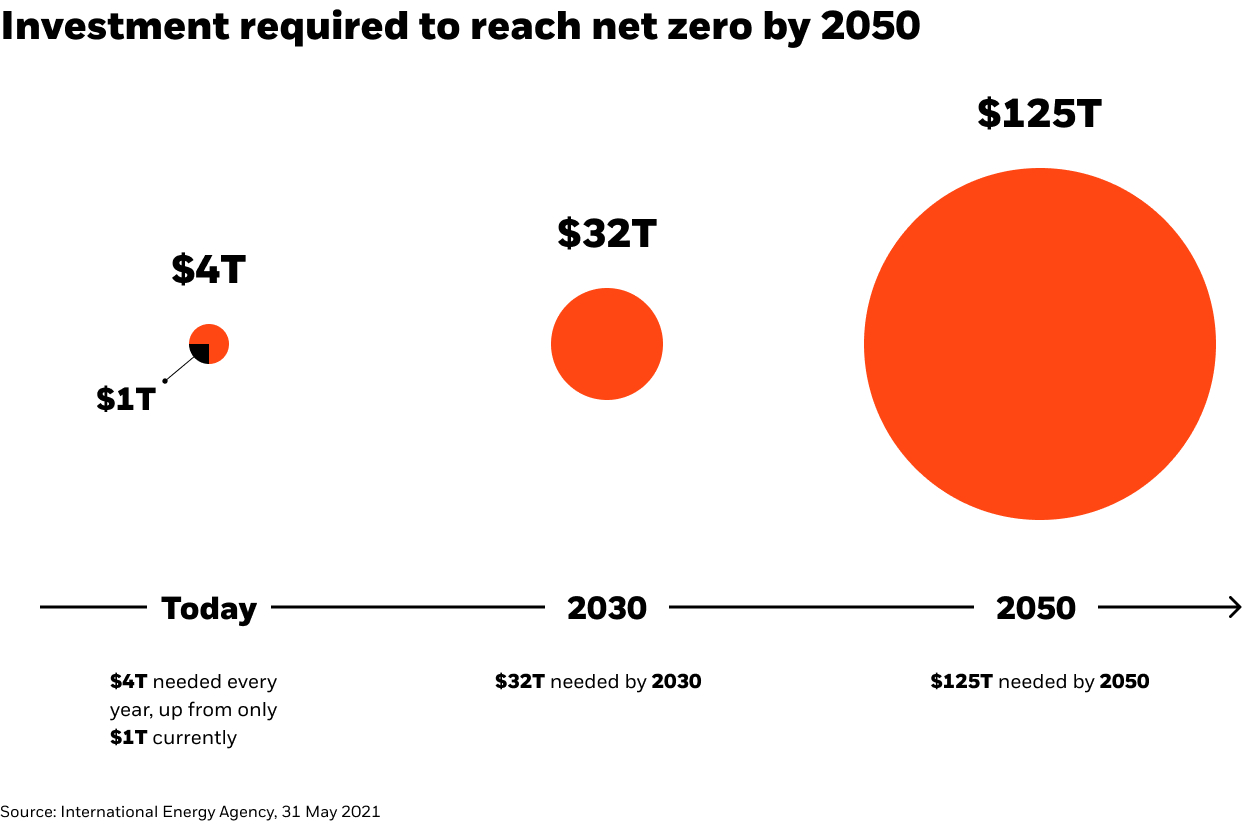 Subject to change.
The transition is underway, powered by three forces:
Technology
Societal preferences
Policy
The transition will accelerate. Markets consistently underestimate disruption, including the virtuous cycle across these three forces.
The transition is not fully priced, creating an investment opportunity today
Our bottom line: investors cannot ignore the transition
Decarbonization is re-wiring the real economy in and across the globe. APAC creates around 45% of the world's greenhouse gas (GHG) emissions with China, India, Indonesia, Japan and South Korea among the top polluters globally.2
BlackRock is focused on helping clients manage the risks and capture the opportunities associated with the transition by offering a holistic platform of investment solutions and data analytics.
The practice of integrating ESG considerations into investment decision-making, alongside traditional investment processes, with the aim of managing risk, finding opportunities, and achieving better long-term returns.

Greenhouse gases in the atmosphere trap solar radiation and make the planet warm enough to support life. The "greenhouse effect" refers to the absorption of heat emitted by the Earth that otherwise would pass outward from the Earth's surface into space.

Engagement with public companies to promote corporate governance practices that are consistent with encouraging long-term value creation for shareholders. Engagement and voting provide shareholders an opportunity to express their views.

The goal of reducing human-caused greenhouse gas emissions to the greatest extent possible and balancing out remaining emissions by removing carbon dioxide from the atmosphere (e.g., by restoring forests or deploying carbon capture and storage technology).

A legally binding international treaty on climate change, adopted at the 2015 United Nations Framework Convention on Climate Change conference in Paris.

Increased risk to companies' assets and activities caused by the direct impact of changing weather patterns and natural catastrophes.

Impact that the transition to a low-carbon economy may have on a company's long-term profitability.
Sustainability is BlackRock's standard for investing
In 2020, we said that climate risk is investment risk and that, along with risks, the transition presents a historic investment opportunity. We also believe companies with favourable ESG characteristics are likely to be better positioned to manage climate risks and to benefit from opportunities brought about by the transition to a low-carbon economy.
Companies, investors and governments must prepare for a significant reallocation of capital. BlackRock's sustainability strategy focuses on two structural themes driving this change: transition finance and stakeholder capitalism - the idea that putting a company's purpose at the heart of relationships with stakeholders is critical to long-term success.
How is sustainability measured?
Across Asia, environmental and social disclosures by corporates is accelerating, demonstrated by the number of companies based outside the US now using Sustainability Accounting Standards Board (SASB) standards; Asia now accounts for 10.5% of reporting companies.3
With increased disclosure comes better-quality ESG data, which can be used to inform investment decisions.4
Understanding sustainability metrics
To help investors to integrate non-financial, sustainability considerations into investment processes, we disclose sustainability characteristics for all our funds. These metrics enable investors to evaluate funds based on their ESG risks and opportunities, and can provide insight into the effective management and long-term financial prospects of a fund.
Investors can find and compare seven consistent MSCI sustainability metrics across our funds, including:
A direct mapping of ESG Quality Scores to letter rating categories (e.g. AAA = 8.6-10). The ESG Ratings range from leader (AAA, AA), average (A, BBB, BB) to laggard (B, CCC).

The MSCI ESG Quality Score (0 - 10) for funds is calculated using the weighted average of the ESG scores of fund holdings. MSCI rates underlying holdings according to their exposure to industry specific ESG risks and their ability to manage those risks relative to peers.

A fund's exposure to carbon intensive companies. This figure represents the estimated greenhouse gas emissions per US$1 million in sales across the fund's holdings. This allows for comparisons between funds of different sizes.
To explore the sustainability characteristics of specific funds, visit the product pages of BlackRock.com and iShares.com.
Explore our sustainable investing platform
We offer a wide range of solutions categorized into Screened, Uplift, Thematic and Impact to enable our clients to invest in line with their specific objectives.
Related Materials-1
Related Materials-2
Related Materials-3
Related Materials-4
Discover the latest sustainable investing insights
Meet the BlackRock Sustainable and Transition Solutions team
The Sustainable and Transition Solutions team provide our firm and our clients with a clear picture of the relationship between sustainability issues, risk and long-term financial performance.
The team drives the firm-wide development and adoption of sustainable investment practices, analytics, and products in line with our public sustainability commitments and fiduciary duty.
Investment Stewardship at BlackRock
Find out how we advocate for sound corporate governance and sustainable business practices.