Filter list by keyword
Show More
Show Less
to
of
Total
Sorry, no data available.
Overview
Investment Approach
Invests at least 80% of its assets in inflation-indexed bonds of varying maturities issued by the U.S. and non-U.S. governments, their agencies or instrumentalities, and U.S. and non-U.S. corporations.
Next:
Previous:

Performance
Performance
Growth of Hypothetical $10,000
Distributions
This fund does not have any distributions.
Performance data is not currently available
Performance data is not currently available
Performance data is not currently available
Performance is shown after deduction of ongoing charges. Any entry and exit charges are excluded from the calculation.
The performance quoted represents past performance and does not guarantee future results. Investment return and principal value of an investment will fluctuate so that an investor's shares, when sold or redeemed, may be worth more or less than the original cost. Current performance may be lower or higher than the performance quoted.
Key Facts
Key Facts
Bloomberg U.S. Treasury Inflation Protected Securities (TIPS) Index (Series-L) (USD)
Expenses as of current program description
Portfolio Characteristics
Portfolio Characteristics
This information must be preceded or accompanied by a current program description. For standardized performance, please see the Performance section above.
Holdings
Holdings
as of Oct 31, 2023
| Name | Weight (%) |
| --- | --- |
| N/A Issuer Name | 100.00 |
The portfolio holds a mutual fund and/or an ETF. Top holdings from the underlying vehicles are listed above for greater visibility
Exposure Breakdowns
Exposure Breakdowns
as of Oct 31, 2023
% of Market Value
Allocations subject to change.
Negative weightings may result from specific circumstances (including timing differences between trade and settle dates of securities purchased by the funds) and/or the use of certain financial instruments, including derivatives, which may be used to gain or reduce market exposure and/or risk management. Certain transactions the funds may utilize may give rise to a form of leverage through either (a) additional market exposure or (b) borrowing capital in an attempt to increase investment return. The use of such transactions includes certain leverage-related risks, including potential for higher volatility, greater decline of the fund's net asset value and fluctuations of dividends and distributions paid by the fund.
Allocations are subject to change.
Portfolio Managers
Portfolio Managers

Managing Director, Global Fixed Income, Head of Core and Core Plus Fixed Income Strategies, Head of Inflation Linked Portfolios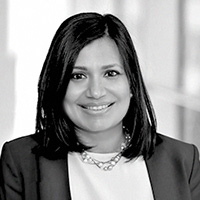 Head of iShares Investment Strategy Americas at BlackRock
Gargi Pal Chaudhuri, Managing Director, is Head of iShares Markets & Investment Strategy for ETF and index investments. Based in New York, she and her team focus primarily on delivering global macro thought leadership, investment insights and content to both retail and institutional clients of the firm. With over two decades of experience in the financial services industry, Gargi has built her career around portfolio management in the fixed income markets, trading and macro strategy.
There are many ways to access BlackRock Funds, learn how you can add them to your portfolio