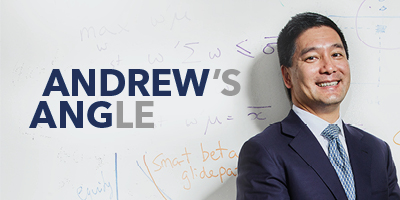 While both value and quality are diversifying factor premiums by themselves over full business cycles, their complementarity and different characteristics are well suited for today's special on-off economic environment.
You can only turn the lights back on once, so to speak. However, sometimes they flicker or burst brightly before ultimately shining steady.
My colleague Gargi Chaudhuri recently discussed how extraordinary fiscal stimulus and easy monetary policy have provided a bridge through the pandemic, but as policy support rolls off, new variants arrive and vaccination progress plateaus, and the majority of "grand reopening" banners are put up, "peak growth" may be upon us.
It's fair to ask: "what does that mean for the recent value rally?" and "what's next?" To these I'd say, I still believe the reflation-powered value trade could "flicker" before shining strongly due to historic growth and strong balance sheets, but as we approach peak growth and a mid-cycle environment, a value and quality barbell strategy toward equities may offer greater risk-adjusted returns and resilience to portfolios.
The value rally may have room to run
Since November 9, 2020—the day that we received the news that there was the first effective vaccine by Pfizer against COVID-19, value has outperformed growth. But, we should not forget how steep the drawdown in value has been. Since 2017 through the most recent value rally the return spread between value and growth is still over 100%.1
In 2020 especially, value companies with physical assets dominant on their balance sheets fared poorly. Growth stocks benefited from the virtual world. I believe the value rally still has room to run, with the most recent flicker of the economy causing a temporary pause, as we are firmly in an expansionary regime with above-trend growth—a regime that is supportive for value in our analysis.
In addition, relative to growth, value valuations are still 13% cheaper versus 5-year averages. And since 2017, a 50/50 value and growth portfolio would now be allocated 62% to growth and 38% to value, assuming no rebalancing.2 Relative to long-run trends, there is large opportunity for mean reversion in value strategies. (You can read more about historical value drawdowns and its ability to bounce back here.)
Value vs growth relative performance, 2017–2021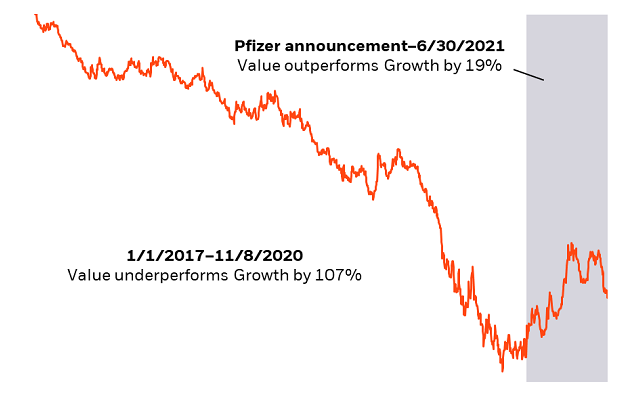 Source: Morningstar direct. Growth= Russell 1000 Growth Index. Value= MSCI USA Enhanced Value Index. Data as of 6/30/2021. Index performance is for illustrative purposes only. Index performance does not reflect any management fees, transaction costs or expenses. Indexes are unmanaged and one cannot invest directly in an index. Past performance does not guarantee future results.
Shifting gears toward quality
Nevertheless, we may be close to peak growth.
Bloomberg consensus estimates point to a high of GDP growth of 7.1% in Q3, sliding to 5% in Q4 and 3.5% in Q1 of 2022. Balancing out value strategies, declining economic growth and a virus variant ridden mid-cycle environment may bode well for quality stocks, or those with strong balance sheets and higher quality earnings.
In fact, BlackRock's Fundamental Equities team recently discussed why now may be the time to stock up on quality. Quality stocks may provide resilience when markets are volatile, or the business cycle is maturing. Like value, quality stocks are also cheap relative to the broad market.
2021 U.S. Quarter over quarter GDP growth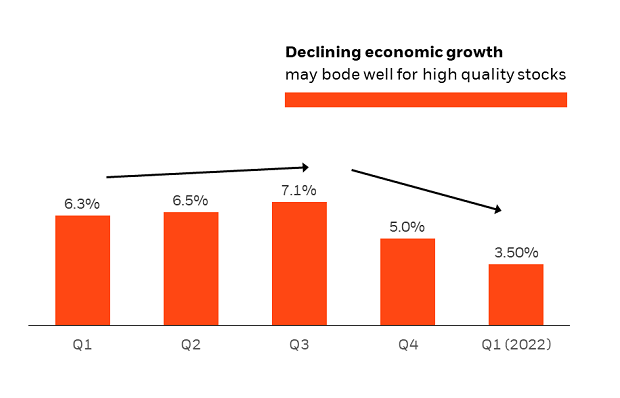 Source: Bloomberg consensus GDP forecast as of 8/2/2021. Real GDP Growth (quarter over quarter (QoQ) seasonally adjusted annual rate). Q1 2021 and Q2 2021 are realized while following quarters are expected.
Value and quality: resilience for the reopening
Value and quality are complements.
In a basic dividend discount model, quality is all about the numerator – high quality earnings. In contrast, value companies tend to have high discount rates, which operate through the denominator. Consistent with this economic intuition, quality and value have tended to have low to negative correlations, making the quality factor a potentially powerful complement to existing value exposures.3
This makes quality and value a great pair to seek resilience in a reopening economy. Value, to take advantage of the potential return to a connected physical world, and quality to help provide resilience when the lightbulb flickers. While both value and quality are diversifying factor premiums by themselves over full business cycles, their complementarity and different characteristics may be well suited for today's special on-off economic environment.