Central banks have pivoted to easing. The record-long U.S. economic expansion is supported by healthy household spending and looks unlikely to morph into a deeper downturn any time soon.
Stretching the cycle
Output gap and stages of the U.S. business cycle, 1965-2019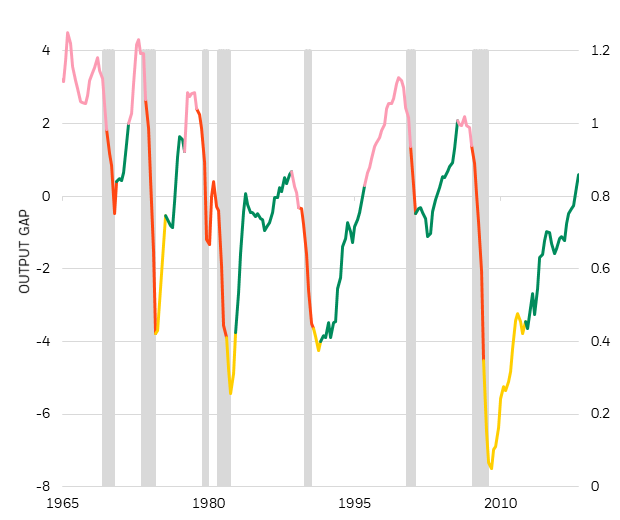 Source: BlackRock Investment Institute, with data from Refinitiv Datastream, as of July 2019. Notes: This chart shows an estimate of the U.S. output gap (that is, GDP as a percentage of potential GDP). We have classified different time periods as belonging to certain stages of the business cycle. The classification on of the stage is done via a 'cluster analysis' that groups together time periods where economic series have behaved in similar ways.
The U.S. economy entered the late stage of its expansion earlier this year. Below-trend growth and monetary policy easing suggests a reversal to mid-cycle conditions in coming months.
Easy does it
BlackRock G3 Growth GPS and FCI, 2015-2019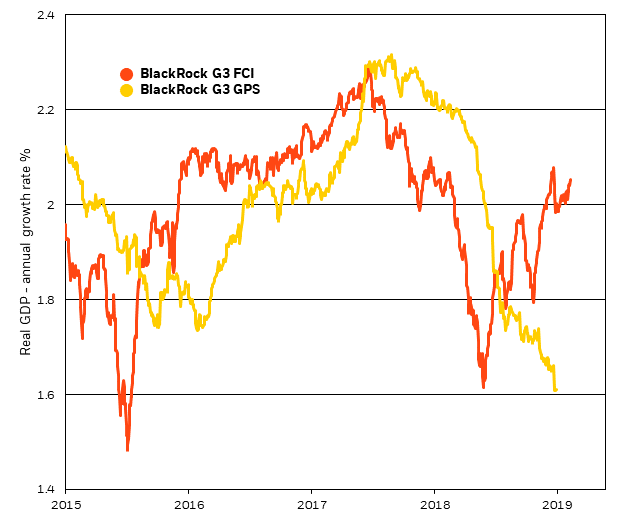 Sources: BlackRock Investment Institute, with data from Bloomberg and Consensus Economics, October 2019. Notes: The BlackRock Growth GPS shows where the 12-month forward consensus GDP forecast may stand in three months' time. The orange line shows the rate of GDP growth implied by our financial conditions indicator (FCI), based on its historical relationship with our Growth GPS, shifted forward six months. The FCI inputs include policy rates, bond yields, corporate bond spreads, equity market valuations and exchange rates. Forward-looking estimates may not come to pass.
Easier monetary policy has spurred a swift rebound in our financial conditions indictor (FCI).
Growth expectations, highlighted by our G3 Growth GPS, are yet to reflect the significant easing of financial conditions. See more on our Macro dashboard.
Persistent and intensifying trade uncertainty is holding back business spending, in our view.
Accommodative financing conditions underpin our belief that weakness in the global industrial sector is unlikely to lead to a broader economic downturn in the near term.
Market implication: We like U.S. equities and EM debt.
Building portfolio resilience
Portfolio resilience is crucial at a time of elevated macro uncertainty.