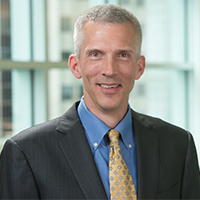 Scott Radell
Senior portfolio manager and Co-Head of BlackRock's Systematic Fixed Income
Scott Radell, Managing Director is a senior portfolio manager and Co-Head of BlackRock's Systematic Fixed Income ("SFI") portfolio management team. He is responsible for active and factor investments across mutual funds, institutional portfolios and ETFs, and is a member of the Global Systematic Fixed Income Executive Committee.
Mr. Radell's service with the firm dates back to 2003, including his years with Barclays Global Investors (BGI), which merged with BlackRock in 2009. Prior to his current role, Mr. Radell was Head of San Francisco Core Portfolio Management, responsible for the management and oversight of all the Americas Index, iShares, and systematic based active fixed income funds. Mr. Radell started his tenure at BGI in credit research with portfolio manager responsible for BGI's active long-only and long/short portfolios. Prior to joining BGI, Mr. Radell served as an analyst for corporate bonds and commercial mortgage backed Securities for Morgan Stanley Investment Management. Mr. Radell began his career as a fixed income client service and mortgage analyst at BARRA.
Mr. Radell earned a BA degree in quantitative economics and decision sciences from the University of California at San Diego in 1992.