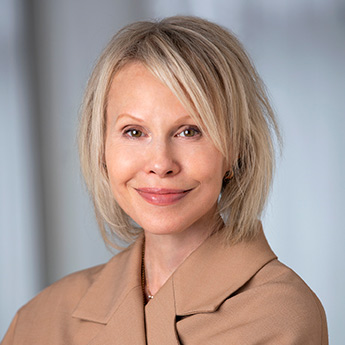 Samara Cohen
Managing Director, Chief Investment Officer of ETF and Index Investments
Samara Cohen, Managing Director, is the Chief Investment Officer of ETF and Index investments (EII) at BlackRock. In this capacity, she leads the teams responsible for delivering the market quality and investment integrity of BlackRock's index funds and iShares ETFs. Samara seeks to lead boldly in the modernization of the indexing industry and ETF markets, to help more and more people achieve financial well-being.
Jul 13, 2016
Samara Cohen, U.S. Head of iShares Capital Markets for BlackRock, explains why the financial services industry is headed for an exchange traded fund (ETF) revolution.
My name is Samara Cohen, I am the US Head of Capital Markets for iShares by BlackRock. We work with broker dealers, market makers, exchanges and, of course, our clients to give them trade ideas, talk about the market and optimize their experience using iShares ETFs.

I came to BlackRock right out of college. It was a much smaller firm, it was about 130 people when I started here. And BlackRock was really a fixed income specialist at the time and I was very interested in the fixed income markets and interest rates and the balance sheets of countries, and I worked at BlackRock for four years and then went back to business school and then decided I was really interested in going and seeing what life was like on a big fixed income trading floor. So, I went to do that and I was on a big fixed income trading floor for about 16 years and I experienced a lot of change in the fixed income markets. All of it was very exciting, but at the end of it, or I guess towards the end of that 16 years what I really wanted to do for the next leg of my career was be part of building a better financial system. A more robust, safer, more efficient financial system.

What really makes me want to come to work every day is figuring out new ways to help clients execute on their strategies and access markets and achieve the exposures they want in their portfolios whether those clients are big institutions or individual investors.

I really spent my first year here immersing myself in ETF mechanics, product knowledge, industry knowledge, getting to know equity market structure 'cause my background was really entirely on the fixed income side and I realized, at the end of the year that we are in very early stages of, what I think of as the ETF revolution and how ETFs will really transform financial markets to make them more robust, more efficient, and, most of all, more accessible to all investors.