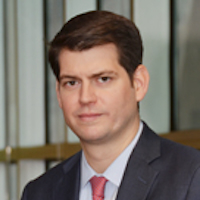 Matthew Kraeger
Lead Portfolio Manager, Mortgage Portfolios
Matthew Kraeger, Managing Director, is lead portfolio manager for mortgage portfolios on BlackRock's Global Fixed Income platform. He is responsible for the Mortgage Portfolio Team.

Mr. Kraeger has been a portfolio manager within the mortgage team since 2004, serving as a PM across both institutional accounts and retail funds. Mr. Kraeger has been a PM on the BlackRock GNMA Fund, which was ranked first in the Lipper Fund GNMA category for both 2008 and 2009 3 year periods, along with the BlackRock U.S. Mortgage Fund and the U.S. Government Bond Portfolio which was ranked first in its Lipper Fund category for the 2015 3 year period. Mr. Kraeger began his investment career as an analyst in BlackRock's operations department in 2000 and joined the Portfolio Analytics Group in 2002.

Mr. Kraeger earned a BS degree in finance from Syracuse University in 2000.