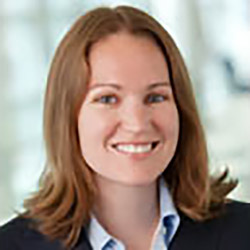 Karen Veraa, CFA
Fixed Income Product Strategist
Karen Veraa, CFA, is a Fixed Income Product Strategist within BlackRock's Global Fixed Income Group focusing on iShares fixed income ETFs. She concentrates on supporting iShares clients, generating content on fixed income markets and ETFs, developing new fixed income iShares ETF strategies, and partnering with the iShares team on product delivery. She writes about fixed income ETFs and trends in that sector.
Mrs. Veraa is also a regular author on the BlackRock blog and has been interviewed on CNBC, Bloomberg TV and BNN.
Prior to joining BlackRock, she was an investment research analyst at a Registered Investment Advisory firm in Seattle, providing investment solutions for high net worth clients. Mrs. Veraa began her career as a short-term funding trader in the treasury department of Washington Mutual Bank.
Mrs. Veraa earned a Bachelor of Business Administration in Finance from The University of Texas at Austin and is a CFA Charter holder.