Why BlackRock for hedge funds?
Hedge Funds represent a core pillar of BlackRock's alternatives platform. With over twenty years of proven experience in managing these strategies, our hedge fund platform is differentiated in its combination of skill and scale, delivering solutions that span geographies, asset classes and styles.
We equip our hedge fund managers with the opportunities and tools in order to seek to deliver differentiated alpha in a cost-effective way with a sophisticated approach to risk management through three key advantages.
Learn more about hedge funds at BlackRock
Paragraph-3
Paragraph-4
Paragraph-5,Bio-1,Bio-2,Bio-3
Market landscape
The next 5-10 years will be more challenging than the previous due to structurally lower growth and geopolitical risk. Material downgrade to return expectations over the next 10 years. Clients will need to shift their focus in order to meet clients return and outcome objectives.
Investors need to understand the drivers of portfolio returns and apply the right blend across index and alpha strategies to build resilient portfolios that prioritize cost, risk and time efficiency. Investors need to identify true sources of alpha (beyond factor & market exposures). As a core strategic building block, alternatives bring diversification and long-term risk adjusted returns to a well-balanced portfolio of the future.
Complimentary to traditional portfolios
Optimal hedge fund portfolios seek to emphasize idiosyncratic (e.g., security-specific) sources of return while minimizing broad market risks
Source: BlackRock. For illustrative purposes only
Strategies for diversification and downside protection across market cycles
While hedge funds strategies can be effective diversifiers and potential return enhancers, strategies can differ vastly from one another. Holding diversified exposures to multiple hedge funds strategies in the long term, whilst dynamically allocating to short-term opportunities that may present themselves in certain hedge fund strategies as we move across market cycles and regimes.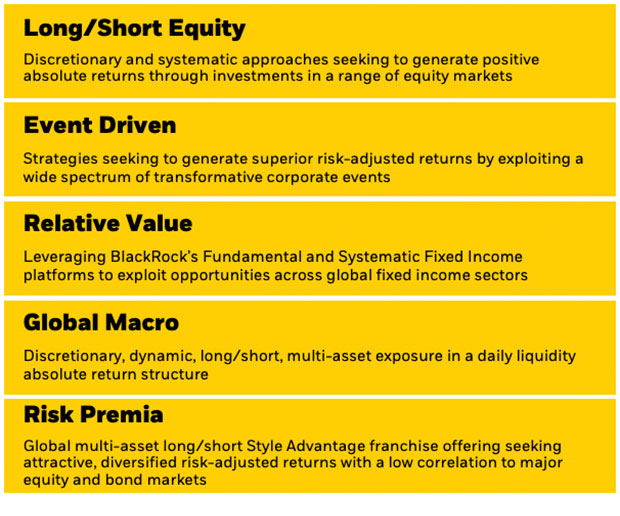 Source: BlackRock. For illustrative purposes only.
Meet our team
BlackRock manages US$38bn across a broad range of hedge fund strategies. With over 20 years of proven experience, the depth and breadth of our platform has evolved into a comprehensive toolkit of 30+ strategies.
Leadership