Asset Allocation Decisions Matter
Asset allocation refers to how an investor divides an investment portfolio among the major asset classes, for example, stocks, bonds, and cash. Within those asset classes further allocations can then be made, such as domestic or international and small or large cap stocks. Many investors believe that the allocation of investments across asset classes is more important than which securities are owned within that asset class. Indeed, according to a study published in 1986, 94% of portfolio returns can be attributed to asset allocation*.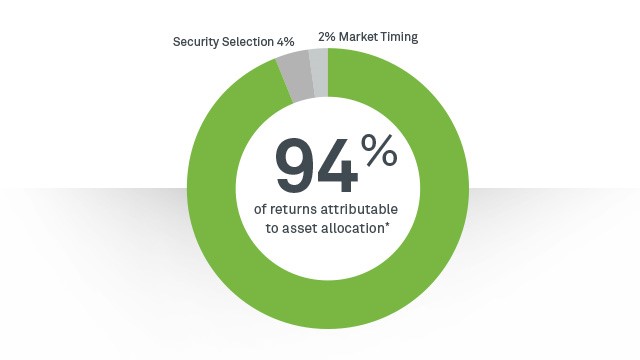 * Brinson, Hood, Beebower, Financial Analysts Journal, July 1986.
The decision of which asset classes to invest in, and in what proportion, depends on an investor's risk and return objectives and time horizon. Investors with longer time horizons will often tilt their portfolios toward "riskier" asset classes with higher historical returns.
A critical component of asset allocation is ensuring appropriate diversification. Similar to "not putting all your eggs in one basket," diversification refers not only to the number of investments in a portfolio, but also to the relationships among those investments, often expressed in terms of correlation.
BlackRock Model Portfolios
Asset allocation decisions can be complicated, but at BlackRock we make it simple for you. We can help you deliver your clients' investment goals while managing risks by using iShares Exchange Traded Funds (ETFs). Our Model Portfolios built with iShares provide sophisticated asset allocation frameworks that allow you to implement high-quality, diversified and efficient portfolios to help meet your clients' needs.
See how model portfolios can help you
Key Benefits of BlackRock Model Portfolios 
Cost-Effective Diversification

By utilizing iShares ETFs, model portfolios allow advisers to build diversified and cost-effective solutions for their clients.

Scalable Asset Allocation

Reduce the complexity of asset allocation and provide you with the ingredients to develop scalable investment strategies for your clients.

Sophisticated Risk Analytics

Leverage industry leading risk management platform - Aladdin® - which is relied upon by institutional investors to monitor US$15 trillion of assets globally (source: BlackRock, May 2016)

Implementation Flexibility

Choose implementation methods aligned with your preferred investment approach.
Our Model Offerings
BlackRock Model Portfolios are designed specifically to help you build portfolios for your clients by leveraging the strategic insights and deep tactical expertise that BlackRock can deliver so you can spend more time focusing on your clients – and growing your business.