China's goal of doubling GDP by 2035 may seem ambitious considering the country's ageing population. Yet technological advancements and brisk investments in industrial automation mean the economy may be able to reap productivity gains that make Beijing's growth targets achievable.
New technologies are poised to not only transform mainstays of the "old economy", such as steelmaking, but also to level-up China's manufacturing sector to produce high-end electronics, hardware, and everything from next generation locomotives to telecoms. They will also play a significant role in China's efforts to grow greener.
The productivity story also ties in with our view that China has embarked on a quality revolution by focusing on the quality of growth, not just the quantity. We see China's regulatory clampdown in certain industries that has rattled markets recently as partly driven by the long-term hawkish policy stance to foster quality growth. A more productive economy needs a more efficient capital allocation process – something Beijing is very focused on now, as we discussed in our previous Asia insights.
China's demographic challenges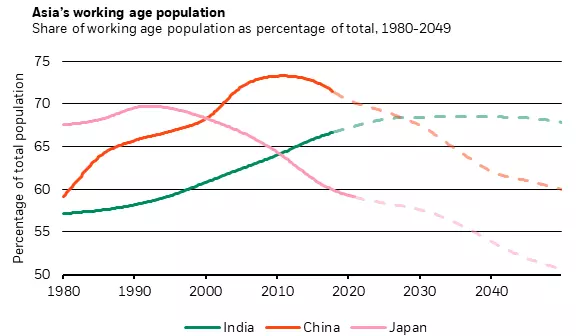 Source: BlackRock Investment Institute, with data from Refinitiv Datastream and Oxford Economics, July 2021. Notes: The chart shows the working age population – those aged 15-64 – in each country as a percentage of the total population. Dotted lines indicate Oxford Economics' projections. For illustrative purpose only. There is no guarantee that any forecast made will come to pass.
The combination of a low birthrate and ever fewer people bearing the costs of the growing population of elderly is a worry. And because aging here has been swifter than elsewhere due to the one child policy Beijing adopted 40 years ago, the impact will consequently be greater than other Asian countries, as shown on the chart. This year labor's net contribution to growth will be zero – and in 2022, it will be negative, according to estimates from Wind and Haver Analytics as of July 2021. The just-released census also reinforced the weak birthrate and why policymakers are hinting at raising the retirement age and further relax birth control policies.
We see the recent regulatory tightening around private tutoring as part of overall efforts to rein in industries that have grown rapidly and spurred concerns around deepening inequality and the rising costs of education – one obstacle in boosting birthrates.
China working population peaked in 2013, raising the risk of slower economic growth and a hollowing out of the manufacturing sector, like Japan in the 1990s. Yet unlike Japan, China has become old before it became wealthy. But writing off China's fortunes is premature, in our view. Why? The mainland is aging at a time when advances in the proficiency and the economics of robots have improved dramatically. That may well change economic dynamics going forward and prevent China from treading the path toward a dwindling manufacturing sector as a shrinking workforce raises labour costs. Another force that could help avert such an outcome is the significant advancement in recent decades in the levels of higher education – particularly in the fields of engineering and science – within the population. We believe this bodes well for an economic leveling up. 
Chinese robotics demand remains strong. The International Federation of Robotics notes China has been the world's largest industrial robotics market since 2013. [1] Research from Bernstein shows it is expected to grow to roughly the size of the entire market globally in coming years. Such breakneck growth has huge consequences for China and for countries in Southeast and South Asia that hoped to see a wave of investment coming to them as wages rise in their giant northern neighbor. Offshoring may well not happen in the scale neighboring countries once imagined possible.
We believe the key to lasting productivity isn't just to use robots but to optimize the way humans and robots work together. China is estimated to have almost 300 million migrants, of which 70% have only a junior secondary education. By upgrading their skills, the combination will be even more powerful. The increased use of robots in a broad range of barely robotized industries as well as newly fitted out automotive factories gives us confidence that the steep demand growth can continue. New technologies will also play a large role in China's sustainability efforts – an area where it already enjoys a large advantage, accounting for 70-80% of the global output of solar panels. [2]
Scaling up productivity ties in neatly with what we have termed China's quality revolution – a desire to have each unit of incremental GDP generating proportionately less pollution, inequality and financial risk (debt). Chinese authorities will likely balance their regulatory agenda against a desire for economic stability. For instance, China's policymakers are loosening policy for the near term, but we expect them to stick to a medium-term hawkish stance – key to Beijing's effort to focus on the quality of growth. We remain tactically neutral on China stocks partly due to near-term policy uncertainty, yet see further monetary and fiscal policy loosening as beneficial for cyclical assets in China.
Beijing's desire to undertake reform, in part because population clock is ticking, is very real, in our view. For China, a doubling of GDP by 2035 means 4.7% growth on average per year according to our estimates. This figure that seems modest by the standard of the past few decades but would represent still strong growth decades after its economic opening up was unleashed. Such growth is also consistent with what we assume in our capital market assumptions that drive our significant overweight of Chinese assets on a strategic horizon relative to average holdings among foreign institutional investors.
[1] International Federation of Robotics , 2020 Report https://ifr.org/img/worldrobotics/Executive_Summary_WR_2020_Industrial_Robots_1.pdf
[2] Bloomberg NEF, https://www.bloomberg.com/features/2020-china-solar-giant-longi/