Russ explains why value stocks have gone from market leader to laggard.
By Russ Koesterich, CFA, JD
The market has been in a persistent downtrend since the second trading day of the year. Following a solid first day, stocks quickly reversed and have been grinding lower ever since. But until recently it was not all stocks: Value stocks offered a degree of protection. That changed in June, with value going from leader to laggard. To the extent investor fears are shifting from inflation to recession, a quick value recovery is unlikely.
Value hits the "recession" wall
Aside from energy, few sectors or styles have produced positive returns in 2022, but until recently value consistently outperformed. From the start of the year through the end of May the Russell 1000 Value Index outperformed the broader U.S. market and growth indexes by roughly 8% and 17% respectively.1 The catalysts for the outperformance were cheap valuations, a strong economy and rising interest rates.
What changed? Simply put: the source of investor anxiety. While inflation remains a stubborn problem, inflation expectations are falling fast. Since mid-June five-year inflation break evens, derived from the Treasury inflation protected securities (TIPS) market, have fallen by more than 0.50%, from nearly 3.2% to roughly 2.6%.2
As inflation expectations have dropped, so have real-time measures of economic activity. The ISM Manufacturing New Orders Index, one of the most closely watched leading economic indicators, has plunged to just below 50.3 A broad recession is still not assured, but manufacturing is slowing on the back of falling consumer demand and excess inventory.
Apart from a rapidly decelerating economy, value has lost another tailwind: rising rates. Bank stocks, which benefit from higher rates and a steeper yield curve, led the market earlier in the year. Along with energy and materials, banks were viewed as a haven in an environment of higher inflation and interest rates. However, with lower rates and a narrower yield curve banks have surrendered much of their gains. Banks turned sharply lower in June and are now underperforming the market year-to-date by approximately 4.50%.4
A cooling economy and bond market reversal have resulted in value now trailing more defensive investment styles. In June, value underperformed both the broader market and growth. Instead of value, investors are seeking safety in low volatility and high dividend paying stocks (see Chart 1).
MSCI World factor index 1-month performance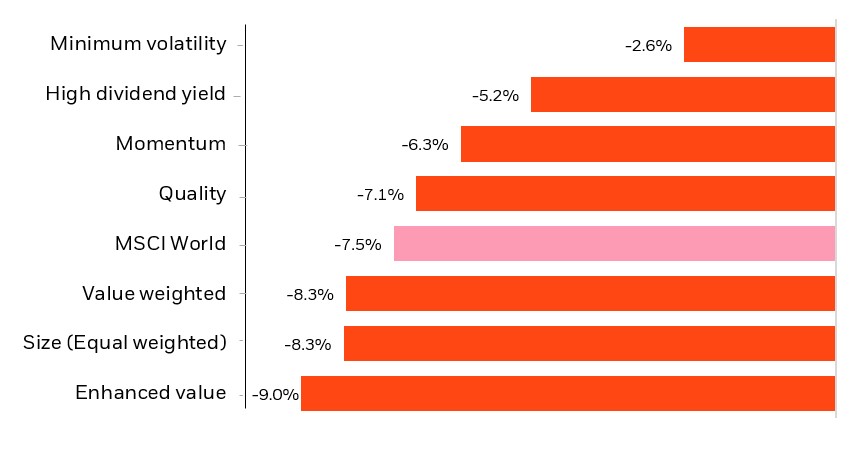 Source: Refinitive Datastream chart by BlackRock Investment Institute, Jul 04, 2022
Out of phase
Historically, the best time to overweight value stocks has been in the early stages of a recovery, when economic growth is accelerating, and value tends to be cheap. Today is not that time. Whether we can avoid a full-blown recession is still an open question, but the headwinds from higher energy, food and interest rates will result in slower growth. At the same time, growth has surrendered its "pandemic premium," making value less attractive on a relative basis. For investors looking to ride out what is likely to be more volatility, focus on more defensive styles: quality, growth at a reasonable price (GARP) and low volatility. Leave value for the next upturn.
Index returns showing in this article are for illustrative purposes only. Investors cannot invest directly in an index.
Russ Koesterich, CFA, is a Portfolio Manager and member of the Global Allocation team.