The substantial escalation in the U.S.-China conflict and unpredictability of U.S. policy actions have injected additional uncertainty into business planning, threatening to weaken economic activity.
Persistent geopolitical uncertainty
BlackRock Geopolitical Risk Indicators (BGRIs) for global trade and Gulf tensions, 2006-2019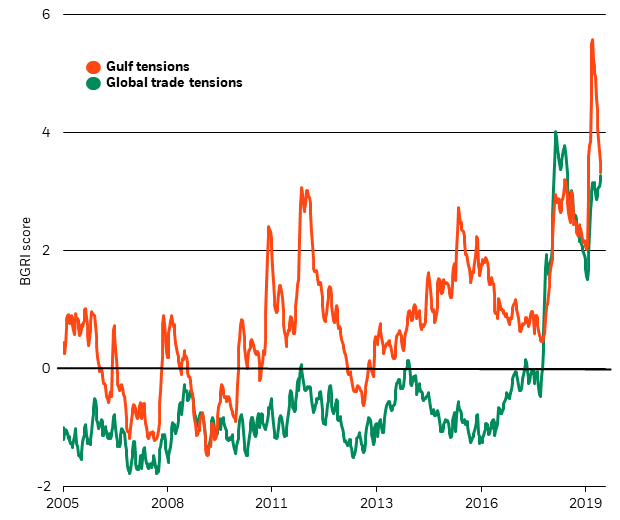 BlackRock Investment Institute, with data from Refinitiv Datastream, September 2019.
Notes: See BlackRock's Geopolitical risk dashboard for full details. We identify specific words related to geopolitical risk in general and to our top-10 risks. We use text analysis to calculate the frequency of their appearance in the Refinitiv Broker Report and Dow Jones Global Newswire databases as well as on Twitter. We then adjust for whether the language reflects positive or negative sentiment, and assign a score. A zero score represents the average BGRI level over its history from 2003 up to that point in time. A score of one means the BGRI level is one standard deviation above the average. We weigh recent readings more heavily in calculating the average. The BGRI's risk scenario is for illustrative purposes only and does not reflect all possible outcomes as geopolitical risks are ever-evolving.
The U.S. and China have both taken steps to cool tensions ahead of a new round of talks. Trade frictions and an escalation of Gulf tensions underscore the risk of supply shocks.
Eyes on volatility
Cross asset volatility, 2008-2019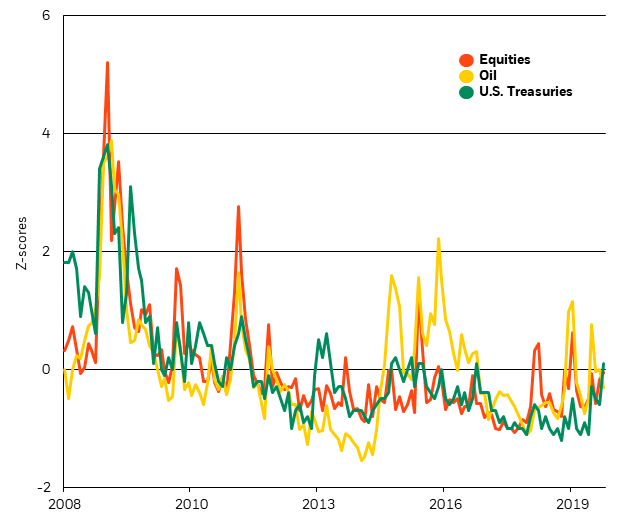 BlackRock Investment Institute with data from Refinitive Datastream, CBOE and Bank of America-Merrill Lynch, September 2019.
Notes: The chart shows cross-asset volatility measured as z-scores, or how current readings compare to historical risk-adjusted averages over the 2008-2019 period. Equities are represented by the VIX, Oil by CBOE's oil VIX, and US Treasuries by the BofA-ML's MOVE index.
Relatively muted cross-asset volatility suggests markets are not fully pricing in heightened geopolitical risks. We believe central banks' dovish pivot is buying investors time to add resilience to portfolios.
Market implication
We favor reducing risk, including raising some cash