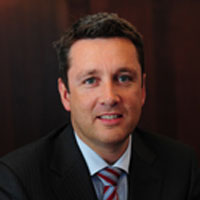 David Lomas, ACII
Managing Director, Global Head of BlackRock Alternatives Specialists
David A. Lomas, ACII, Managing Director, is Global Head of BlackRock Alternatives Specialists (BAS) driving sales engagement across investment and distribution teams, partner with clients to drive a holistic view of their alternatives allocations and catalyze our growth in this strategic opportunity for the firm. He is a member of both the EMEA Executive Steering Committee and the BlackRock Alternative Investors (BAI) Executive Committee, as well as BlackRock's Global Operating Committee.
Mr Lomas was previously the Head of the Institutional Client Business (ICB) for EMEA covering UK ICB, Continental Europe ICB, MEA & EMEA FIG, with regional reports for BlackRock Alternative Specialists, COO, Global Consultant Relations and the Institutional Product Group.
Mr Lomas has also served as the Global Head of BlackRock's ICB Financial Institutions Group business. This Global business is focused on managing balance sheet and sub-advisory assets, and providing risk management services to Insurance Companies. Mr. Lomas was responsible for the business and client strategy and lead operations across multiple functions and geographies including sales, marketing and communications, client service, product development and client proposition development.
Mr Lomas was formerly a Board member of the International Insurance Society (IIS) and Co-Chair of the Insurance Development Forum (IDF) Investment Committee.
Prior to joining BlackRock in 2008, Mr. Lomas was the Head of Insurance Asset Management at Schroders. Prior to Schroders Mr. Lomas worked in KPMG's Financial Services Practice and before KPMG he worked for Hay Group. He began his career with Friends Provident Life Assurance.
Mr. Lomas earned a BSc Degree, with honours, from Hull University and is an Associate of the Chartered Insurance Institute (ACII).