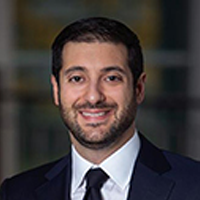 Joshua Barbash
Director, Americas Pensions group within Client Portfolio Solutions
Joshua Barbash, Director, is an investment professional in the Americas Pensions group within the Client Portfolios Solutions Team at BlackRock.
Client Portfolio Solutions is the investment group at the heart of BlackRock's portfolio construction and asset allocation ecosystem; and brings together BlackRock's research, investment experience and technology to meet clients' needs for whole-portfolio approaches.
Prior to joining BlackRock in 2018, Josh was a Senior Asset Allocation Strategist at Russell Investments in New York. In that role he was responsible for providing strategic advice to defined benefit plan sponsors including completing asset/liability studies and setting optimal strategic asset allocations. Moreover, he advised clients on liability hedging practices like liability driven investing. Josh began his career as a consulting actuary with Towers Watson where he performed actuarial valuations on various employee benefit plans and helped clients with retirement plan risk assessment and mitigation.
Josh graduated from the University of Pennsylvania's Wharton School with a Bachelor of Science in Economics. He is a CFA charter holder and an Associate of the Society of Actuaries and an Enrolled Actuary.