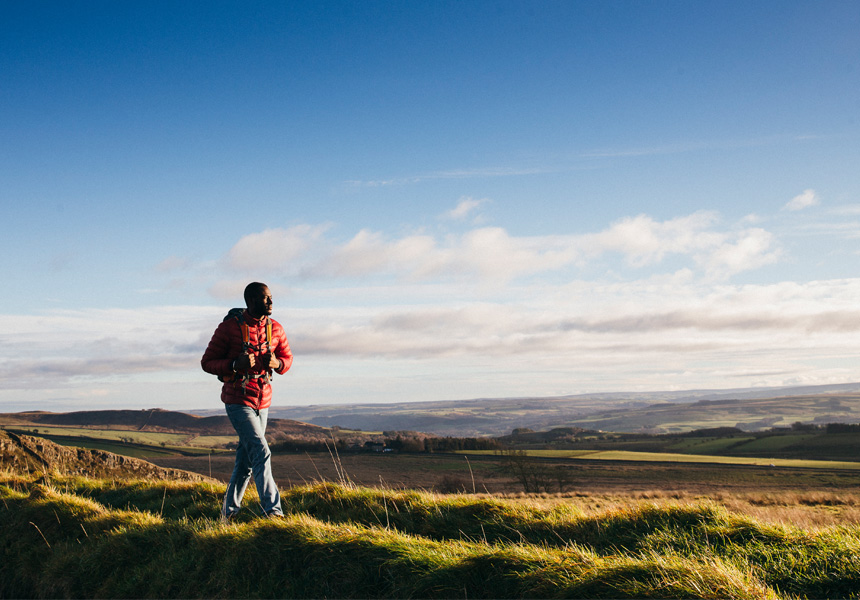 GLOBAL INSURANCE REPORT 2020
Insurers see the future
360 senior insurance executives across the globe share their insights into how the pandemic is fundamentally reshaping the industry and their investment approach. Our interactive report charts key themes and global and regional implications.
A fundamental reshaping of the insurance industry in four themes
The pandemic has put an additional layer of pressure on an industry already in flux and accelerated existing trends. The near future will require significant management decisions on how to reinvent business models and where to invest centred on four key themes.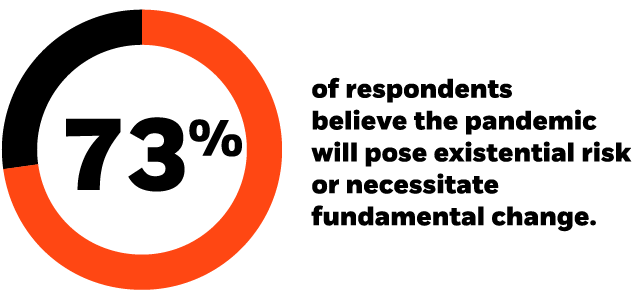 Source: BlackRock Global Insurance Survey, June-July 2020. Base: Global (n = 360).
What can you expect in 2021?
Watch Charles Hatami, BlackRock's Global Head of Financial Institutions and Financial Markets Advisory, as he sets the course for 2021 in only 3 minutes.
Hello. Happy New Year and warm wishes for a healthy 2021.

Welcome to our Global Insurance Webinar series, a three-part series to kick start this new year.

This new webinar is designed to complement our 9th Annual Global Insurance Report, which was published last October.

I am Charles Hatami, the Global Head of our Financial Institutions and the Financial Markets Advisory Group at BlackRock.

I'd like to start by thanking you for your partnership and engagement over the years, and importantly during this last year, a year which has obviously tested all of us. We value your trust and are committed to working with you to help deliver on your desired financial outcomes.

As in previous years, our 2020 Global Insurance Report represented over $24TRN of Assets Under Management, which represents two thirds of investable insurance assets and that drew on four dominant themes within the industry:

First, insurance companies' focus on dynamic and flexible asset allocations will be highlighted by Peter Gailliot in our first webinar instalment. Peter who's our FIG CIO will discuss how diversification within a whole portfolio approach can create resilience in what is globally now a low rate environment.

Second, Kunal Khara will highlight the extent to which the technological transformation of the industry, in all aspects of the insurance business from liabilities, assets management to distribution, is driving change across the industry for insurers.

Third, sustainability which, against the backdrop of the pandemic, has only accelerated in its global importance with insurance companies, will be presented by Jessica Tan in our final webinar instalment.

These considerations have encouraged insurance companies to fundamentally review their business models to ensure they are both robust and future proof, a final theme that emerged from our 2020 survey.

So what of the year ahead?

We are clearly expecting all of these themes to continue to play out in and some will accelerate in 2021.

We are also expecting new themes to gain in importance such as the rising inflation, as well as the already strong backdrop of consolidation across the global insurance industry which will continue apace.

We'd be honoured to support you through our global diversified platform which combines asset management, insurance solutions, technology and capital markets capabilities, and partner with you on these evolving challenges.

We hope to meet face-to-face sooner rather than later in 2021 and would like to thank everyone who took part in the survey.

We hope you enjoy my colleagues' videos and this webinar series.

I look forward to speaking with you soon.

ICBH0121E/M-1483790
We visualize each theme and its global and regional implications in our interactive report, complemented by comments from your peers and BlackRock experts.
01 Embracing digital transformation
69% of insurers plan to prioritise technology investment in response to a permanently changed environment. Technology offers the prospect of getting closer to the customer through digitally enabled policyholder engagement and distribution platforms.
62% cite risk management concerns as a significant challenge for their investment teams in the work from home environment and technological resilience is a major focus.
Technological change and a more flexible and tech-enabled workforce open up new possibilities to create value across the business from operations through to digital distribution.
Technology
Watch Kunal Khara, Global Head of Financial Institutions for the Aladdin business, as he discusses the impact of technology in the insurance industry in only 3 minutes
Hello.  My name is Kunal Khara.  I'm the Global Head of Financial Institutions within the Aladdin Business and I'm really excited to talk to you about technology and its critical support of the insurance industry in the year 2020. 

As you all know, technology stood out as one of our overarching themes in the Global Insurance Report.  It's created a meaningful change in the way insurers operate across distribution, across product manufacturing, across data analysis, and ultimately into investment decision-making. 

The pandemic has also demonstrated that having sound technology for operational resilience, for good governance and controls, and to ultimately create a seamless operating environment has also been very, very important and we expect that these themes will continue over the next few years as insurers continue to leverage some of the benefits of this technology environment from 2020 into 2021 and beyond. 

First off, we found that insurers are leveraging technology a lot more to get as close as possible to the end consumer.  And this is happening in a couple of different ways.  Certainly, one to create direct policyholder engagement, but also more importantly, partnerships across the InsureTech space for example resulting in more distribution that is driven by technology and artificial intelligence. 

In addition, we found that insurance companies are even more careful and specific to incorporate local trends, recognising that again the world that's been created around us due to the pandemic is very, very focused on leveraging this technology to the end consumer and to get to wholesalers and distributors all over the world. 

If you now move to the investment landscape and the way insurers are now leveraging technology to ultimately create the right investment outcomes for themselves and their clients, there are four key themes we highlighted in our Global Insurance Report. 

First of all, technology and analytics drive strategic asset allocation and asset liability management. Second, technology to further equip the risk budgeting process and to focus on setting the right risk appetite. Third, technology analytics, ESG in sustainability, is especially an area where we know insurers are taking a leading position. And finally, technology that ultimately helps equip insurers to align investment and accounting data together and to produce that seamless single book of record with a single source of truth on the data side.

All of this has to be underpinned by a degree of resilience and portfolio flexibility, and in particular, we know that insurers are also enhancing their alternatives allocations.  This came through very clearly in the global insurance report.  As a result, we expect that these themes will endure in the technology evolution spectrum. 

We expect that there will be more and more work that will be done over the next few years in driving more decision-making that's tech and data enabled.  And we are very, very glad to continue to partner with you on your journey of tech evolution.  With that in mind, I look forward to continuing the engagement with all of you in the years to come.  And in the interim, to discuss these themes in more detail, I'd encourage you to please reach out to your relationship manager.  Thank you very much.
Technology is enabling the industry to change
Q: Do you foresee any permanent changes in investment team operations, technology platforms or working patterns following the post-COVID normalisation?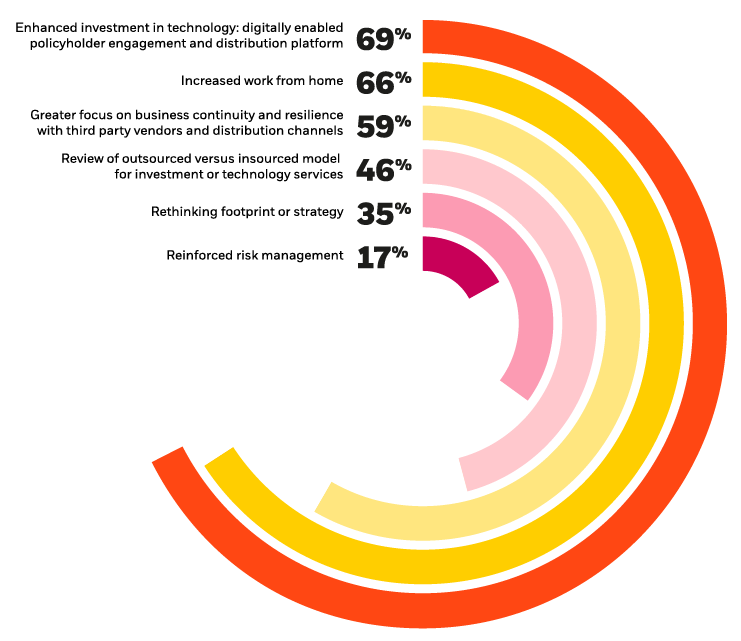 Source: BlackRock Global Insurance Survey, June-July 2020. Base: Global (n = 360).
The respondents selected their top three answers.
02 Reinventing business models for a post-COVID world
More than 60% envisage a more flexible, targeted product offering with closer policyholder engagement in an environment of low rates and significant pressure on policyholders following the pandemic.
Improved coordination between product and investment teams is essential as insurers redesign the end-to-end process of their product offering and offer new forms of coverage. Specialised pandemic risk coverage and life insurance with an investment focus are priorities for life and multiline insurers.
Insurers would like to see changes to capital treatment and accounting rules post the crisis to ensure better alignment with underlying risk and long-term holdings respectively.
Revisiting product priorities
Q: To respond to your customers' evolving needs, which of the following products and services would you prioritise in the next 2 years?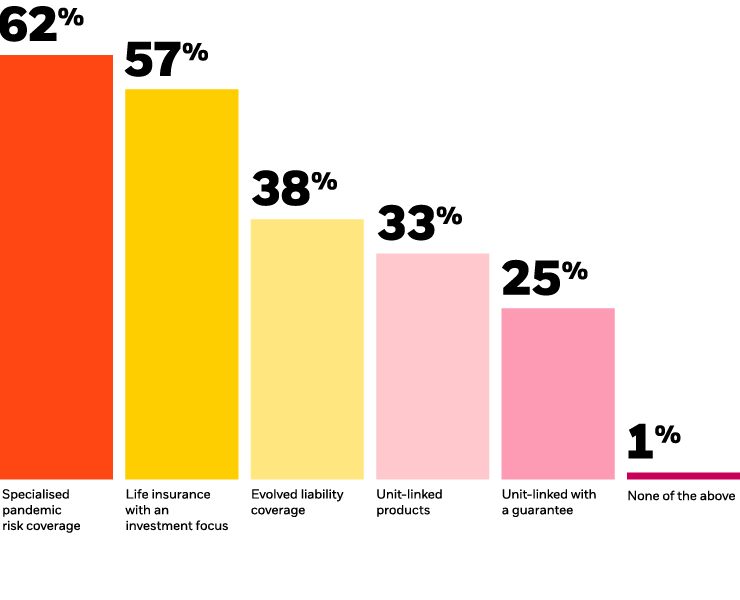 Source: BlackRock Global Insurance Survey, June-July 2020. Base: Life and Multiline insurers only (n=175). The respondents selected their top three answers.
03 Enhancing portfolio flexibility to promote resilience
Circa 60% look to combine a focus on quality with higher diversification, and increased portfolio flexibility with strong governance.
Risk appetite is remarkably robust with 47% wanting to increase risk exposure. Insurers view geopolitical risk and weak global economic growth as the most serious macro risks, while asset price volatility and liquidity risk are considered to be the major market risks.
Strengthening credit quality and diversification have been the biggest adjustments to investment strategies following the crisis. Insurers intend to increase cash holdings at the expense of public market allocations, but target exposures to multi-alternatives and select private market investments. They have to balance these exposures with liquidity concerns and a desire for greater resilience.
Whole portfolio solutions
Watch Peter Gailliot, Global CIO of the Financial Institutions Group, as he discusses the flexibility and diversification required to build resilient portfolios in only 7 minutes.
I wanted to wish everyone a Happy New Year and hope that everybody is doing well and taking care here.

My name is Peter Gailliot, Global CIO, and Head of the Fixed Income and Portfolio Management team within the Financial Institutions Group of BlackRock.

As we transition from the unprecedented year that was 2020 into 2021, we thought it made sense to step back and take stock of some of the events of the last 12 months.

As we covered in our 9th Annual Global Insurance Report. There were several trends that were in place in the insurance industry and coming into 2020, that were only accelerated by not only the global pandemic, but also the global policy responses that continue to take place today from both governments and central banks across the world. Chief among those was the fact that the U.S. has now joined Europe, Japan, and other developed markets in what is an ultra-low interest rate environment. Traditional portfolio construction strategies that in the past had provided sufficient income for insurers are no longer able to provide the needed yield from their asset base.

Now, more than ever, insurers need to take a step back and consider their portfolio allocations, historically. Portfolios that are sound and provide durable income through a cycle also provide the flexibility to take advantage of the more frequent yet shorter volatility cycles that have persisted in the post global financial crisis period. A major challenge for all investors, and particularly those who own liabilities, is how to balance the risk reward paradigm, today. Over 47% of the respondents in our survey indicated a preference to increase risk in the next 12 to 24 months.

At today's historically low yield levels and relatively elevated risk asset levels, it seems to us, that it's not so much a desire but more a need to increase allocations to risk to seek sufficient yield and return.  And basically this is the end game of financial repression, which has allowed debt burdens to be reduced without going through the painful process of fiscal austerity. Unfortunately, it has also forced investors to go out the risk spectrum to generate the same yield in return whether it be through going down in terms of their risk profile or out the yield curve.

For last several years, the U.S. has been a natural recipient of flows, searching for additional income. As it was one of the few developed markets that still offered positive yield. Unfortunately, after the pandemic, it is apparent that the U.S. is not immune to the gravitational pull of low yields. As we sit here today at the end of 2020, there is over 18 trillion of negative yielding debt globally. When you actually take into account inflation, it is more than double that number. There's certainly opportunities that still exist today to generate sufficient income through a cycle, but it is more challenging than it ever has been. Our survey illustrates how insurers plan to overcome this challenge through a barbell approach. Over one third of survey respondents anticipate building higher allocations to cash. While at the same time, the number one change that they were looking to make in their investment portfolios was to increase risk allocations, most notably among alternative investments.

The investment approach is driven by insurers key convictions regarding their balance sheet in their portfolios. One to make sure there is high quality, durable income built through their credit allocation. Two, looking to further increase diversification as we move into 2021. Three, to target higher yields and returns to combat the relatively low income environment, today.

The asset classes that survey participants highlighted that will be principal recipients of future flows include private assets. Private assets continued to find a home in insurance balance sheets. Given the abundant income available in those securities, as well as the very capital efficient, less correlated risk that they represent. Well, it absolutely makes sense to continue to allocate to the asset class. We think it is even more advantageous for insurers to look to do so on a currency agnostic basis, as the liquidity premiums that exist differ across regions and countries in currencies around the globe.

Another asset class that was high on the list of survey respondents intent to increase was emerging markets. Well, Covid certainly has presented and continues to present a lot of challenges in the emerging markets community. It is impossible to ignore the growth of the asset class and the income it provides. We have seen a lot of interest for emerging markets in general, but also relatively recent trend to increase allocations to Chinese markets in particular, given the abundant income that's available from government bonds to credit. When we took a step back and looked at the survey respondents in their responses to allocations they were looking to reduce, chief among them was high yield. And while high yield was so notable for being at the epicentre of the Covid crisis and the stress that was experienced across the universe of high yield companies globally, what was equally notable to us was the recovery and compression across that asset class in the second half of the year.

When we saw 10-year high yield debt print in the U.S. sub 3%, we knew as our insurance community knows as well that there is absolutely a need to look outside of the traditional sources of income going forward.

When we asked our respondents about changes that they have made in their investment process operationally, the top answer was a need to have better coordination between the investment teams and the product groups to combat the evolving insurance market and investment landscape. Second with roughly half of our respondents, was a decision to increase the opportunity set in portfolios to dynamically adapt to the shifting market conditions today.

When we think about the landscape going into 2020, and the risks that still persist, we noted that there was an elevated amount of focus on geopolitical risks as the survey was taken in the middle of 2020. Several of those have come to pass principally in the form of Brexit and the U.S. Elections.

As we look forward, chief among the risks that we see, and many of the survey respondents also have seen, is the risk of inflation due to the combination of elevated fiscal spending, a massive expansion in central bank balance sheets, and a commitment from that community to fund the next expansion.

It remains to be seen whether 2021, will finally be the year when inflation arises. Or if we might be having the same conversation as we enter 2022.

At BlackRock, we believe building resilient portfolios is absolutely critical, and never more so than it is today as we enter into a post Covid environment.

Relationship Managers and investors alike would welcome the opportunity to discuss these thoughts and more, as it relates to your balance sheet and your portfolios.

Thank you.

ICBH0121E/M-1483792
Repositioning for prolonged low rates
Q: What steps have you taken in the past 12 months to position for a prolonged period of low interest rates?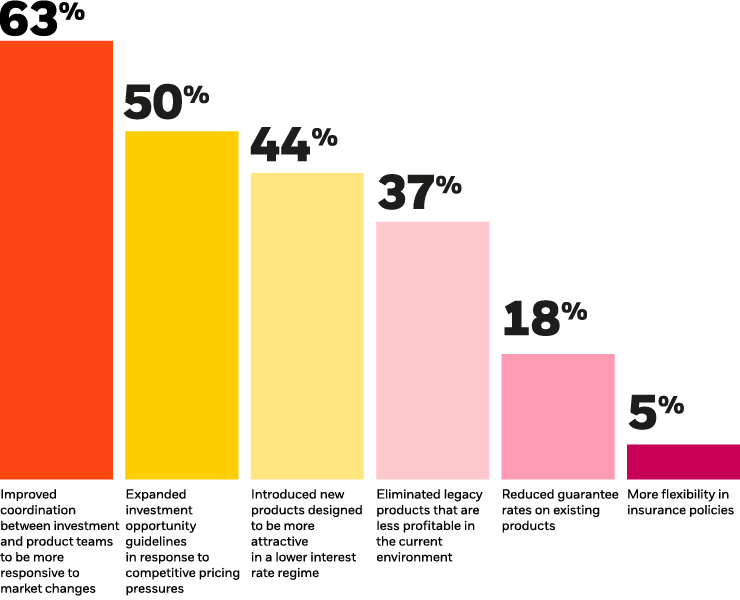 Source: BlackRock Global Insurance Survey, June-July 2020. Base: Global (n = 360).
The respondents selected their top three answers.
04 Prioritising sustainability objectives
78% believe the COVID experience is accelerating their focus on ESG, with a greater emphasis on social and governance aspects. Insurers increasingly invest in specific ESG strategies and consider ESG risk to be a key factor when assessing new investment opportunities.
When our Global Insurance Survey uncovered ESG a central theme in 2018, many companies were still struggling with the concepts and what that meant for them. Today, the global industry and chiefly its most advanced companies are leading a charge that is transforming the ways in which to invest and manage risk. ESG considerations are penetrating investment decisions deeply.
Putting ESG into action
Q: Thinking about ESG, have you done any of the following?
Source: BlackRock Global Insurance Survey, June-July 2020. Base: Global (n = 360).
Discover the Global Insurance Report 2020
Global insurers share their views on how 2020 is reshaping the industry and their investment approach through digital transformation, redesigned business models, portfolio flexibility for great resilience and the prioritisation of sustainability.