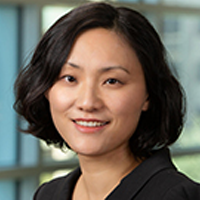 Rui Zhao, PhD, CFA
Managing Director, Portfolio Manager and member of BlackRock's Systematic Active Equity team
Rui Zhao, PhD, CFA, Managing Director and portfolio manager, is a member of BlackRock's Systematic Active Equity team. She is responsible for developing and managing the China strategies.


Dr. Zhao's service with the firm dates back to 2006. Previously she was a portfolio manager and research analyst for the New York based Quantitative Equity team, as well as a researcher on the Developed Markets team in the Scientific Active Equity group. Prior to joining BlackRock in 2006, Dr. Zhao has focused on research on empirical asset pricing and hedge fund performance, and published papers in both academic and practitioner journals, including Journal of Financial and Quantitative Analysis, Journal of Investment Management and Alpha Magazine. In 2003, she was a part-time associate at Citigroup, developing a market impact model for block trade. In 2000, she was an account manager with Joyo.com Limited, China's largest online bookstore (acquired by Amazon.com in 2004).


Dr. Zhao earned a BS degree, with honors, in statistics and a BA degree in economics, both from Peking University, and a PhD in finance from Columbia Business School.