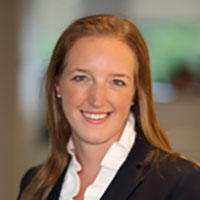 Meghan Colarusso, CFA
Strategist, Multi-Asset Strategies & Solutions (MASS)
Meghan Colarusso, CFA is a platform strategist within Multi-Asset Strategies & Solutions (MASS). In her role, Meghan is responsible for supporting initiatives related to commercial strategy, product development, marketing, and client messaging to drive growth across the platform.
Multi-Asset Strategies & Solutions is the investment group at the heart of BlackRock's portfolio construction, asset allocation, and active management ecosystem. MASS draws on the full toolkit of BlackRock's index, factor, and alpha-seeking investment capabilities to deliver precise investment outcomes and cutting-edge alpha insights. MASS constructs active asset allocation strategies and whole portfolio solutions across a wide spectrum of commingled funds, separate accounts, model portfolios, and outsourcing solutions in the wealth and institutional channels.
Prior to her current role, Meghan was a product strategist for the Global Allocation Fund, responsible for representing the investment team on a global basis to both retail and institutional clients.
Meghan earned a BS degree in finance from Boston College in 2009 and is a CFA Charterholder.