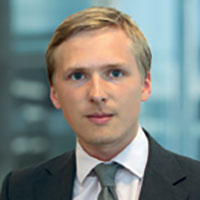 Conan McKenzie, CFA
Portfolio Manager, Diversified Strategies Team
Conan McKenzie, CFA, Managing Director, is a member of the Diversified Strategies team within BlackRock's Multi-Asset Strategies & Solutions Group. Conan is a portfolio manager for a number of benchmarked and outcome-oriented funds. He also leads the Diversified Strategies team's third-party manager research agenda with a focus on ESG opportunities such as renewable energy and social housing.
Conan's service with the firm dates back to 2011, where he started as a research analyst.
Conan holds an MA degree in History & Politics from the University of Oxford and is a CFA charterholder.
Conan is passionate about ESG investing and using capital to address environmental problems. Outside of work, he is a charity trustee and enjoys mountaineering in his spare time.
Multi-Asset Strategies & Solutions (MASS) meets client demand for active asset allocation strategies and whole portfolio solutions through funds, outsourcing institutional mandates (OCIO), model portfolios, and more. MASS draws on the toolkit of BlackRock's index, factor, and alpha-seeking capabilities to deliver cutting-edge insights and precise investment outcomes.