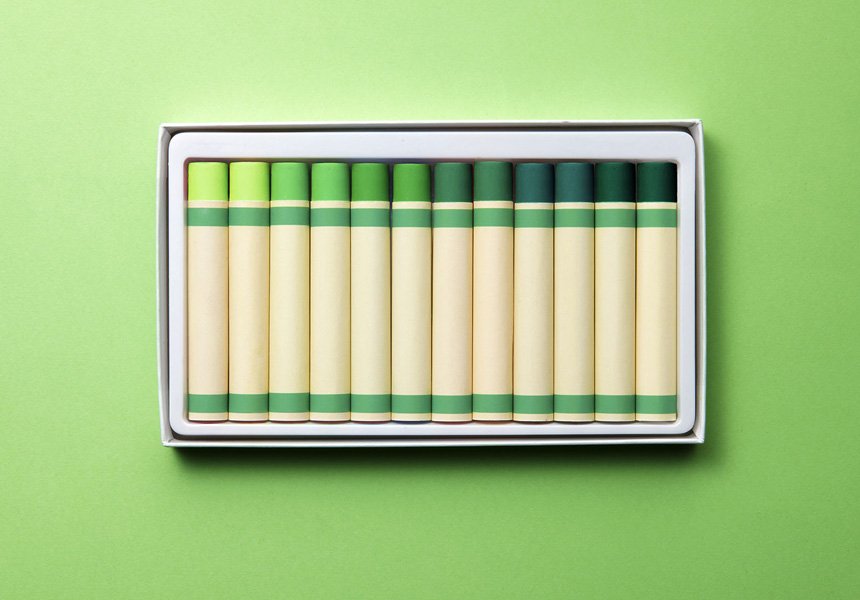 Index Investing
At BlackRock, our approach to index investing is anything but passive. We understand that investors today demand more efficient returns and innovative ways to use index strategies.
Capital at risk. The value of investments and the income from them can fall as well as rise and are not guaranteed. Investors may not get back the amount originally invested.
---
Why BlackRock for index investing?
For UK institutional investors the investing landscape is harder than ever. Extracting every unit of return for a given amount of risk is crucial, and barbelling of asset allocation across index and more complex alphas such as private markets is a trend that continues to deepen.
The indexing landscape has evolved considerably over the past decades and this webpage is a starting point for institutional investors to understand that change, interpret it and begin the conversation with us, on how to capitalise upon it.
Index mutual funds:

Professionally managed funds which pool the money from many investors and invest it in a portfolio of assets constructed to track the performance of a particular market index, such as the FTSE 100 or the iBoxx Sterling Non-Gilt Index.

Separate accounts:

Investment vehicle that offers the same investment opportunities as a mutual fund, but instead gives the investor direct ownership of the securities in their account, with the potential to customise elements of the managed strategy.

Exchange traded funds (ETFs):

Pooled investment funds that aim to track the performance of a specific index, such as the FTSE 100, by investing in a basket of stocks, bonds or other assets, and can be bought or sold on exchange.

ETFs are often compared to index mutual funds with which they share key similarities, but also some differences, for example index mutual funds cannot be bought and sold on exchange in the same way. Find out more here.
Historically, index mutual funds and market cap weighted indices have been the mainstay for passive investing amongst pension schemes, insurance companies and other institutional investors. However, over time indexing has evolved, with the ETF market growing significantly, particularly over the past decade, from under US $1tn in 2009 to over US $7tn today1. Institutional investors are now increasingly turning to ETFs as an investment tool to help with a series of investment portfolio challenges.
Indexing has also evolved from an exposure standpoint, with single countries, factors, ESG, sectors and currency hedged share classes now widely available.
1 BlackRock Global Business Intelligence, April 2020
Navigating the sustainable transition
BlackRock have partnered with UK investors to help transition their allocations to sustainable strategies in a step-wise process. In this video, we discuss key topics such as demystifying what Environmental , Social and Governance is (and what it is not), the performance of sustainable indices, and the importance of data in the indexing ecosystem.
Paragraph-4
Dynamic Article List-1
Dynamic Article List-2
Paragraph-5,Bio-1,Bio-2
Sustainability
Integrating sustainable solutions into portfolios is becoming an increasing focus for institutional investors. The iShares EMEA sustainable product offering caters to a variety of ESG objectives, offering a broad range of sustainable strategies, across ETFs and mutual funds, to meet the needs of our clients, wherever they are in their sustainable journey.
Risk: This information should not be relied upon as research, investment advice, or a recommendation regarding any products, strategies, or any security in particular. This is for illustrative and informational purposes and is subject to change. It has not been approved by any regulatory authority or securities regulator.
The environmental, social and governance ("ESG") considerations discussed herein may affect an investment team's decision to invest in certain companies or industries from time to time. Results may differ from portfolios that do not apply similar ESG considerations to their investment process.
Fixed income
BlackRock is a leading provider of indexed fixed income investments, with institutional index mutual fund and ETF strategies spanning the world's investable fixed income markets. Our full spectrum of global index products can provide efficient, cost-effective exposure to specific market segments.
Fixed income ETFs have also become the main reference instrument for liquidity and price discovery in bond markets, and a critical part of every fixed income investor's toolkit.2
During the extreme market volatility experienced in the first half of 2020, fixed income ETFs passed their biggest test to date, as highlighted in the BlackRock paper "Turning Point". When volatility struck, fixed income ETF trading surged, reaching US$17.5billion on average from late February through to late March 2020, more than twice the 2019 weekly average. Similarly, on 12 March, one of the worst days for equity markets in modern history and a day during which credit markets sold off sharply, the iShares US$ Corp Bond UCITS ETF (LQDE) traded almost 1,000 times on exchange compared with just 37 times on average for its largest five bond holdings.3
BlackRock is a leading provider of both alpha and indexed fixed income investments. iShares offers over 90 ETFs in UCITS format across a range of fixed income exposures.4 An extensive range of fixed income ESG ETFs also help investors meet ESG integration requirements. In an increasing number of institutional portfolios, fixed income ETFs are used for both tactical and strategic asset allocation, as well as in liquid beta sleeves.
2BlackRock, Bloomberg, as of 30 June 2020
3BlackRock Turning Point, as of 30 July 2020
4BlackRock, as of 30 March 2020
Risk: There can be no guarantee that the investment strategy can be successful and the value of investments may go down as well as up.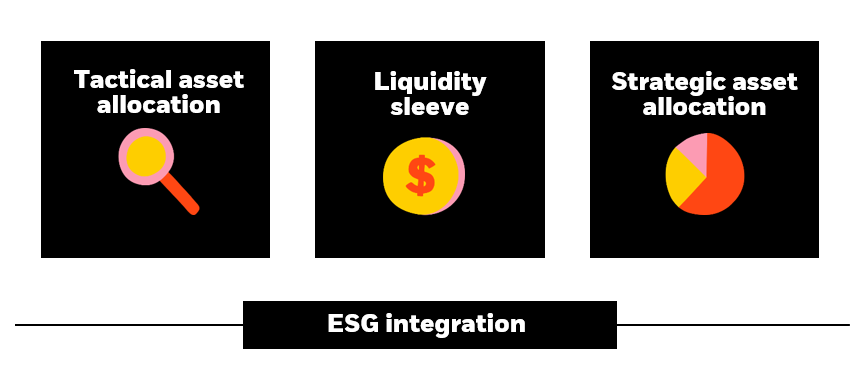 Tactical asset allocation
Institutional investors are increasingly using ETFs to invest tactically, for shorter time periods, due to their liquidity, lower costs and wide breadth of exposures available. Given the hunt for yield, the ability to express a view across shorter time periods is essential in the pursuit of higher portfolio returns.
Niche exposures
ETFs offer a more granular range of exposures while our index mutual funds typically offer broader sector exposures. To put that into context, in EMEA the iShares ETF and index mutual fund range has over 750 funds, offering institutional investors the opportunity to use this granularity to target specific sectors, countries, factors and ESG styles. In addition, new areas of focus, such as Gold and China Bonds are becoming increasingly popular. Having more granularity at a time where the hunt for yield across both equities and bonds is becoming harder is essential.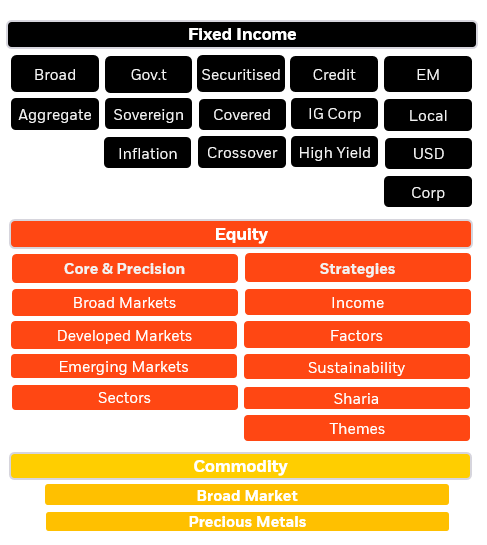 Liquid beta sleeves
Cash in institutional investors' portfolios may lead to a material drag on performance. Pension funds are increasingly holding more cash to pay member benefits, fund private markets, or simply to have cash as dry power. For insurance companies, cash typically forms part of their investment portfolio to manage working capital, claims accounts and reserves or premium receipts.
Using the enhanced liquidity of ETFs, liquid beta sleeve is a combination of ETFs that seek to solve the issue of excess cash without compromising on returns and liquidity.
Cash in perspective:
UK pensions market:

2% allocated to cash by UK pension funds5
£30bn estimated amount of cash held by UK pension funds6

UK insurance market:

£1.7T7

 

invested assets UK Insurance Market
7% cash holdings in strategic asset allocations (SAA)
5Mercer, European Asset Allocation Survey 2019
6Willis Towers Watson, Global Pension Asset Study 2019, Thinking Ahead Institute
7EIOPA Report 2018
Meet our team
To learn more about our index solutions for UK pension schemes, please contact our dedicated relationship team.