The world is changing and so should our investment portfolios. Portfolio resilience has to go beyond government bonds and consider alternative return sources that can provide income and diversification. As the largest opportunity in private infrastructure, renewables are increasingly being asked to play that role in traditional portfolios. At the same time, rising investor allocations, increasing market participants and declining subsidies are changing the investment landscape. For investors today, navigating these 'winds of change' will be essential to get the most out of this resilient asset class.
On the first theme, renewables markets are regionally moving through different cyclical phases and at different paces, reflecting local trends in demand, supply and policy. It is important to identify areas of relative value globally and avoid pockets of overheating. For example, Asia renewables today is reminiscent of Europe 10 years ago. South Korea is building 42 GW in wind and solar this decade alone according to Bloomberg – that's equivalent to the UK's entire installed base today.
Balancing risk, reward and addressable opportunity
Risk and return view of renewables market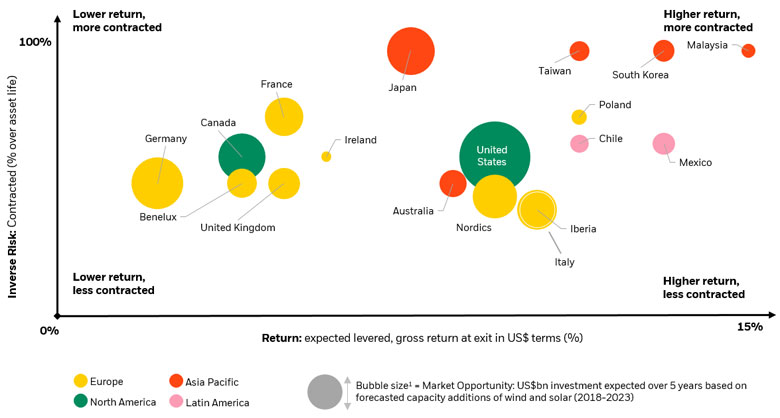 Source: BlackRock, proprietary analysis performed by the Global Renewable Power Team, June 2020. Capacity market data is taken from Bloomberg New Energy Finance. Return is based on market data points and does not reflect investment strategy.
We also believe that investing in renewables is not about avoiding risk altogether. It is about taking risks that are well understood and being equipped to manage those risks in order to generate best risk-adjusted performance. Construction and late-stage development risks are idiosyncratic and more directly manageable than long-term power price assumptions.  At today's competitive market for operating assets, we see material risk in more mature assets, as the return profile for operating assets is skewed to the downside
Today, structural trends such as decarbonization and electrification are reshaping the energy industry and beyond. Investors should be equipped to position their investment approach and strategy in line with the market evolution. Being dynamic in portfolio positioning and embracing change are critical to getting the best out of the investment opportunity.
Building portfolio resilience
In our view, following these key investment themes, allows investors to get most of out the asset class and build up portfolio resilience through three key benefits of income, diversification and sustainability. 
Income: Investors are faced by fixed income yields that are at their lower bounds and equity dividends being cut or suspended. Income from renewables compares favourably to yields in other asset classes and has proven to be stable over time including during this pandemic.
Diversification: Returns in renewable power projects are primarily driven by the availability of wind and solar resource, the capital costs to build new projects and the price of electricity. These idiosyncratic risks make renewables a natural portfolio diversifier and help reducing equity risk in an overall portfolio.
Sustainability: Portfolio resilience is more than income and diversification. It's making sure the portfolio is well positioned for structural themes. The shift toward sustainability is poised to give renewables a potential return advantage for years to come.
Key Takeaways