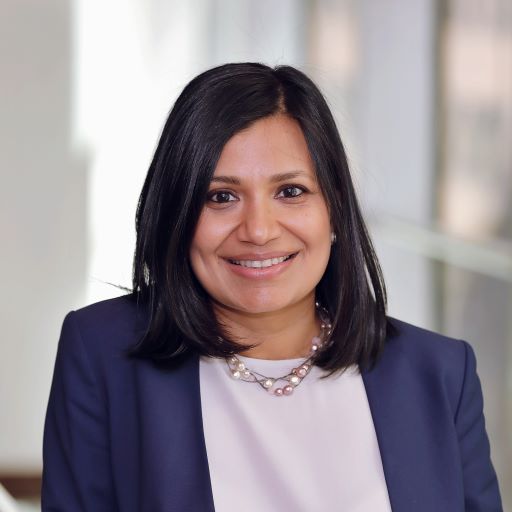 Gargi Pal Chaudhuri
Head of iShares Investment Strategy Americas at BlackRock
Gargi Pal Chaudhuri, Managing Director, is Head of iShares Investment Strategy Americas. Based in New York, she and her team focus primarily on delivering global macro thought leadership, investment insights and content to both retail and institutional clients of the firm. With over two decades of experience in the financial services industry, Gargi has built her career around portfolio management in the fixed income markets, trading and macro strategy.
She joined BlackRock's Global Fixed income group as a sector specialist in 2010, focusing on real and nominal rate relative value and trading. In 2013, she transitioned to the global inflation portfolio management team as senior portfolio manager, focusing on alpha generation, risk management and portfolio positioning for global inflation-linked bond portfolios, including BRIP and GILB. From 2017 to 2020, she served as a member of the Fixed Income Product Strategy team for the Global Fixed Income (GFI) business as head of Platform Strategy and Canadian fixed income, focusing on global macro thought leadership applied to platform conversations with institutional and retail clients.
Prior to joining BlackRock, she spent nine years on the sell side at Jefferies & Co. and Merrill Lynch. As a VP at Jefferies & Co., she ran the US inflation trading desk, built the Treasury Inflation Protected Securities (TIPS) franchise and provided liquidity in TIPS to institutional clients. She began her career in 2001 on the government bond trading desk at Merrill Lynch, focusing on providing liquidity and market making in TIPS and treasury securities.
She graduated magna cum laude with a bachelor's degree in accounting and psychology from Ohio Wesleyan University in 2001.
Outside of BlackRock, she is an avid runner, hiker and a triathlete and has completed multiple marathons, ultra-marathons, half Ironmans and the New York Ironman.