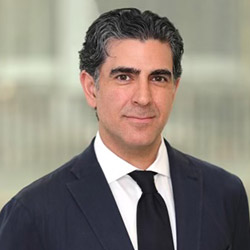 Charles Hatami
Global Head of the Financial and Strategic Investors Group (FSIG)
Charles Hatami, Managing Director, is Global Head of the Financial and Strategic Investors Group (FSIG), which is responsible for the firm's engagement with the largest asset owners across the world. Charles also chairs BlackRock's business in the Middle East region, and co-leads the firm's Transition Investing effort.
FSIG comprises three independent businesses: Financial Markets Advisory (FMA), the Global Financial Institutions Group (FIG) and the Official Institutions Group (OIG). FMA delivers a range of capital markets, balance sheet management, and risk & analytics advice to banks, insurance companies and official institutions. FIG is the world's leading insurance asset management business. OIG is responsible for the firm's relationships with central banks, multilateral development banks and sovereign wealth funds, among others.
Charles is a member of BlackRock's Global Operating Committee, Global Client Business Executive Committee, and the Global Executive Committee Strategic Clients Subcommittee. Charles also serves on the Board of BlackRock Saudi Arabia.
Prior to joining BlackRock in FMA in 2010, Charles was the Founder and Managing Partner of Xeryus Capital Management, a London-based boutique global macro hedge fund. He started his career working at Banco Itaú in Brazil, and previously in risk management at BNP Paribas in Germany.
Charles serves as an Advisory Board member of the MIT Golub Center for Finance & Policy, and as a Trustee of the Board at the Lycée Français de New York.
Charles earned an MBA degree with concentration in finance from the Massachusetts Institute of Technology Sloan School of Management, and an MSc. in Financial Engineering, with honors, from Leonardo Da Vinci Engineering School in Paris, France.