Why BlackRock for Market Advantage?
BlackRock's Market Advantage strategy is designed to provide returns with resilience by targeting equity-like returns with lower risk and shallower drawdowns.
Learn more about Market Advantage at BlackRock
Paragraph-3
Paragraph-4
Paragraph-5,Bio-1,Navigation List-2
Investment philosophy
Our research indicates that asset classes are driven by six common macroeconomic factors: economic growth, credit, emerging markets, liquidity, real rates, and inflation. These fundamental macro factors offer more precision and clarity regarding the drivers of asset class returns and their co-movements. By combining these multiple return engines or macro factors into a truly diversified portfolio, Market Advantage is able to reduce total portfolio risk without sacrificing returns. Market Advantage is not dependent on any one asset class- it is diversified across geographies, asset classes and factors. This diversification across factors produces more stable performance, offering clients access to a more consistent return stream. Our mission is to help our investors achieve the expected returns they need at reasonable levels of risk across different market environments.
The fundamental macro factors identified have the following characteristics:
They explain the majority of the asset class returns
They are rewarded (have a positive expected return) over the long-term; and
They are intuitive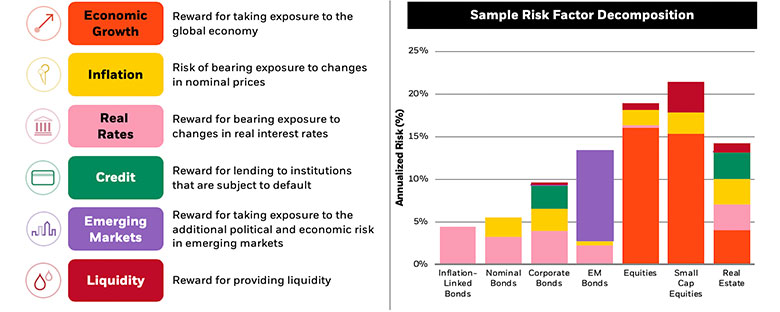 Source: BlackRock. For illustrative purposes only.
Investment process
The Factors, Sustainable and Solutions team follows a systematic investment process. We leverage the power of data and technology to evaluate hundreds of securities on a daily basis. Every investment decision is evaluated by the portfolio management team to ensure it is sensible and consistent with our research.
Our strategies are managed in a team-based approach to investment strategy, portfolio management, and trading. Philip Hodges, PhD, CIO, is the ultimate decision maker for the strategy.
The investment strategies included in Market Advantage are the result of over ten years of research into macroeconomic factors and behavioral finance. While the strategy is designed to be long-term and steady in nature, we recognize that markets are dynamic; as such, we emphasize the importance of continuous, evolutionary research to adapt the strategy to succeed going forward. We continuously research the best ways to define these macro factors, allocate risk, and implement the portfolio.
The strategic portfolio allocations are based on long-run economic priors and ta desire for a well-diversified and balanced allocation across macro factors. We do not adhere to a calendar rebalance, instead, we rebalance the portfolio when the benefits of rebalancing exceed the expected transaction costs.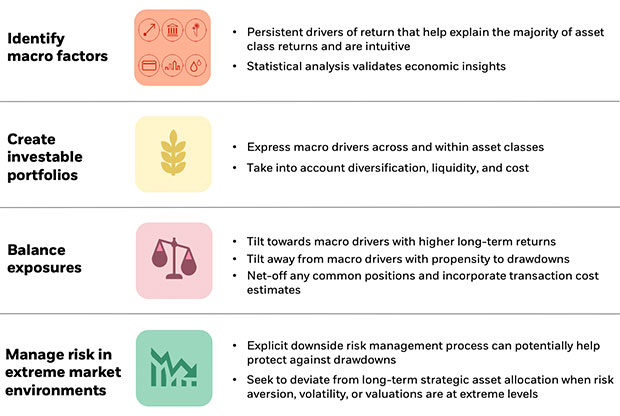 Source: BlackRock. For illustrative purposes only.