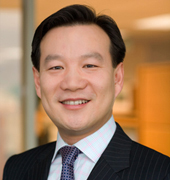 Jeff Shen, PhD
Managing Director
Jeff Shen, PhD, Managing Director, is Co-CIO and Co-Head of Systematic Active Equity (SAE) at BlackRock. He is a member of the BlackRock Global Operating Committee, BlackRock Systematic (BSYS) Management Committee and the BlackRock Asian Middle Eastern & Allies Network (AMP) Executive Committee.
Dr. Shen's service with BlackRock dates back to 2004, including his years with Barclays Global Investors (BGI), which merged with BlackRock in 2009. At BGI, he was the Head of Investment for Asia Pacific and Emerging Market active equities. Prior to joining BGI, he began his career in 1997 with JP Morgan where he held numerous positions in global macro investment and asset allocation research in both New York and London.
Dr. Shen earned a BA degree in Economics from Hobart College, a MA degree in Economics from University of Massachusetts at Amherst, and a PhD degree in Finance from New York University.
Dr. Shen is an adjunct professor at NYU teaching an MBA class on international investment. He also serves on the advisory board of the Clausen Center at UC Berkeley.