Why BlackRock for real estate?
We believe successful investing requires a local market presence with the operational and analytical expertise to buy, manage and sell real estate assets. BlackRock Real Estate's breadth, expertise and solutions approach are critical to achieving this objective.
Research themes: Today's change, tomorrow's opportunity
Real Estate Now: our research views on impact of Covid-19. While much of what we are experiencing is temporary, time will tell which asset owners can manage through this time. Investors who are well positioned can potentially capitalize on dislocation.
Learn more about real estate at BlackRock
Paragraph-3
Paragraph-4,Bio-1,Paragraph-5
Paragraph-6,Dynamic Article List-1
Identifying value across the four quadrants of real estate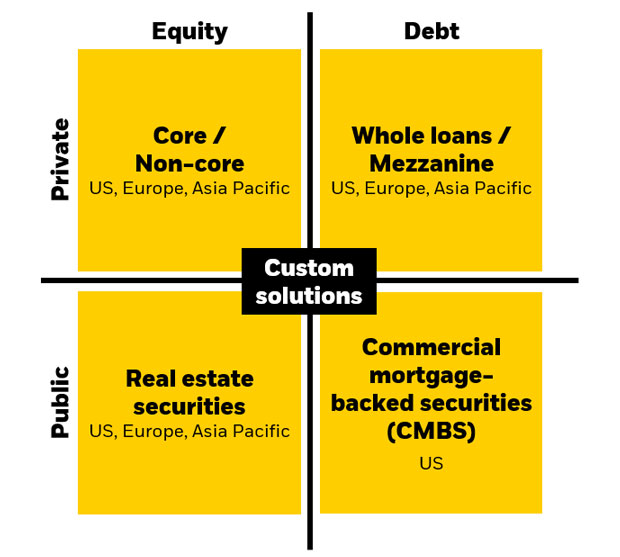 Investing across strategies and major property types

Meet our real assets team
With 340+ people across 25 offices globally2, we benefit from independent access to local industry networks and investment opportunities.
BlackRock's latest real estate insights
More articles loaded. Use Shift+Tab keys to browse.
Real assets in the year ahead

Jan 13, 2021

|

By

BlackRock

Read our 2021 Global Real Assets Outlook for insights into how real estate and infrastructure investors can pursue their goals amid deep structural changes and an uneven global recovery.

What's ahead in APAC real estate?

Apr 29, 2020

|

By

BlackRock

BlackRock's Head of APAC real estate discusses Asia's property markets in the wake of COVID-19.

Global real estate, a world of relative value

Sep 2, 2019

|

By

BlackRock

We discuss the challenges including structuring, trade-offs between regional and global exposures, and foreign exchange risks.