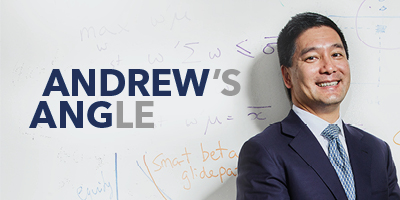 Like trends in fashion, trends in the market come and go. What was "cool" last year gets replaced by the new style of the season. Within investments, staying fashionable goes beyond appearances–it has historically rewarded investors with higher returns than the market.1 This phenomenon is known as the momentum factor.
Other factors such as quality, value, and small size, tend to have less dynamism in their exposures, and seek to hold the same types of stocks regardless of market performance. For example, quality portfolios seek out profitable companies with low leverage and high earnings quality, no matter what markets look like. Momentum is unique in that it's a "chameleon" factor, taking the form of the most recent trends in markets. Historically, we have observed trends across individual stocks, industries, sectors, regions, and even style factors exhibit trends.2 This allows the holdings of momentum to act as a gauge of market trends for investors, which in turn allows for more informed investment decisions.
What is market momentum telling us today?
2020 was an unprecedented year in which a global pandemic halted economies worldwide and equity markets crashed. In the U.S., from February 20th through March 23rd, the S&P 500 Index fell almost 34% as investors weighed the long-term effects of the Covid-19 pandemic.3
This was followed by a socially distanced world in which growth companies and FAANGM4 led one of the most significant rallies in market history. Using momentum as our guide, the iShares MSCI USA Momentum Factor ETF (MTUM) held an average 22% weight in these six companies as markets rallied.5 After its most recent rebalance in May, the only FAANGM company it still holds is Google at an approximately 5% weight, signaling a changing of the tide.6
Momentum's allocation to FAANGM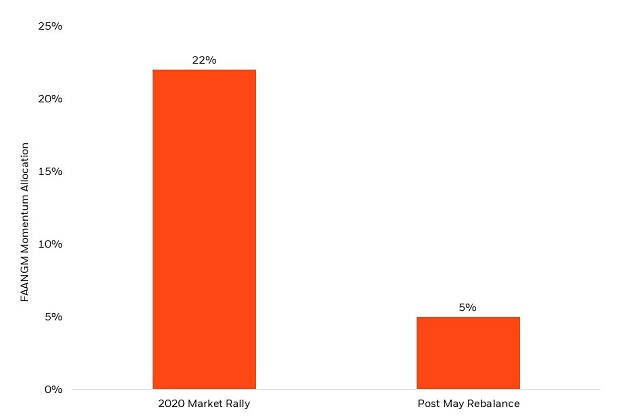 Source: Morningstar as of 5/31/2021.
In November 2020, we received positive news on vaccine efficacy from Pfizer and Moderna, activating reopening investment themes in the market and muting the stay at home theme that helped push FAANGM higher earlier in 2020. As I noted in a previous Angle, the value and size factors are highly positively correlated with economic reopening. As value has picked up steam, market momentum has moved away from growth, increasing the weight of core and value positions.
Composition of market momentum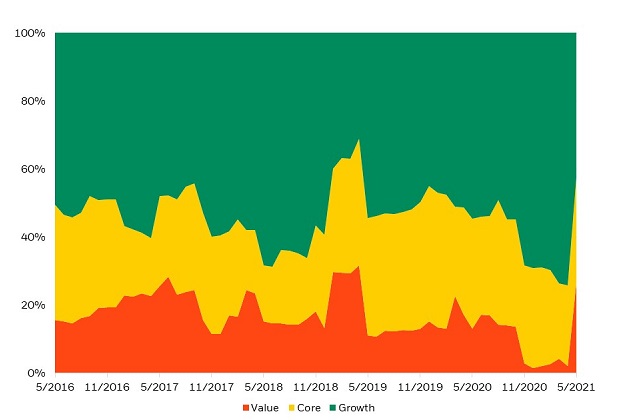 Source: Morningstar Direct as of 5/31/2021. Subject to change.
Staying on top of markets
Having a systematic way to evaluate changing trends is imperative. On a semi-annual basis, MTUM's index reviews markets by evaluating securities based on 6-month and 12-month risk-adjusted price momentum.7 This methodology uses trends across multiple horizons providing a robust and clear picture of market trends. When volatility is historically high, MTUM also has the ability to change its holdings more frequently than twice a year. The risk with momentum strategies is that sometimes trends can change quickly with high market volatility. At these times, "conditional rebalances" provide investors with important and timely updates on quickly changing market themes.
Overall, MTUM's approach to momentum provides consistency, but also flexibility, keeping its exposure to market momentum fresh and informative.
Momentum and value are complements
With momentum capturing the change in trends from growth to more core and value exposure, some may question whether value and momentum are still diversifying. Absolutely! Historically, these two factors have been negatively correlated with excess return correlations around -59%.8 The negative correlation implies that momentum is highly diversifying to value-oriented portfolios, and vice versa.
Despite MTUM now downweighting growth stocks and holding more value exposure, the two factors still exhibit relatively small overlap. Using the iShares MSCI USA Value Factor ETF, VLUE, as a proxy for value, and MTUM as a proxy for momentum, we can see in the below chart that the factors maintain their potential diversifying benefits.
Factor Exposures of MTUM and VLUE relative to the S&P 500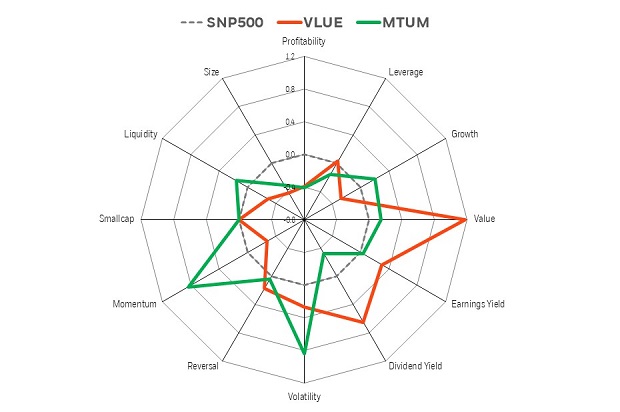 Source: BlackRock, as of 5/28/2021. For illustrative purposes only. The numbers in the chart above are Z-Scores which are statistical measurements of the number of standard deviations the portfolio's style exposure is away from the estimated total equity universe. Calculated with the BFRE US Equity model. The stated scores for each index/ETF are in excess of the S&P 500 Index.
Despite the increased weight to value stocks, MTUM still provides unique exposures relative to VLUE. Following the May rebalance, the funds have less than 20% overlap9 in securities, demonstrating the complementary nature of these two factors.
The Beauty of Momentum
The beauty of momentum is that it adapts to markets and provides a lens to view deeper and more robust trends. MTUM is a transparent exchange-traded fund, whose holdings are publicly available and represent important market information. While investors can invest directly in momentum strategies to seek enhanced returns, momentum can also be used alongside other factors, especially value, to provide additional diversification. Due to its role as both a potential return enhancer and provider of market insight, we believe momentum is one trend that will never go out of style.