Mike shares what investors need to know as the final quarter of 2019 kicks off.
The fourth quarter of 2019 kicked off with a market selloff and more evidence that a protectionist push is hitting the U.S. industrial sector. How are our asset views faring this year to date–and what are the key themes we see shaping markets in the months ahead? We address those questions in the Q4 update to our Global investment outlook . Here's a quick look at our answers.
Looking back
Risk assets have performed strongly year to date, and our overweight in U.S. equities has paid off. Meanwhile, emerging market (EM) and Asia-ex-Japan equities have under-performed since midyear, validating our shift to an underweight stance. See the chart below.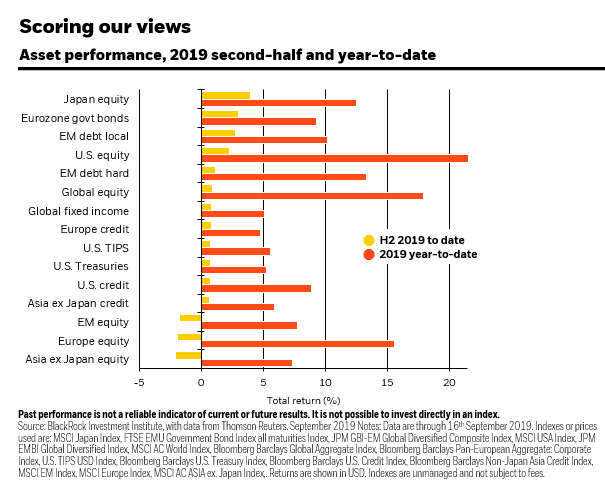 We have been surprised by the extent of the rally in government bonds, which have played an important diversification role in cushioning against equity selloffs. Rising geopolitical tensions loom as an ongoing risk and challenge our overall moderate pro-risk stance. Finally, Japanese equities have outperformed, contrary to our expectations, thanks to a lull in trade tensions that we see as temporary.
Read more in the full Q4 update to our Global investment outlook .
Looking ahead
Geopolitics have come to the fore as a major driver of markets and the global economy, just one of the investing themes for 2019 we discuss in our Q4 Global investment outlook . Here are five forward-looking takeaways from the piece.
Trade disputes and geopolitical frictions have become key drivers of the economy and markets. U.S. trade policy is increasingly unpredictable. Recent geopolitical volatility – including attacks on Saudi oil infrastructure–underscores this message.
Persistent uncertainty from protectionist policies is denting corporate confidence and slowing business spending. Yet we still believe the economic expansion is intact, supported by dovish central banks and a robust U.S. consumer. This suggests moderate risk-taking will likely be rewarded – even as recent events reinforce our call for a greater focus on portfolio resilience.
We expect more Federal Reserve rate cuts, but believe markets are pricing in too much monetary easing. The European Central Bank materially exceeded market expectations on stimulus, launching a broad package with a combined impact that should be greater than the sum of its parts.
We do not believe monetary policy alone is a cure for the fallout from global trade tensions. Supply chain disruptions could deliver a hit to productive capacity that fosters mildly higher inflation even as growth slows. This complicates the case for further policy easing.
Overall, we favor reducing risk amid the ongoing protectionist push. We prefer U.S. equities for their reasonable valuations and relatively high quality; and the min vol and quality factors for their defensive properties. We like EM debt for its coupon income. We are overweight euro area sovereigns: a relatively steeper yield curve brightens their appeal even at low yields. And we see government bonds as important portfolio stabilizers.
Get the latest updates from our RSS feed
Subscribe to our weekly insights email
Please try again